One of my favorite things about the Web is how it's revolutionized the sharing of images. I use a Flickr account to regularly post images on the Web to share with friends and family. A quick trip to Google Image Search can find just about any image you can imagine, and many you can't.
But a Web browser isn't exactly the best interface for looking at pictures. Sure, image sites have come up with some clever ways to improve the experience beyond the standard scroll-and-click approach; sites like Flickr offer clever slide-show displays, for example. But anyone who's used iPhoto's slide-show feature know that it's a darn sight better than scrolling through images on Flickr.
On Wednesday, I got a preview of a new utility, available as a Safari-only beta version (a Windows version is forthcoming), that lets you transform any set of image search-engine results, or galleries on Flickr, Facebook, or PhotoBucket, into a gorgeous full-screen slideshow like what you'd expect from iPhoto or Front Row.
The utility is called PicLens, from CoolIris. After you install it, when you move your mouse over an image on any of the six sites I mentioned, a small icon appears that indicates it's a slideshow-capable page: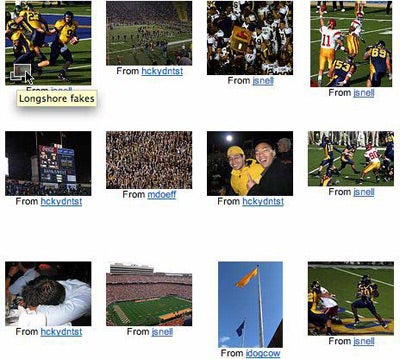 Click on the icon and the image zooms to full screen. In the background, PicLens is pre-loading the next few full-resolution images, so there's no delay when you move to the next image. Press the play button and the slideshow will go on its own, moving through all the images on the page.
(This version only displays images on a single page, but I'd bet that future versions will display images from multiple pages.)
Although it's a beta with a few quirks, PicLens strikes me as a great idea. It integrates perfectly with Safari and makes a whole lot of sense, especially if you spend a lot of time viewing photos on Flickr. I'm looking forward to seeing where CoolIris goes with PicLens from here.