The iPod began life modestly, getting trotted out before the press in a small theater at Apple's headquarters. These days, it's a major attraction, drawing hundreds of reporters to a media event last month in San Francisco that featured appearances by the CEO of Disney and R&B singer John Legend. Here's what happened in between to make the iPod the rock star it is today.
2001
October: At a press-only event at Apple's Cupertino, Calif., campus, Apple unveils the iPod, a 5GB hard-drive-based music player that will sell for $399. "To have your whole CD library with you at all times is a quantum leap when it comes to music," Steve Jobs tells the press. "You can fit your whole music library in your pocket."
November: The iPod officially hits retail shelves on November 10.
December: Between the iPod's November 10 release date and December 31, Apple sells 125,000 iPods.
2002
January: The first-generation iPod gets a -rating from Macworld winning praise for its high capacity, fast transfer speeds, and iTunes integration, but getting knocked for its price as well as the lack of a case or strap.
February: Testifying before the U.S. Senate Commerce Committee, Disney CEO Michael Eisner says Apple's "Rip, Mix, Burn" ads promoting its digital hub concept suggest "that [you] can create a theft if you buy this computer." Steve Jobs counters in the Wall Street Journal : "If you legally acquire music, you need to have the right to manage it on all other devices that you own."
March: Apple adds a second iPod to its offerings —a 10GB model priced at $499. In addition, Apple makes free software available for downloading and storing names and addresses on the iPod; the company also introduces a custom-order laser engraving service that let users engrave two lines of text with up to 27 characters per line on the back of the iPod for $49.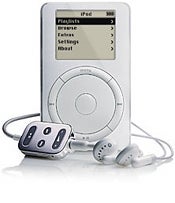 July: Apple rolls out a new generation of iPods, topping out at 20GB in capacity. More important, instead of a scroll wheel, the 10GB and 20GB models feature a touch wheel and a door for protecting the iPod's FireWire port. A software update lets the music player organize songs by genre or composer in addition to title, album, or playlist. The price of the 5GB iPod falls below $300.
August: iPods become available to Windows users for the first time.
2003
January: During his Macworld Expo keynote, Jobs notes that Apple has sold more than 600,000 iPods in the 14 months since its launch.
April: Apple introduces the iTunes Music Store; the online music service debuts with more than 200,000 songs available for download. Songs downloaded from iTunes can play on an unlimited number of iPods.

Also in April, the iPod's interface adds a solid-state scroll wheel with four buttons—rewind, menu, play/pause, and fast-forward—on top. Replacing the FireWire port is a thin connector that let the device hook up to a Mac or PC with either FireWire or USB 2.0.
September: Apple ups capacity on the iPod line, offering 10GB ($299), 20GB ($399) and 40GB ($499).
Software developer Dave Winer creates an RSS-with-enclosures feed that can be used to distribute audio content. This will eventually grow into a phenomenon that, by 2004, becomes commonly known as "podcasting."
October: Windows users get the chance to fill up their iPods with 99-cent downloads, as the iTunes Music Store goes cross-platform.
The iPod 2.1 software update adds the ability to store voice recordings and digital photos with the help of add-ons made by Belkin.
2004
January: Apple expands the iPod line with a new slimmed-down—and colorful—offering: the iPod mini. Half-an-inch thin and about the size of a business card, the mini comes in gold, blue, pink, and green anodized aluminum. The 4GB player sells for $249.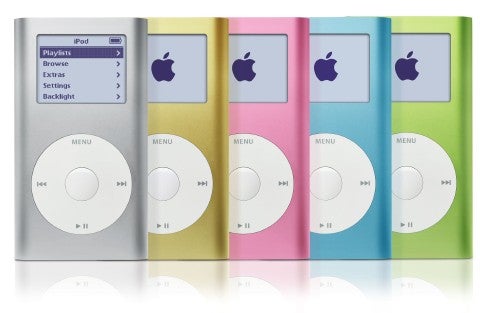 During the same keynote as the mini's unveiling, Apple raises the capacity on the $299 iPod to 15GB. Jobs announces that Apple sold 730,000 iPods between October and December, pushing total iPod sales past the 2 million mark.
HP and Apple announce that HP will sell HP-branded iPods supplied by Apple.
June: Apple's iTunes Store expands overseas, opening in the U.K., France, and Germany. By year's end, Austria, Belgium, Finland, Greece, Italy, Luxembourg, The Netherlands, Portugal, Spain, and Canada will have iTunes Music Stores of their own.
July: A new generation of iPods incorporates the Click Wheel interface introduced six months earlier with the iPod mini. A 20GB model sells for $299 while a 40GB iPod is available for $399.
September: HP releases its iPod offerings, which are identical to Apple's 20GB and 40GB fourth-generation iPods—except for the HP logo on the back.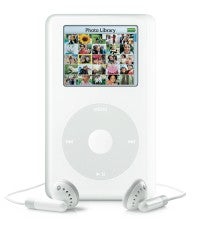 October: Apple introduces the color-screen iPod photo. Available in 40 and 60GB capacities, the device plays music as well as displays photos on a 220-by-176-pixel resolution screen. At that same launch event, Steve Jobs is joined by Bono and The Edge to introduce the 20GB iPod U2 Special Edition. Featuring a black case and red Click Wheel, the $349 iPod includes a $50 discount on a digital box set of all U2's albums as well as rare and unreleased tracks.
November: Sim Wong Hoo, chairman and CEO of MP3 player manufacturer Creative Technology, declares "war" on the iPod.
December: During the holiday quarter, Apple sells more than 4.5 million iPods, a 500 percent jump from the same period in 2004. Apple's total iPod sales climb past 10 million, with 8.2 million units sold in 2004 alone.
2005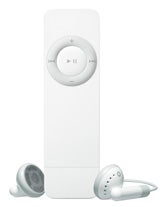 January: Apple gets into the flash-based music player business, introducing the iPod shuffle. About the size of a stick of gum, the shuffle comes in 512MB ($99) and 1GB ($149) capacities.
At Macworld Expo, Apple announces that Mercedes Benz, Nissan, Volvo, and Scion will introduce iPod adapters for their factory-installed stereos in 2005.
February: The mini becomes available in 4GB and 6GB capacities. A 30GB iPod photo replaces Apple's 40GB offering. Prices fall to $349 for the 30GB model and $449 for the 60GB one. On the full-size iPod front, Apple drops the 40GB model and cuts the price of the 20GB iPod to $249.
Napster launches its subscription-based Napster To Go service during the Super Bowl with an ad blasting the per-download pricing model Apple uses for its iTunes Store.
June: The iPod and iPod photo lines are merged into the iPod (color), ending the availability of monochrome-screen music players. The new iPod is available in 20GB ($299) and 60GB ($399) sizes. Also, Apple cuts the price of the 1GB shuffle to $129.
iTunes 4.9 adds download and subscription support for podcasts within the iTunes Music Store, as well as features for managing podcasts and moving them on and off iPods.
July: Creative Technology warns its investors to expect a quarterly operating loss because of softer-than-expected sales of its MP3 players. Meanwhile, HP announces it will stop selling its branded iPods in September.
August: Creative wins a patent for how files on digital music players are organized that it claims coves not only its own Zen and Nomad jukeboxes but also iPods.
September: Despite the popularity of the iPod mini, Apple replaces the miniature player with an even smaller device— the iPod nano. Available in glossy black or white, the nano features a color display and a grey Click Wheel. The 2GB and 4GB nanos sell for $199 and $249, respectively.
At the same event, Apple announces the first iTunes-compatible cell phone, Motorola's Rokr. It will quickly become overshadowed by the nano.
October: Apple adds video playback capabilities to the iPod line. The fifth-generation iPod plays video on a 2.5-inch, 320-by-240, 260,000 color TFT display. It comes in 30GB ($299) and 60GB ($399) sizes. To coincide with the launch of the video iPod, Apple releases an updated version of iTunes that includes video playback. Disney becomes the first company to start offering television programs for sale at the iTunes Music Store, with episodes from four TV shows priced at $1.99 each.
2006
January: During his Macworld Expo keynote, Jobs notes that Apple has sold 42 million iPods since the device launched in 2001. Also, consumers have bought 850 millions songs through the iTunes Music Store. Eight million videos have been sold and downloaded since that service was added in the fall.
February: Apple adds a third offering to its iPod nano line— a $149 1GB model. Also, the company cuts prices on its 512MB and 1GB shuffles to $69 and $99, respectively.
May: Creative and Apple trade lawsuits, with each company alleging that the other has infringed upon its patents.
August: Apple agrees to pay Creative $100 million to resolve the legal dispute between the two companies. Creative agrees to begin making iPod accessories this year.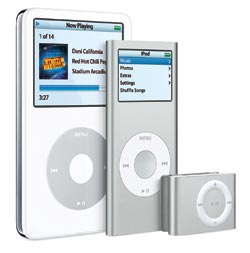 September: Apple overhauls its entire iPod product line. The second-generation shuffle comes in only one capacity in a clip-on case that's roughly half the size of its predecessor. The second-generation nanos are available in 2GB, 4GB, and 8GB capacities—because of their new scratch-resistant shell, they come in a variety of colors. And the video-capable iPod sees some changes as well, namely a brighter screen, longer battery life, and other enhancements. The newly renamed iTunes Store begins offering feature-length movies for download.
The iPod faces what could be its most serious challenge yet, as Microsoft readies its Zune media player for a November launch.
October: The iPod line gets another new color, as Apple unveils a red 4GB nano, as part of the Project Red initiative for raising money to combat AIDS in Africa.
Major iPod Introductions
| Model | Announced | Capacity | Size (h x w x d) & Weight | Price | Notes |
| --- | --- | --- | --- | --- | --- |
| iPod | October 2001 | 5GB | 4×2.4×0.78-inches, 6.5 ounces | $399 | This debut iPod featured a stainless-steel back and Lucite front. It connected to Macs via FireWire, and was controlled by a scroll wheel with clickable buttons. |
| Second-generation iPod | July 2002 | 10GB, 20GB | 10GB: 4×2.4×0.72-inches, 6.5 ounces; 20GB: 4×2.4×0.84 inches, 7.2 ounces | $399, $499 | Out with the scroll wheel, in with a touch-sensitive wheel that featured no moving parts. Also, the FireWire port on this iPod got a protective door. |
| Third-generation iPod | April 2003 | 10GB, 15GB 30GB | 10GB, 15GB: 4.1×2.4×0.62 inches, 5.6 ounces; 30GB: 4.1×2.4×0.73 inches, 6.2 ounces | $299, $399, $499 | A slimmer iPod added a solid-state navigation wheel with four buttons on top. The FireWire port was replaced by a special thin connector. |
| iPod mini | January 2004 | 4GB | 3.6×2.0x0.5 inches, 3.6 ounces | $249 | Apple described this colorful miniature iPod as the size of a business card. Buttons were placed right on the wheel, introducing the Click Wheel interface to the iPod line. |
| Fourth-generation iPod | July 2004 | 20GB, 40GB | 20GB: 4.1×2.4×0.57 inches, 5.6 ounces; 40GB: 4.1×2.4×0.69 inches, 6.2 ounces | $229, $399 | The fourth-generation of iPods adopted the mini's Click Wheel controls and lowered the price of the most expensive iPod to less than $400. |
| iPod photo | October 2004 | 40GB, 60GB | 4.1×2.4×0.75 inches, 6.4 ounces | $499, $599 | The first iPod to integrate a color screen, the iPod photo displayed album art as well as color photographs on a 2-inch, 65,536-color display. |
| iPod shuffle | January 2005 | 512MB, 1GB | 0.98×3.3×0.33 inches, 0.78 ounces | $99; $149 | The first flash-based music player from Apple featured circular, clickable controls, but no screen. A switch on the back let users choose between Shuffle and Play in Order modes. |
| Second-generation iPod mini | February 2005 | 4GB, 6GB | 3.6×2.0x0.5 inches, 3.6 ounces | $199, $249 | The most significant change to the iPod mini line added a 6GB model. The color of the Click Wheel's buttons also matched the mini's color. |
| iPod nano | September 2005 | 2GB, 4GB | 3.5×1.6.0.27 inches, 1.5 ounces | $199, $249 | Replacing the popular iPod mini, this flash-based player featured a color screen, black and white cases, and a familiar Click Wheel. |
| Fifth-generation iPod | October 2005 | 30GB, 60GB | 30GB: 4.1×2.4×0.43 inches, 4.8 ounces; 60GB: 4.1×2.4×0.55 inches, 5.5 ounces | $299, $399 | Available in black and white models, this iPod played video on a 2.5-inch, 320 x 240, 260,000 color TFT display and features realtime decoding of MPEG 4 and H.264 video at 30 frames per second. |
| Second-generation iPod shuffle | September 2006 | 1GB | 1.07×1.62×0.41 inches, 0.55 ounces | $79 | The silver shuffle comes in only one capacity—1GB—and adds a built-in clip to easily attach the music player to a person's clothing. |
| Second-generation iPod nano | September 2006 | 2GB, 4GB, 8GB | 3.5×1.6×0.26 inches, 1.41 ounces | $149, $199, $249 | Apple refreshed its flash-based nano line, creating three different capacities in a scratch-resistant aluminum shell, available in a host of iPod mini-esque colors. |