Last Saturday, I spent the day at camp— MacCamp, to be precise. For the last 20-plus years, the Portland Macintosh Users Group (PMUG) has held these twice-yearly escapes for Mac devotees. Held at the very scenic Silver Falls State Park, MacCamp offers Mac users a three-day-long Mac-focused retreat from urban life. PMUG reserves four lodges (cabins) at the conference center within the park, accommodating up to 56 "campers," though this isn't camping in any traditional sense. The cabins contain most of the comforts of home, with the exception of an Internet connection. PMUG charges just enough to cover its costs, and doesn't turn a profit on the event. (In other words, it's not a fund raiser for the group.)
Campers arrive on Friday afternoon, all with Macs in hand, and after an orientation, they start building the network. That's right; they network all four lodges together. And they don't take the easy way out, either—in addition to AirPort, the buildings are physically connected by dragging ethernet cabling between them. As you can see in the shot below, this requires a fair bit of cable, as the cabins aren't exactly arms' length apart. And yes, they're definitely in a heavily forested area.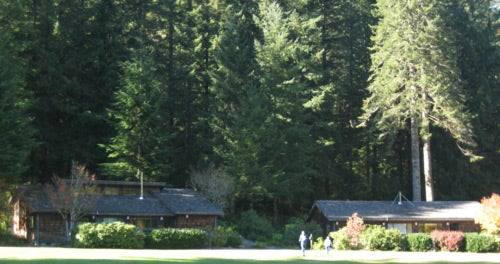 MacCampers then spend the weekend using the network for gaming, sharing photos, listening to other user's shared iTunes libraries, working on things they've learned in the education sessions, and just generally having a great time.
On Saturday, there are four educational sessions, with two more on Sunday morning. In between the sessions, meals are provided, and there's a large grassy field, a stream nearby, and lots of other areas to explore. The weekend wraps up on Sunday afternoon, with the dismantling of the network and the campers returning to their homes. The education topics can vary greatly each year, depending on what the PMUG membership is interested in learning about. Topics this year included using Windows on Intel Macs, podcasting, portrait photography, training on Illustrator, using Photoshop to repair damaged photos, and my session: a look at some interesting programs that can make you more productive (or just make using your Mac more fun).
This was my first experience with MacCamp, and due to two small kids at home and the upcoming Mac Mania Geek Cruise, I wasn't able to take in the full experience—no overnight stay this year. Instead, I drove down Saturday morning (it's about 90 minutes from our home), joined the group for lunch and the official MacCamp photo, and then taught my session and drove back home soon thereafter. Even though it was short, I was glad to have the chance to participate. What I found was an enthusiastic group of Mac users, eager to learn more about their machines and what they can do with them. It was also interesting to see that not everyone brought PowerBooks or MacBooks—there were at least two people in my session who brought in current-design iMacs to use at their stations.
I wish I could have stayed longer to see the full MacCamp weekend, but I'm glad I was able to attend and contribute in some small way. PMUG has been doing this for more than 20 years, twice a year, and its experience shows—the camp is well-run, the facilities (given their location in a state park!) and equipment were excellent, and everyone I spoke to seemed genuinely excited about the event. Even the lunch was tasty! Between the Mac education provided, the fun group atmosphere, and the amazing location, MacCamp seems like an event worth attending—and I'm going to do my best to see the full three-day version next spring.
I'll leave you with one random photo, just showing a bit more of the scenery and locale—I snapped this image of the photographers setting up to take the official MacCamp group photo on the lawn in front of the cabins, just after lunch. As you can see, it was a beautiful fall day, and the colors up here in Oregon are just starting to turn…
What a great atmosphere for a meeting between fellow Mac users. Congrats, PMUG, on yet another successful MacCamp…hopefully I'll be back for the full experience next spring.