As you've probably heard, Firefox 2 came out this week. I've had the chance to download and use the browser a bit, discovering that Firefox is basically as we described in the First Look we published back in July. There are quite a few new features (though not all are visible to the end user), along with an improved interface.
Since I wrote that first look, of course, some things have changed. Here are a few updates to points I made in the First Look:
Back in July, very few of my installed extensions or themes worked. Now the vast majority have been updated for Firefox 2, and I expect the rest will be updated in short order. Some, of course, may be destined for the scrap heap, as Firefox 2 includes their functionality in its core feature set (such as SpellBound ).
Speaking of spelling…while it's great that you can have built-in spell checking of forms, there's still no way that I can see to ignore a word. You must either add it to the dictionary, or put up with seeing it underlined in red every time you use it.
In the minor but annoying category, Mozilla moved the Manage Search Engines contextual menu entry. In the beta, it was in a menu hidden behind a triangle next to the magnifying glass in the search box. Now it's in the icon of the search engine itself, to the left of the search term. This does make more sense, but it took me a minute to figure out where it had moved to.
More annoyingly, the Manage Search Engines page still won't let you add your own search engines. You're still forced to go through a Mozilla-run page to see and pick from a list of additional search engines. I was really hoping this feature would appear in the final version. Alas, it was not to be. Given Firefox's reputation as a feature-packed browser, this seems like an oversight to me.
Microsummaries have been improved and renamed—they're now Live Titles. I still don't really grasp the need they're filling here, however. It works like this: if you're viewing a site that has a Live Title, when you bookmark it, you can use a drop-down menu to choose the Live Title. Now, when the site's content changes, the Live Title of the site in your bookmarks menu will be updated to reflect that fact. Personally, I can't see scanning the title of the site in the Bookmarks menu to look for changes; that's what RSS feeds are for! However, it does work as described, at least for the small collection of sites that have implemented Live Titles.
The help files, which I had noted as incomplete in the early beta, are now complete—and quite useful, as they're packed with useful tidbits about how the browser works.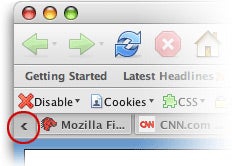 I'd also like to talk about tabs for a second. As noted in the First Look, tabs have gained their own "close" icons, as well as a relocated "loading" icon that doesn't overwrite the site's icon in the tab. In addition, you can drag and drop tabs to rearrange them. Finally, if you open more tabs than will fit in the window's width, you'll get a "tab scroll" icon, as seen in the image at right, at each end of the tab bar. Click either icon, and the tab bar will move left or right to reveal the offscreen tabs.
Firefox 2 is a nice improvement on Firefox 1.5. I agree, however, with the assessment from Computerworld's Scott Finnie: I'm not sure the changes I see merit a 1.5 to 2.0 version number jump. That doesn't mean Firefox 2 is a bad product, just that it doesn't feel like there were enough substantive changes to merit an increase into the 2.0 series. However, what has been done seems to have been done quite well, and Firefox 2 has replaced Firefox 1.5 on all my machines—other than for testing Web sites, I don't personally feel the need to keep 1.5 around any longer.
EDITOR'S NOTE: In a previous version of this article, I mentioned a Command-W glitch. After doing some more testing on my MacBook, it seems that this issue is specific to my Power Mac G5. I'm not sure what's causing it (it might be extension related, or just the sheer amount of cruft built up on the G5 from years of testing hints), but Command-W works perfectly on the MacBook. Sorry for the false alarm.
[ Senior Editor Rob Griffiths runs macosxhints.com. ]