Professional applications such as Photoshop demand fast RAM—and plenty of it. Fortunately, the Mac Pro is designed to make these apps happy.
The Mac Pro ships with 1GB of RAM, in the form of two 512MB modules. But those aren't just any old memory chips. For the first time, Apple is using Fully Buffered DIMMS, or FB-DIMMs.
A New Breed of Memory FB-DIMMs have several technical advantages over the memory modules in the Power Mac. They run at 667MHz, the same speed as the memory in other Intel-based Macs but faster than the Power Mac G5's 533MHz memory. They also have a maximum data path of 256 bits, built-in error checking and correction, and an on-board chip—the Advanced Memory Buffer, or AMB—that controls data transmission.
Because that AMB creates extra heat, each FB-DIMM also comes with its own heat sink—another reason that the Mac Pro doesn't need as many fans or cooling zones as the Power Mac.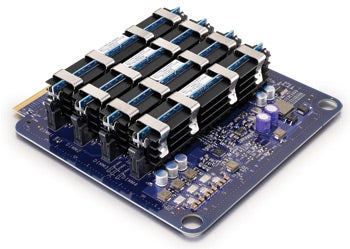 Improving Your Memory The Mac Pro has eight RAM slots, divided between two riser cards that pull out of the machine. They can accommodate a total of 16GB of RAM (using eight 2GB modules). To take full advantage of the new memory architecture's 256-bit data path, you'll need to use at least four DIMMs. (To see just what effect adding RAM has, see "The Memory Challenge" below.)
If you buy a Mac Pro with the maximum RAM installed, Apple will add $5,700 to the Mac Pro's base price. Because Apple charges a premium, buying RAM from third parties is usually a more cost-effective way to boost your Mac's memory. If you take that do-it-yourself route with the Mac Pro, Apple says that you must install RAM in pairs of the same size and from the same vendor. So buying RAM in matched kits is a good option.
When this article went to press for our print edition, only a handful of vendors were selling RAM for the Mac Pro. However, Apple is sharing the thermal specifications for the Mac Pro's modules, so more companies will probably be offering compatible modules soon.
When we checked, 1GB kits (two 512MB modules) were selling for around $250, while 2GB kits (two 1GB modules) were going for around $400. This means that buying 16GB of RAM from a third-party vendor will currently run you $3,200 to $3,500—more than $2,000 less than Apple charges.
With all third-party RAM, it's best to purchase modules that specifically support your system. And in the case of the Mac Pro, that's not just a recommendation—it's a requirement. Apple cautions that installing FB-DIMMs that don't have sufficient heat sinks can cause louder fans and slower memory chips. It's also a good idea to buy RAM that comes with a lifetime warranty, in case of any problems.
Wherever you get your new RAM, Apple's new riser system makes installing it a snap. You just pull out a riser, place it on a flat surface, and seat the RAM modules in place. After you're done, you slide the riser back into place and then restart your system.— Jonathan Seff
The memory challenge
The Mac Pro's standard configuration includes a pair of 512MB FB-DIMMs (for a total of 1GB), which occupy just two of eight available RAM slots—far less than the new Mac's 16GB capacity. The memory modules the Mac Pro requires are expensive (maxing out your Mac Pro will set you back an additional $5,700 at the Apple Store), so you may be wondering what kind of performance gains those extra dollars will get you. Fortunately for us, Other World Computing loaned us 4GB of this expensive memory so that we could test the impact of expanded memory on the Mac Pro's performance.
In the past, we've had difficulty coming up with tests that truly showed the benefits of installing more memory. OS X is very good at accommodating one memory-hungry task at a time, which is how most of our tests run. However, using Apple's Automator and some helpful action files available from the Complete Digital Photography Web site, we were able to create an Automator workflow that tested the advantages of increased RAM when the Mac Pro is switching between multiple applications such as Apple's Aperture and iPhoto, and Adobe Photoshop. With the stock 1GB of RAM, the Mac Pro took more than twice as long to complete our workflow as it did with 2GBs (four 512MB DIMMs) installed. A Mac Pro with 4GBs of RAM (four 1GB DIMMS) returned about the same results as the 2GB configuration, suggesting that we'd need to increase the file sizes dramatically to see an additional benefit.
Mac Pro Memory Tests
| | Automator |
| --- | --- |
| | RUN WORKFLOW |
| Mac Pro/2.66GHz (1GB RAM) | 1:13 |
| Mac Pro/2.66GHz (2GB RAM) | 0:35 |
| Mac Pro/2.66GHz (4GB RAM) | 0:34 |
| iMac Core Duo/2GHz (1GB RAM) | 1:40 |
| iMac Core Duo/2GHz (2GB RAM) | 0:53 |
| | <Better |
Best results in bold. Reference system in italics .
It's also worth noting that doubling the RAM from 1GB to 2GB produced a more noticeable effect in the Mac Pro than in an iMac Core Duo. An iMac outfitted with 2GBs of RAM was 41 percent faster than the same system with just 1GB installed, while the Mac Pro was 52 percent faster with 2BG of RAM than with 1GB.— James Galbraith
[ Jonathan Seff is Macworld 's senior news editor. James Galbraith is Macworld 's Lab Director. ]