Greetings from onboard the MS Veendam , somewhere off the Florida coast. As I type this, it's just after 7:00 a.m. on Sunday, October 29, and I'm sitting in a comfortable leather recliner, staring out at the sea going by. We're headed for Key West, with arrival set for about five hours from now. I'm also, somewhat amazingly, using a satellite internet connection to download my mail and upload this blog and photos. Speeds are… well… not really in the cable modem category, but they're certainly acceptable for some basic e-mail, Web, and (small) file transfer needs. (Note that the network connection is not included in the cost of the cruise, and you'll pay somewhere between 40 cents and 75 cents per minute for your connection. As with everything on the ship, though, it's all billed through your room.)
As a complete newcomer to both cruises in general and Geek Cruises in particular, I thought it might be interesting to share a few embarkation day observations. My wife and I arrived in Tampa on Thursday night, and then took a vacation day on Friday to go ride the roller coasters at Busch Gardens (highly recommended for coaster fans: SheiKra, as seen below).
On Friday night, we attended the Geek Cruises pre-departure kick-off party at the Hilton. It was a great way to meet some of the attendees, as well as saying hello to some of the other speakers on the cruise. The next morning, departure for the cruise started around 11:00 a.m., as we waited for the shuttle ride to the boat.
While waiting for the shuttle, we met a couple who had just disembarked from the Veendam , after a 34 day cruise—they let from Vancouver, British Columbia, sailed down the entire west coast of the United States and Mexico, crossed the Panama Canal, continued down to the area of the Amazon River in Brazil, and then back up to Tampa through the Caribbean. Wow. Makes our little seven-day excursion in the Caribbean seem positively pedestrian by comparison.
After a 20 minute ride over to the docks, the boarding process began in earnest. A porter collected our "checked" baggage, and we then entered a gargantuan room filled with tons of people. After working our way through some additional paperwork, a few switchbacks in a line, and yet more paperwork, we were done—we had our boarding passes, room key, and dining cards in hand. Joining yet another line, we made our way onboard right around 12:30 p.m.—just in time for lunch on the Lido deck: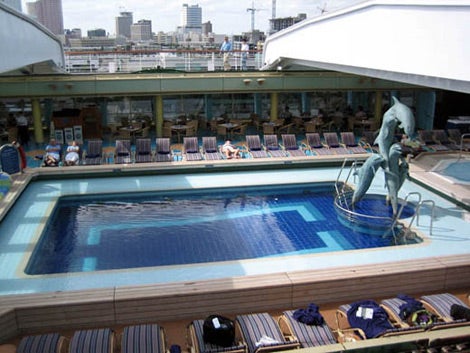 I've heard the Veendam described as a "small" ship. I guess everything is indeed relative, as it felt positively gargantuan during our initial explorations. As but one example, the outside walkway around deck six is a quarter-mile in length—walk it four times, and you've gone a mile. Also walking from the bow (front) to the stern (back) of the ship provides a good amount of exercise as well. And that's a good thing, because so far, it seems if you're not walking or attending a function of some sort, you're eating! There's food everywhere, and the items we've sampled so far have all been quite tasty.
I'll close this first day blog with a picture snapped off the deck as we left Tampa last night…
And now, if you'll excuse me, I have a couple of MacMania sessions to prepare for, and I'm sure there are some breakfast items to be consumed…