With MacMania 5 having set sail from Tampa, I thought I'd touch on a couple leftover items from Departure Day before diving into our first full day aboard the Veendam …
One of the things we did before we left port was to run a ship-wide emergency evacuation drill—clearly the least fun of our ship-board events but certainly very important. At 4:15 p.m., when we heard the ship's bell ring seven times, we donned our life jackets and then proceeded down to the sixth level of the ship (which has an exterior walkaround deck) to find our lifeguard station. As can be seen in Dan Frakes' photo, it was crowded out on the walkway, but everyone remained orderly. After reaching your assigned station, you had to respond to a roll call of cabin numbers. When everyone was confirmed present from all cabins, the drill was over and we returned the life jackets to their storage spot in the cabin—hopefully never again to be seen this week!
As an aside, lifeboat technology has come quite a long way since the days of wooden rowboats in the 1920s. Today's lifeboats are fully sealed, contain powerful engines, food and water for 150 people per lifeboat, and emergency GPS-based position transmitters. The design of the lifeboats certainly gave me a positive feeling that if we did have to use them for some reason, we would have a good chance of being located by anyone searching. But enough of the emergency drill review… on to the fun stuff!
After some free time, we proceeded to the bow (front) of the sip, for the Geek Cruises get together at 7:15 p.m. This party gave the speakers a chance to mingle with the attendees—and for Geek Cruises' Neil Bauman to explain some of the finer details of the week ahead. It was nice getting to say hello to the attendees in a very informal manner, prior to the start of classes. We all received hats and name badges, making it easier to identify each other amongst the ship's population.
From the party, we proceeded to the main dining area for our 8:30 p.m. dinner seating. In order to feed 1,500 people efficiently, the cruise line sets up three dinner shifts—6:00 p.m., 7:15 p.m., and 8:30 p.m. Adjusting to this late dinner hour will be somewhat tricky—I'm usually going to sleep (as I arise quite early) just about the time the dinner shift is ending. Nonetheless, the two dinners we've had have both been terrific. Great appetizers, entrées, and desserts, all with wonderful presentation. Also, because there are so many people to feed each night, the dinner process is very efficient. There's no long delay between courses, and dishes are cleared away quickly as each item is finished. Clearly the cruise line has this process down to a science.
After dinner, we retired to our cabin for the first night's sleep aboard the ship. After some tossing and turning, trying to get used to the motion of the ship, I finally settled into something resembling sleep.
Day one marked the start of the official Geek Cruises itinerary, with a couple of morning classes. As I'm not scheduled to teach sessions until Monday, I had a free day to enjoy with my wife. After checking e-mail and uploading some content back to Macworld , we enjoyed a nice breakfast, then watched the ship's arrival in Key West. Key West features a deep water harbor, which allows the cruise ship to tie directly to a dock—here's a shot of the expensive yachts in the small inner harbor, along with the long pier where our ship would soon be secured: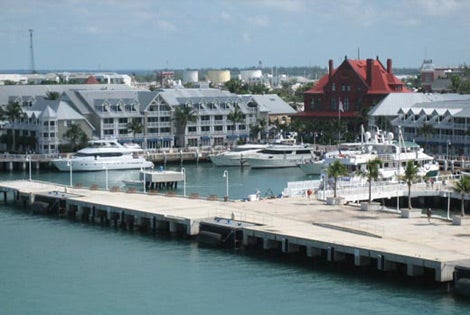 Docking a vessel of this size is a complicated dance, with multiple large ropes being used both fore and aft being used to help secure the ship to the dock. The Veendam , like most modern cruise ships, also features powerful side thrusters, enabling it to move sideways (and make a 360 degree turn in a relatively tight space). Once the ropes were secured and tightened, the gangway dropped, connecting the ship to the dock.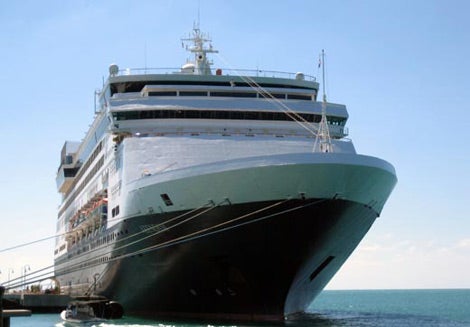 Since we have a couple of relatively full-day excursions planned for later in the trip (a couple of scuba-diving days), we decided to take it easy in Key West, opting to simply walk around the town and explore things. This was my first trip to this southernmost outpost of the continental United States, and I was impressed with the area's beauty and sense of remoteness. There was, however, another cruise ship docked nearby ours, leading to a very busy and crowded shopping district. While I'm sure the merchants love the business the liners bring in, jostling elbow-to-elbow with several thousand other shoppers isn't really my ideal way to spend the day. So after we did some exploring, we headed back for the docks and the relative open spaces near the water.
Others I spoke with took glass bottom boat tours or went kayaking, and had glowing reviews of the activities. Our own Dan Frakes rented a jet-ski for a two-hour guided tour of the Key West area, and his summary was that it was simply spectacular (as well as being a lot of fun!). If we return for future Key West visits during a cruise, we'll probably book something to get us out of the town and onto the water. It really is beautiful.
After returning to the ship in the afternoon, my wife and I visited the pool on the aft deck of the ship for a quick swim. Entering the water, we were both surprised to find that it was a saltwater pool. As far as we could recall, this fact wasn't mentioned in the information on the ship (and the main pool is standard chlorinated water). Swimming in salt water is different; you're much more buoyant, making it simple to float on your back. The pool was nearly deserted, and we spent a relaxing 45 minutes there.
After the swim, I participated in my first official Geek Cruises class—a number of the speakers sat in on Leo Laporte's Ingenious Bar, an open Q&A for anything Mac or iPod related. Over the course of an hour, we did our best to answer questions on nearly any subject—everything from OS X permissions to machines that don't wake properly when their lids are opened to issues related to iTunes, iPods, and playlist order. It was a fun session, and I think we were able to help some folks out.
At roughly the same time the Ingenious Bar closed, the Veendam undocked from Key West and began its long journey to Belize. Belize is roughly 600 nautical miles away, and our arrival time there is set for 5:00 a.m. on Tuesday morning. For the next two days, our scenery will be water—but that's OK, as we'll pass the time with a full day (and evening) of Geek Cruises classes.