Sometimes you don't want to keep what's stored on your iPod all to yourself. In this second Playlist Winter Gear Guide installment, we take a look at iPod add-ons that will share your music with anyone within earshot. Besides our favorite speaker systems, we also look at a pair of iPod-friendly alarm clocks and a dock that lets you navigate through an iPod menu on the big screen.
Sound-system shout-out
It's easy to feel overwhelmed by the sheer volume of iPod speakers clamoring for your hard-earned dollars. But amid all that background noise, Logitech's AudioStation comes ringing through loud and clear with fantastic sound and a bunch of extra features at a $299 price tag that compares favorably to rival offerings. Besides the integrated AM/FM tuners that will appeal to radio die-hards, the AudioStation also boasts both composite and S-video out, meaning you can easily pipe the video signal from fifth-generation iPods to your TV. In the box you'll also find an included infrared remote and matching black dock adapters for pretty much every recent iPod.—DAN MOREN
Totally tubular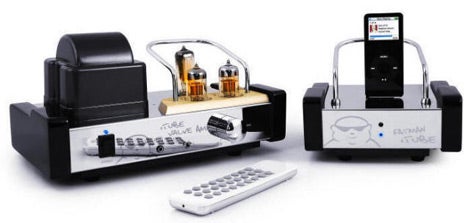 As Dan says above, you've got scores of choices if you're looking for iPod-friendly speakers. But how about if you're a retro-audiophile in the market for a tube-based audio system? Well, the choices are far fewer. But consider TL Audio's $649 Fatman iTube , which consists of a 13-watt tube amplifier along with a matching iPod docking station. Claiming that the rich, warm sound of tubes is perfect for offsetting the harsh effects of compression on your favorite music, TL Audio touts the Fatman iTube as an ideal iPod playback system. It features a remote control, an additional input for another audio source, a headphone jack, and a video output for watching your iPod's video or viewing photos on your TV. You also get all the necessary cables—including high-quality speaker cables and connectors—as well as gloves and a brush for handling and cleaning the iTube's tubes. All that's left is to add a pair of speakers, which any self-respecting audiophile is sure to have on hand.—DAN FRAKES
Bargain bass
If you're on a budget, an outlay of a couple hundred dollars could exhaust much of your discretionary budget long before it's time to accessorize. Fortunately, you don't have to sacrifice funkiness in favor of frugality when it comes to speakers, thanks to Logic 3's $60 i-Station 3 Speaker System . The i-Station provides very full sound—good bass, luxurious treble, and the illusion of a much larger system, and for a very good price. The system, which is lightweight and folds up for travel, also includes mini-USB and FireWire ports (and the cables you need to connect to your Mac), enabling you to sync, charge, and listen simultaneously to any iPod with a dock connector. Logic 3 also thoughtfully includes an extra-long electrical cord for moving the speakers around a room; you can also power the i-Station with four-AA batteries.—JEFF MERRON
Clock watchers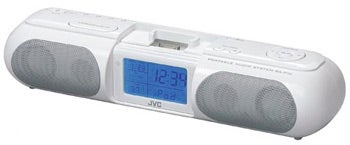 A few years ago, the idea of an iPod alarm clock was relegated to the same category as an iPod-dock toilet paper dispenser—novelties. Well, there actually is a toilet paper dispenser that holds your iPod, and there are now at least a dozen iPod alarm clocks. One of the newest, and one that's impressed us, is JVC's $130 RA-P10 . In addition to an easy-to-read, blue-backlit display and the expected alarm feature, the RA-P10 also includes an FM radio with commendable reception and 20 presets, an iPod dock for all dockable iPods, a wireless remote control, and even a date display and room thermometer. At only 4 watts per channel, the system won't be driving dorm-room parties, but it sounds much better than you might expect, and it can even be powered off batteries for portable use.—DF
Don't lose when you snooze
If you had the option between waking up to the staid selection of pre-packaged music that plays on most terrestrial radio stations these days or the lovingly hand-picked tunes on your very own iPod, which would you choose? Technically, with iHome Audio' iH5 , you wouldn't have to choose. The $100 clock radio lets you use your iPod, a built-in FM/AM radio, or a buzzer to rouse you from your golden slumbers. For those who prefer a more gentle awakening, the iH5 can gradually increase the volume of its alarm. And the included remote makes the iH5 a compact music system perfect for a dorm or bedroom.—DM
Sound-to-go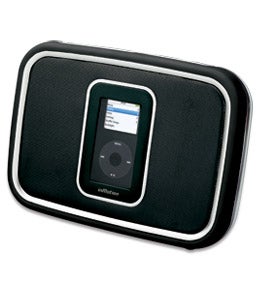 My apartment is a revolving door for technology products—new gizmos come and go with the regularity of the waxing and waning of the moon. Yet few items have drawn as many jaw-dropping stares from envious friends and family members as Altec Lansing's $200 inMotion iM9 portable iPod stereo did at a recent wedding reception, where it kept the dance floor moving long after the band stopped playing. The smallish 11-by-3-by-7.8-inch system pumps massive sound with deep, resonant bass notes and clear distinct mid-tones from any docking iPod. The highly portable speakers run on 4 C-cells (or jack in the AC adapter) so you can take the iM9 on the road; it even comes with its own over-the-shoulder backpack.—MATHEW HONAN
The big-screen iPod experience
Now that full-sized color iPods support movies as well as slideshows, connecting the portable player to a television is a natural. But Apple's $19 iPod AV Cable and $39 iPod Universal Dock take you only part way there—you're still required to navigate the iPod's workings from the player's tiny screen. One elegant way around this limitation is DLO's $150 HomeDock Deluxe , an iPod dock with accompanying IR remote control, compatible with all color iPods (including iPod nanos). The HomeDock Deluxe creates an on-big-screen interface for your iPod's musical capabilities. It includes the composite video cables necessary to connect to the dock to your television, powers a docked iPod, and lets you sync a docked iPod via the included USB connector and cable. Regrettably, Apple has closed the door on support for video or slideshow navigation on TVs. Here's hoping for a holiday hack to overcome this limitation.–CHRISTOPHER BREEN
Mighty fine monitor speakers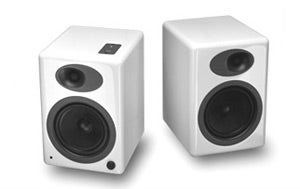 What's white, moderately portable, costs $350, and beautifully blasts your iPod's music from one end of a large room to the other? Apple's iPod Hi-Fi ? Close, but we're talking about a better-sounding system—specifically, Audioengine's A5 Speaker System . These toaster-sized, powered speakers offer balanced (and big!) sound, solid construction, two audio input ports, a powered USB port for charging your iPod, and, best of all, a power outlet for easily connecting an AirPort Express. (You know that iTunes can stream music to up to three AirPort Expresses now, right? 'nuff said). While the A5s include no dock connector, you're welcome to connect your iPod via its headphone jack or the audio jack on any iPod dock you own.—CB
[ Dan Moren blogs about the Mac at MacUser and about cool new gear at Gadgetbox. Dan Frakes is the senior reviews editor for Playlist . Jeff Merron is a freelance writer and senior Web site editor for 108 Magazine. Mathew Honan is a San Francisco-based freelance writer who contributes to Playlist . Christopher Breen is a senior editor for Macworld and writes The iPod Blog. ]
Note: When you purchase something after clicking links in our articles, we may earn a small commission. Read our affiliate link policy for more details.