Yesterday was an at sea day on MacMania V, and that means classes! Both Dan Frakes and I had busy days, with sessions during the morning and evening, followed by the first formal dinner of the journey. I presented a session on my favorite Mac OS X Hints in the morning, and then Dan and I worked through about 45 interesting and useful applications and utilities during our afternoon session. That was followed up by another session of the Ingenious Bar, and then a fun talk where four of us (Janet Hill of Apple, Leo Laporte, Dan and myself) presented some of our own favorite applications. Throughout the whole day, I was impressed with the attendees' interest in the topics being discussed. Good questions were asked, and we had some good conversations on a number of Mac-related topics.
After the full day of sessions, it was time for the first formal dinner of the cruise. Working out of a home office, putting on a suit and tie isn't something I've done very much of lately, so it was kind of fun for a change of pace. I'm pretty sure it won't carry over to my home work habits, however!
After 30 hours of sailing, we arrived early this morning in Belize City, Belize, for our second day of shore excursions. Well, not quite "in." As you can see from the photo below, we didn't actually get all that close to Belize City proper—I'd guess that we're anchored a couple miles offshore (that's Belize City visible in the distance):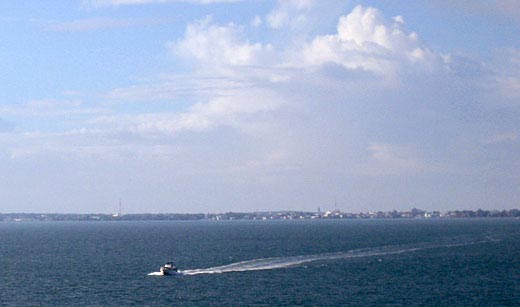 And that photo is about as close to Belize City as my wife I got all day. We signed up for a day of scuba diving with the Belize Dive Connection, which entailed an early departure from the ship. The dive boat picked us up around 8:00 a.m. at the ship, and took us on a 20 minute ride over to the dive shop to be outfitted with gear. From there, it was about a 45-minute ride out to the dive sites located at Terneffe Atoll. The weather wasn't the greatest, either—cloudy and overcast when we awoke, and there were numerous small rain showers throughout the area. Needless to say, the ride out to the dive site was not the smoothest thing I've ever experienced.
But once we arrived, we had a great time. The dive master and boat crew were experienced and professional, and the two dive sites were incredible. I took along our old Canon PowerShot S30 and its underwater case, and snapped a whole bunch of pictures during the dives. As a sample of what we saw, I put together this small photo gallery of some of the underwater beauty. As you can see, despite the rough surface conditions, visibility below was excellent. (Note: I'm a complete amateur hack when it comes to photography in general, and underwater photography in particular. I used nothing more than the camera and its built-in flash, so you'll see that some of the images have a definite blue tint—if something is at the edge of the flash's range, it comes out blueish.) After two great dives, we reversed course and endured another pounding ride back to the MS Veendam . But the beauty of the dives were well worth the pounding of the boat rides there and back.
Tomorrow we have a relatively quiet day, with a visit to Santo Tomas de Castilla, Guatemala during the day, and then an evening session on Mac Horror Stories, which should be a lot of fun. Dan Frakes, Andy Ihnatko, Ted Landau and I will be sharing stories about when our Macs have gone off the deep end, and what we did to try to salvage the situation.