Few electronic devices can boast of the same breath-taking appearance that the iPod offers the first time you take it out of the box. If you'd like to preserve that pristine condition for as long as possible, you're going to need to take out an insurance policy in the form of a case, cover, sleeve or some sort of protective wrapping. The good news is, you have a lot of covers to choose from. And the bad news? You almost have too many covers to choose from. Fortunately, we've sorted through the clutter to come up with a diverse list of favorites; surely, some of our choices below will appeal to your particular aesthetic sensibilities.
That's a Wrapz
We get inundated with iPod cases, as you might expect. And despite access to hot and cold running samples, there's one iPod case I've actually purchased with my own hard-earned scratch: the iFrogz Wrapz . Despite the gratuitous use of the letter Z, I love the $21 silicone case, which is available in an dazzling array of colors. I personally don't use a belt clip for my iPod, but it comes with a sturdy screw-on clip if you do. Match it with a $6 Screenz , a clear screen protector that keeps scratches off your iPod's fragile screen.—JASON SNELL
Kick back and watch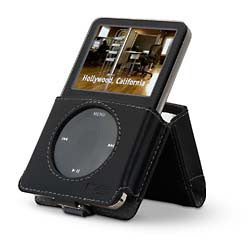 Because of its tendency to scratch, the first thing you should do with a video-capable iPod—after admiring its beauty, that is—is put it in a protective case. And I don't mean that flimsy pouch Apple provides. Ah, but there's a wrinkle with covering up your fifth-generation iPod—because it plays movies and TV shows, you also want a case that gives you a good way to watch these programs. I've found a good solution that both protects the iPod without blocking its screen: Belkin's $25 Kickstand Case . Not only does it protect your iPod with white , black , or pink leather (with a plastic cover for the screen and Click Wheel), but it also lets you bend back the top of the case and snap it in place to create a stand for the iPod—perfect for watching a movie on an airplane tray table or catching up on The Daily Show at your desk.—JONATHAN SEFF
The case for silicone
Silicone cases for the iPod may seem like they're a dime a dozen, but some offer more features than others. Power Support's Splash Case for iPod nano may be a little pricey at $35, but for that you get both everyday protection from scratches as well as a virtually watertight solution that can stand up to the toughest downpours. Once the bottom plug is firmly in place, the only opening in the Splash Case is for the iPod's headphones. Don't use the standard iPod earbuds? Power Support has you covered with an included universal headphone adapter.—DAN MOREN
The nano's running mate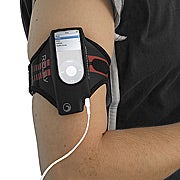 Runners may recall that just five years ago, going out for a run entailed getting into some shorts or sweats, putting on a pair of shoes, and heading out the door. Fast forward into the present day, and we're out there with high-quality stereo systems (that would be the iPod), a decent-sized collection of music, and, with the recent release of the Nike + iPod Sport Kit, a sophisticated accelerometer/electronic personal trainer. This extra gear is small and at least a bit fragile, which is why Marware's $30 Sportsuit Relay for iPod nano is both nifty and necessary. It consists of the Sportsuit Sensor +, a tiny pouch that wraps with Velcro around your shoelaces, into which you snug your Nike + iPod sensor (if you don't have a pair of Nike + shoes) and a wrist/armband case into which the nano with an attached Nike + iPod transmitter fits perfectly. It's a comfortable setup that provides clear, easy access to your nano's controls.—JEFF MERRON
Hey, 'cutie
If you're looking for a one-of-a-kind gift to present to an iPod-lover's during the coming holidays, look no further than Emily Sessions' Technocutie. Sessions' unique line of cases, priced from $16 to $25, come in either felt or vinyl and are hand-sewn by the artist herself. Whether you have a first-generation shuffle, nano, mini, or full-sized iPod, Sessions has it covered in an array of fanciful cases and cozies that are guaranteed to be the envy of your local quilting bee. While these cases will protect your iPod from scratches and scuffs, they aren't drop-proof. However, the biggest danger you'll need protection from with one of Technocutie's cases in hand will be the jealous stares of others.—MATHEW HONAN
Rattle the lumber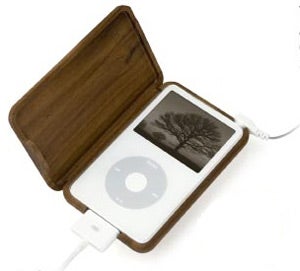 Sure, fabric's nice, but nothing protects like good, old fashioned wood. That seems to be the idea behind Miniot's iWood (€75 to €85 plus options), a handcrafted iPod case that completely encloses your iPod in a concealed-hinge, protective shell of fine hardwood. Each iWood is carved from a single piece of wood, resulting in a truly one-of-a-kind accessory. You choose your wood—maple, walnut, mahogany, cherry, and oak are currently available—pick a single-letter monogram for the front of the case (a €10 option), provide a two-line message or label for the back (also a €10 option), and your custom case should arrive within two weeks. (The company also makes rare-wood, limited-edition "Heritage" models for €175 and up.)—DAN FRAKES
Keep it Smooth
There are a lot of demands on an iPod case: slim profile, good protection, accessibility. AVA's $20 Smooth E for iPod nano meets all of these criteria with aplomb. Made from ABS plastic with a liquid polymer finish, the Smooth E is a two-piece hardshell that's barely bigger than the iPod nano itself. Still, it manages to not only admirably shield the nano from bumps and scratches, but also leave all of the player's controls easily accessible. The Smooth E's best innovation? A hold switch built right into the case. Stick with standard black or white, or snazz it up with a red or blue model.—DM
[ Jason Snell is Macworld 's editorial director. Jonathan Seff is senior news editor for Macworld . Dan Moren blogs about the Mac at MacUser and about cool new gear at Gadgetbox. Jeff Merron is a freelance writer and senior Web site editor for 108 Magazine. Dan Frakes is the senior reviews editor for Playlist . Mathew Honan is a San Francisco-based freelance writer who contributes to Playlist . ]
Note: When you purchase something after clicking links in our articles, we may earn a small commission. Read our affiliate link policy for more details.