Our multi-part look at accessories that make great gift ideas continues with an assortment of add-ons and equipment for your car, iPod, and home stereo system.
Old-school adapters
While iPod FM transmitters abound, my money says the best way to connect your iPod to your car's stereo is a cassette tape adapter (assuming that the car in question has a tape deck, of course). I've been using the same model to pump tunes into my ride since my portable music solution was a Sony Discman—Sony's $20 CPA-9C Cassette Adapter —and I've had no problem with the adapter since making my iPod transition. A cassette adapter looks too retro, you say? Perhaps. But Sony's offering not only sound good, it's practically hassle-free. You never have to worry about interference or fiddle with frequency controls. On the road, when your hands should be at two and 10 on the steering wheel, that's not just useful, it's potentially life-saving.—DAN MOREN
For the homefront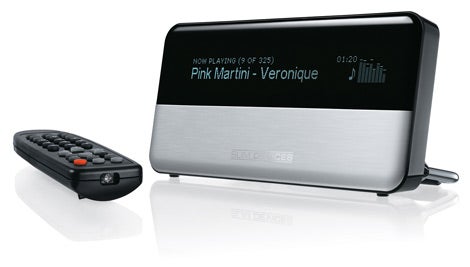 I've never considered the iPod a legitimate home-stereo device; that screen is just too small and if you want to change playlists, you've got to walk across the room and pick it up. (iTunes and Front Row are better, but I still don't want a computer permanently stationed in my living room.) That's why I love Slim Devices' $249 Squeezebox standalone music player. With a bright fluorescent display and an infrared remote, you control the Squeezebox like you would any other component in your stereo rack. It connects directly to any Mac or PC running iTunes and lets you browse by artist, genre, or playlist—just like the iPod. The big difference: it stays in your living room, and you can control it while you're sitting on the couch. Squeezebox also excels at playing back Internet radio stations, including the super-hot Pandora music-suggestion service.—JASON SNELL
It's a hub, bub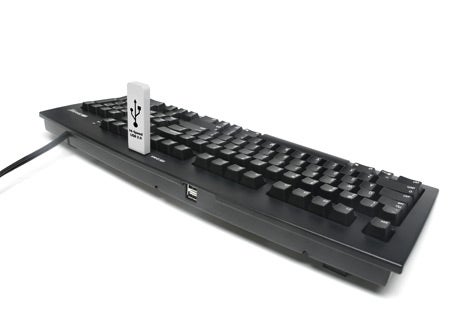 If you're a geek, gearhead, or simply greedy for gewgaws, your stocking is likely to be stuffed with toys that glom onto your Mac's USB 2.0 port. To make such a port more accessible, bring it front and center—and get a capable keyboard at the same time—with Matias' $30 USB 2.0 Keyboard . This black or white keyboard features a USB 2.0 dock smack-dab at the top of the keyboard—convenient for quickly synchronizing your iPod or dumping digital photos from camera to computer. The keyboard also includes two USB 1.1 ports on the back, quiet dome switches, and such odd characters as β, ©, and the ever-popular Apple symbol printed right on the keyboard.—CHRISTOPHER BREEN
Its master's voice
The fifth-generation iPod picked up the ability to record CD-quality audio with the assistance of a compatible accessory—two of which are now available. Plug either Belkin's $70 TuneTalk Stereo or XtremeMac's $60 MicroMemo into a the dock connector port of a 5G iPod and a Voice Memo screen appears on the iPod. Select Record, press the Center button, and crystal clear audio flows into your iPod from the built-in microphone or a microphone attached to the devices' audio input jack. The MicroMemo offers the significant advantage of including a small speaker, thus allowing you to listen to your voice recordings without having to plug headphones into the iPod. What's more, these add-ons work with the recently released second-generation iPod nanos (although they look ungainly when attached to these smaller models).—CB
Charging down the highway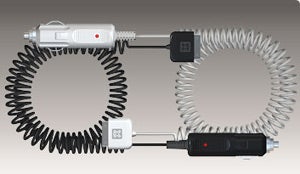 Take it from someone who's been there far too often: there is no worse feeling than being in the midst of a day-long road trip just as the last bit of battery life ebbs out of your iPod. Before your next lengthy car trip, make sure you've got a charger handy that can feed your iPod life-giving juice via your car's cigarette lighter socket. XtremeMac's $20 Car Charger is an excellent choice if you've got an iPod with a dock connector (any mini, nano, or third-generation or later iPod, in essence). A compact coil cord makes the accessory easy to store. Built-in charging circuitry protects your car against back-flow current and your iPod against excessive electrical loads. And it comes in either white or black if you put as much emphasis on color-coordination as you do on staying fully charged.—PHILIP MICHAELS
[ Dan Moren blogs about the Mac at MacUser and about cool new gear at Gadgetbox. Jason Snell is Macworld 's editorial director. Christopher Breen is a senior editor for Macworld and writes The iPod Blog. Philip Michaels is the executive editor of Macworld.com. ]
Note: When you purchase something after clicking links in our articles, we may earn a small commission. Read our affiliate link policy for more details.