I have a confession to make. During my formative years, I spent a huge amount of time reading comic books. I've still got more than a thousand of them, mostly from 1979 through 1987, in a box in my garage. Although I stopped reading comics regularly after I finished the best comic book of all time, they've stuck with me. And just recently I discovered that I could relive the comics of my youth — and much, much more — using my Mac.
Just as MP3s revolutionized the way people listened to and bought music, the rise in digital comics formats threatens to change the comics industry forever — and for the better, if you ask me. Over the past few months I've discovered that some comic fans are rapidly embracing the use of digital technology to display and archive comics — using both legal and illegal methods, of course.
Just as the record companies struggled with the concept of digital music downloads, comic book companies today have generally been reticent to release their crown jewels in digital form. Marvel Comics has released a series of DVD-ROMs that feature complete runs of certain comics in PDF form; I bought " 40 Years of the X-Men," but there are also Amazing Spider-Man, Avengers, and Fantastic Four collections. Each of these DVDs contains around 500 comic books for about $50. Marvel's also experimenting with newer comics — I found a complete Ultimate X-Men CD-ROM featuring 70 issues for $10.
The big problem with these collections? First, there aren't that many of them out there. Second, they offer a limited selection: the Amazing Spider-Man collection, for example, gets you the entire run of that comic but none of the other spin-off Spider-Man series — without which, many "event" stories end up becoming nonsensical. And third, they're only really useful if you wait for 40 years (or in the case of Ultimate X-Men, six years) and then buy the entire series all at once.
What's needed here, of course, is something like an iTunes store for comic books. If I could buy comic books on iTunes, I'd start slapping down money today. Just as iTunes lets you buy TV series or individual episodes, comics on iTunes could be presented either as single, a la carte issues, or via subscriptions that automatically download new issues to you.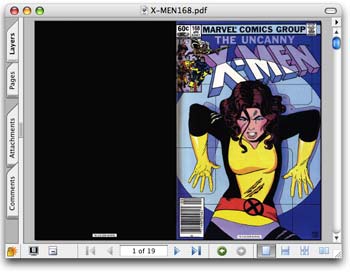 Unfortunately, it seems that most comic book publishers are reluctant to distribute their latest wares digitally. (There are a few independent comic publishers out there who are selling digital files — I bought a digital comic, Ursa Minors , for 69 cents from SLG publishing using PayPal.)
As you might expect, the relative void in legal digital comics has been filled by people acting illegally to distribute comics online. Scattered throughout various BitTorrent sites are files, generally labeled "DCP" — Digital Comics Preservation. Every new comic that comes out is scanned and distributed, generally in one of two formats — CBR and CBZ. They're basically both just compressed archives (in RAR and Zip formats, respectively) containing a series of JPEG images of scanned comic book pages.
Out of curiosity, I downloaded a few of these collections. Being a fan — don't look now, but it's an embarrassing confession! — of the '70s era Marvel comic Micronauts, I downloaded a torrent archive containing every issue. (I actually own all of these comics, and they're out in my garage — one of the conceits of DCP is that while it's illegal, it's not immoral because it allows comics fans to read their favorite comics on-screen without handling the theoretically valuable paper originals. Not sure if I buy that argument, but in this case I was in keeping with its spirit.)
To read a CBR or CBZ file, ideally you'll need a helper application. (You could always decode the archives and read them using Preview, but that's a big waste of time.) The first viewer I discovered is FeedFace's free FFView. Open a comic archive in FFView and it adds that archive's pages to its Image list. It's easy to view pages, either in a window or full-screen form, and then use the space bar to turn the page. You can also choose to view comics in either single-page view, or with two pages side by side.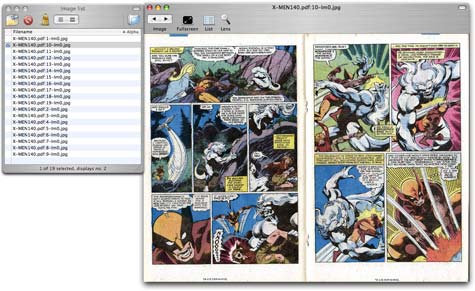 Another contender is the free cross-platform open-source reader Comical. It's got a solid interface and works pretty well, although it failed to display a few comic pages that the other readers I tried seemed to handle without any trouble.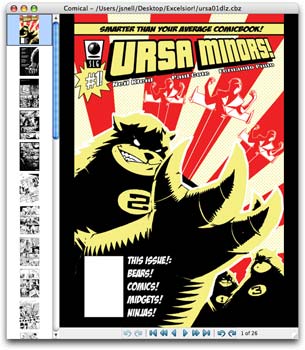 Though I used FFView as my comic reader for quite a while, I ended up settling on BitCartel's $25 ComicBookLover. Although it's got some rough edges, ComicBookLover does FFView one better by acting as an iTunes-style database for digital comics. No, really — look at it: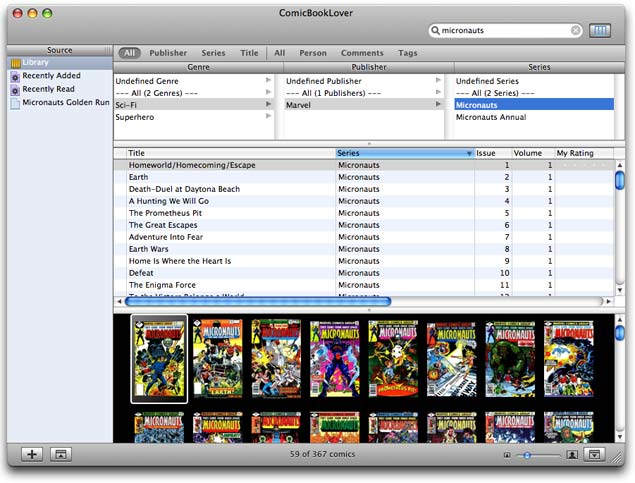 BitCartel hasn't gotten the iTunes-style interface working without a hitch, and aping iTunes sets the bar pretty high when it comes to functionality. But it's priceless to be able to put all your digital comics in one place and find them with ease. ComicBookLover's cover-artwork view gives you a cover's eye view of your collection. And like FFView, it's also got a solid reading tool with single- and two-page views.
Blessedly, both FFView and ComicBookLover also display comics saved in PDF format. That means rather than using the big and slow Acrobat Reader that ships with Marvel's DVD-ROM-based comics, I can just copy those issues to my Mac's hard drive and then view them directly in a custom-built comic book reader. (I'm also using ComicBookLover to read the free PDF-based "Heroes" comics, based on NBC's new superhero show of the same name.)
So here's the big question that remains about this entire endeavor: are people really ready to read comic books on a computer screen? And I can see that for a lot of comic fans, the answer is going to be a rousing "no!" And that's okay. I've read a few comics on my giant 23-inch Apple Cinema Display, and let me tell you, it's a pretty darned good experience. But it's still me sitting in an office chair staring at a computer screen — not exactly leaning back and relaxing with a mug of tea and my favorite graphic novel.
However, this is not to say that I haven't also enjoyed digital comics in a more relaxed setting. You see, these digital comics readers include a very handy feature that can rotate images in 90 degree increments. And I own a MacBook. So I've taken to loading up a digital comic, rotating it 90 degrees counterclockwise, turning my MacBook on end, and reading the comic at full size on my MacBook's display, tilted into portrait orientation.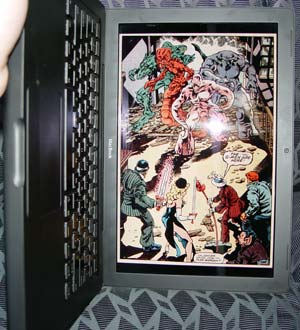 It sounds a little awkward, but it's actually pretty comfortable. On its side, the MacBook's display is roughly the size of a comic book page. Pressing the space bar to turn the page is pretty easy. It's not ideal, but it's good, and it points the way toward a future where I'll be able to keep up on modern comic books without filling my garage with a whole new era's worth of paper comic books.
So is it too much for me to hope that comic books will be the next addition to iTunes? Maybe so. But iTunes' success has shown that companies can make money by Internet distribution of their content. And let me tell you, the stuff I've found out there on the BitTorrent highways has made it clear that comic book fans are interested in digital comics, even if there's a strong whiff of piracy at the same time.
Until DC, Marvel, and the independent publishers get with the program, though, do yourself a favor and check out FFView and ComicBookLover. And if you're a big fan of any of the comics covered in Marvel's DVD-ROM collections, I'd recommend you give those some consideration, too. There's no better way to get reacquainted with old friends and foes — be they Spider-Man, the ever-lovin' blue-eyed Thing, Magneto, or Ultron — than by using your Mac to reintroduce yourself to the world of comics.
Do I think that digital comics will kill printed comics? No, not really. They may eventually kill off the monthly paper comics eventually, but there's still great pleasure to be found in reading comics on paper. After reading several issues of Marvel's Ultimate Spider-Man series in unauthorized digital form, I ran out and bought the series in hardcover. Reading those hardcovers has been a lot of fun — but then again, without digital comics, I would never have given that series a chance in the first place.