I'm a big believer in the power of napping, but I must admit that much of this "belief" is involuntary—I find it very difficult to function in the afternoon if I haven't had some kind of a mid-day snooze. It's not physical; I just need to shut my mind down and reboot. That's what it feels like, anyway.
But sometimes actually falling asleep can be a problem. The unfinished projects and looming deadlines make too much noise. Sometimes I'll put on some ambient music—Brian Eno's Ambient 1: Music for Airports is my favorite—and it will help. But last week I discovered Brainwave's Pzizz 1.7 ( ; $40 with energizer module, $20 for sleep module). This software generates background audio for power napping—a combination of soothing spoken words, sound effects, and music—and it has helped me nap both more deeply and more efficiently (that is, I fall asleep more quickly).
The company makes all kinds of claims about how Pzizz stimulates the subconscious using neuro-linguistic programming. I haven't been using the program long enough to assess whether this really works. However, there is some sound scientific support for the benefits of napping, and considering the quality of Pzizz's output, I'm willing to bet that this product is on the right track. The voice on the nap tracks, that of Michael Breen, who the company says is an "NLP Master Trainer," is both strong and calm, and it seems that if anyone can reprogram your mind to think more positive and energetic thoughts, he can.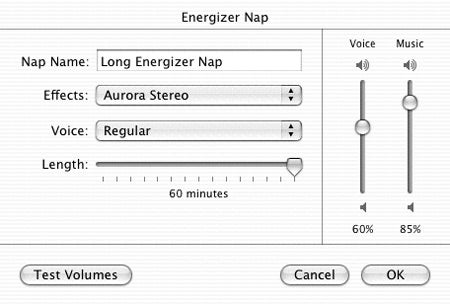 Although you can get a hardware Pzizz unit for $147, most people will probably use the software on their computers; there are versions for both the Mac and PC. After you install the software, you can create custom naps, adjusting the length (between 1 and 60 minutes) and the volume of the voice and music.
Pzizz also enables you to export nap files to iTunes. You can then put them on your iPod, which seems appropriate, since it's easier to bring your iPod to where you nap than to either lug your laptop to your nap space or to try and catch some zzzs near your desktop computer.
According to the company, the software creates algorithms that create unique nap mixes every time you use the program. The benefit is supposed to be "the consistent active stimulation of the subconscious through novel but recognizable input," and from my brief trial, this claim is believable, in the sense that the Breen utters similar phrases such as "allow your body to relax completely" and "it's okay to take time out of your day," but in different order; sounds are also familiar, but not predictable, so it's not as if you're listening to the same tape over and over again. At the end of an "energizer" nap, the prompt "Wake yourself up! It's time to get going and rejoin the day" comes with remarkable suddenness, and it seems as if I'm able to wake up more quickly and much more refreshed than I normally do after a mid-day snooze.
Pzizz is clearly a niche product, one that's unlikely to inspire much competition. But the good news, for those of us who struggle if we don't get our nap time, is that Pzizz fills the niche very well.
Pzizz requires a Mac G4 667MHz with 512MB of RAM or better running OS X 10.3 or later. It is a Universal Binary.