We wrap up our five-part look at iPod-related holiday gift ideas with an assortment of accessories. From iPod-friendly apparel to services and software that will fill your music player with content, these items will brighten up even the darkest days of winter.
Heard any good books lately?
Put this under the "for the person who has everything" gift category. Or "the gift that keeps on giving." Audible.com offers thousands of audio books, radio programs, and audio versions of publications like the New York Times and the New Yorker . For the price of a $150 one-year Gold membership you get 12 book credits (most books cost one credit), a free subscription to the audio version of either the Times or the Wall Street Journal , and a subscription to a radio program like "Car Talk." It's a great deal, made even sweeter when you consider that Audible is almost always running a promotion that gives you $100 off an iPod purchased from Amazon.com if you sign up for a gold membership.—JEFF MERRON
Radio, refined

There are plenty of Internet radio stations out there featuring rock, pop, metal, rap, R&B, or country—even scores of them dedicated to reliving the '80s. But what if your tastes run towards classical, jazz, and world music? Naxos' Naxos Radio offers more than 70 streaming "stations," each featuring a particular type of music: orchestral, concertos, chamber, baroque, guitar, vocal/choral, jazz, and much more. In fact, in each genre, you can even choose from among several sub-genres; for example, fans of chamber music can choose from classical era, romantic and modern, and 20th- and 21st-century works. A subscription is a very reasonable $20 for a year of "near-CD-quality" (64k streaming) or just $10 for a year of "FM quality" (20k streaming).—DAN FRAKES
Wowie zowie
You've got hundreds of dollars worth of music crammed into a two thousand dollar computer which, in turn, is tethered to your $350 iPod. Yet, when played through your small computer speakers, your music sounds lifeless. Help bring the music on those speakers to life with SRS Labs' SRS iWOW Plug-in for Mac. The $20 plug-in uses SRS Labs' patented technology to expand and enhance the details of your music in amazing ways—using psycho-acoustic techniques to provide greater separation of frequencies, bigger thump to the bass, and a seemingly wider soundstage. The plug-in's settings are adjustable and can be fine tuned for speaker or headphone playback. Give the free trial a spin to see if you like the effect with your Mac's speakers.—CHRISTOPHER BREEN
New life for old music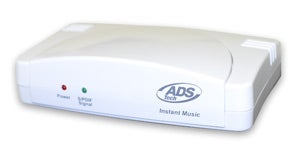 Vinyl LPs and tape cassettes don't have to be relegated to the dustbin of history by music's digital age. To get the music from these older formats into iTunes and onto your iPod, try ADS's $60 Instant Music , available with either Mac or Windows software. The Instant Music hardware plugs into a USB port on your computer and provides standard left/right RCA input jacks. Connect a cassette deck or turntable, and you can record those records and tapes to AIFF, WAV, MP3, AAC, or WMA music files, which you can then add to iTunes. The included software doesn't approach iTunes' "insert CD and rip" simplicity, but it allows you to automatically set levels and split tracks into separate files. The only other thing you'll require is patience—Instant Music records in real-time.—DF
Go squint
If you find YouTube just too addictive, and want to take some of your favorite Flash videos offline, Techspansion's free iSquint's for you. This nice little free application, brought to you by the developer of VisualHub, enables you to take batches of videos that you've already downloaded (I use the Web-based Keepvid.com for this task) and convert them into iPod-compatible .mp4 files. You can do other kinds of conversions, too—to and from .mov and .avi formats, for example. After a few minutes, depending on whether you want to specify low, medium, or high-quality video output (the higher the quality, the bigger the file size). And before you know it, those grainy YouTube videos are automatically added to your iTunes library and ready for some sweet, smooth viewing on your video iPod. Or, if you want to, click on the Go Crazy button and get files good enough to watch on your old-fashioned TV. You can also use iSquint to convert your DVDs for playing on the video iPod.—JM
Buckle up for safety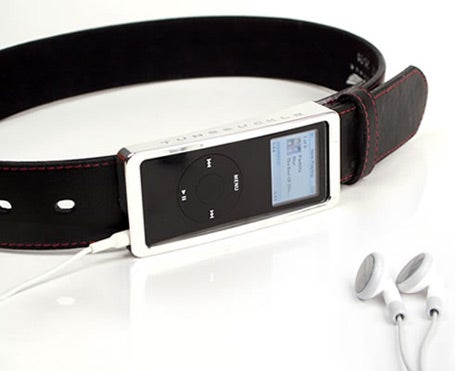 TuneBuckle belts store an iPod nano in stylish aluminum alloy belt buckles. Practical? Debatable. But stylish? Absolutely. The black leather belts feature red stitching around the seams for high-style accenting. Meanwhile, three different models to choose from (priced from $46 to $70) let you pick how much iPod-exposure you want to flash. Leave your iPod completely concealed behind a buckle with the Full Metal Jacket, or gain access to the scroll wheel with the Full Moon. Or choose The Original that lets your access the scroll wheel and view the display. (Currently, the Full Moon Dual Fit is the only model that fits both first and second generation iPod nanos.)—MATHEW HONAN
For the Voodoo you do so well
Perhaps the iPod's most underutilized feature is its ability to display and navigate notes linked to other text notes and iTunes music tracks. And it's no wonder. Who has the patience to create notes that include basic HTML coding and then copy those notes to the iPod's Notes folder? Flying Meat's VoodooPad 3 takes the drudgery out of creating such linked notes. Just open a document, highlight text you'd like to create links from, and create additional pages linked to that text. When you're done, choose File -> Export -> Export to iPod and your linked notes are transferred to the appropriate location on your music player. All three VoodooPad versions (the free Lite, $30 regular, and $50 Pro) create linkable iPod notes.—CB
Wrap up your cords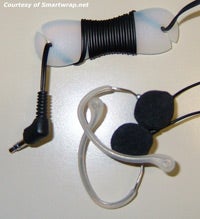 Cord Management Syndrome is a common affliction, often resulting in tangled headphone wires, several feet of unsightly hanging cords, or, most regrettably, short-corded phones being yanked suddenly from listeners' ears. But few people want to talk about it, and only a few thoughtful manufacturers have tried to address the problem with retractable wires. Fortunately, the syndrome has had an inexpensive, elegant, and easy cure for years—Sumajin's $8 to $10 Smartwrap , a 2-inch, 0.2-ounce piece of rubber that enables you to snap and wrap some of your headphone wires into a nice, neat bundle. I'm constantly adjusting my headphone length—Smartwrap makes that task easier. And with a choice of nine colors and an award-winning design, my dangling cords look pretty cool, too.—JM
Run different
Stave off the morning chill in the Nike+ Featherweight , a women's $140 jacket from the Nike+ iPod line. The left sleeve hides a removable skin-tight sheath that holds an iPod tight against your forearm and lets you work the controls, while an opening near the elbow provides an exit for your headphone cord. (If you don't want to keep it in the sleeve, there's another iPod holder by the inside right-hand pocket.) Anchors let you snake the cable up your arm and shoulder, holding it tight to your body to prevent tangles. The chin-high collar and solid windproof shell will keep you warm on blustery days, while breathable vents throughout the jacket will prevent you from pruning up mid-run.—MH
Recording artist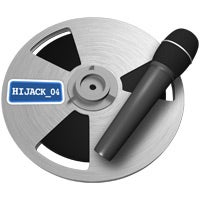 If you can hear it on your computer, Rogue Amoeba's $32 Audio Hijack Pro can record it. The software is a really utility player—you can grab streaming audio and capture it in AAC, MP3, Apple Lossless, or AIFF formats, especially useful if you like public radio but can't listen in front of your computer or when your favorite program is broadcast. You can hook your old record or cassette player to your computer and transform analog audio to files you can listen to on your iPod. That's just the tip of the iceberg—you can also use sound effects, select the audio quality (up to 320 kbps), and split long files into shorter tracks (there's a silence monitor that detects spaces between album cuts). And if you simply want to record directly onto your Mac—to create a podcast, for example—Audio Hijack Pro enables you not only to capture your words, but also to manipulate them using a wide variety of sound effects. This application can't do everything, but chances are it can help you do pretty much anything you want to do with audio. And it comes with scripts that do a sleek job of transferring your audio grabs directly into iTunes.—JM
[ Jeff Merron is a freelance writer and senior Web site editor for 108 Magazine. Dan Frakes is the senior reviews editor for Playlist . Christopher Breen is a senior editor for Macworld and writes The iPod Blog. Mathew Honan is a San Francisco-based freelance writer who contributes to Playlist . ]
Note: When you purchase something after clicking links in our articles, we may earn a small commission. Read our affiliate link policy for more details.