At a Glance
Expert's Rating
Pros
S-Video out port
2 headphone jacks
Large screen
Good battery life
Cons
Low screen resolution
Mediocre audio quality with pops and audible hiss
Clunky design
Our Verdict
Portable video player for fifth-generation iPods.
If you're getting tired of squinting at your video iPod's small screen—or if you've been put off from purchasing a video iPod by the small screen—Memorex's $199 iFlip 8.4-inch portable video system for iPod (a.k.a., the Mi8000-BLK) might provide a resolution (no pun intended). The iFlip is a portable video player featuring an 8.4-inch LCD that works with fifth-generation iPods. The 2.5-pound unit enables you to watch your iPod's videos on a much larger (if not sharper) screen, and can also serve as a video conduit between your iPod and your TV. It has two external speakers, but it's designed primarily with video viewing, not music listening, in mind.
The iFlip includes cradle adapters for the 30 GB and 60/80GB iPods. After you plug in the appropriate cradle, your iPod slips into it and docks with the iFlip. The cradle then folds down so that your iPod is flush with the iFlip's body. This makes it awkward to access video controls—although screen controls such as contrast, brightness, and aspect ratio are accessed via buttons on the iFlip's right side, all video-playback functions require the use of the iPod's own Click Wheel.
Apple's video-capable iPods pack a 320-by-240-pixel viewing area into a 2.5-inch screen. The iFlip's screen, although much larger, doesn't up the quality ante all that much—its 480-by-234-pixel resolution provides approximately one and a half times the iPod screen's pixels. Despite the higher resolution, some videos actually appear less sharp on the iFlip than on the iPod, because the pixels are spread out over a much larger area. Thus, some videos downloaded from YouTube, which are usually very pleasant to watch on the iPod's small screen, are almost unwatchable on the iFlip—in some cases sharp contrast is exaggerated, in others the images are much too pixilated, and in others the colors are washed out.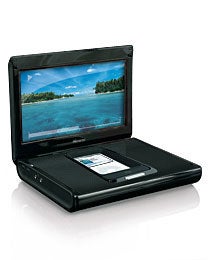 But watching short, low-quality videos is not what the iFlip is really designed for. TV shows, movies, and video podcasts downloaded from the iTunes Store look fine—the widescreen short film The Shovel starring David Straithairn, for example, looked beautiful on the iFlip's screen, as did an episode of Weeds . On the other hand, watching a Malcolm Gladwell TedTalks podcast revealed a splotchy background; what should have been solid black was interspersed with whitish pixel clouds, which is not a trivial concern if you view a lot of "talking head"-style videos on your iPod.
The iFlip also has a few design problems. When I first received the shiny black unit, which has a clamshell case, it was unclear how to open it, as there were no release slides or buttons. I tried just lifting the lid, but it didn't want to go very far, and I didn't want to break it. It took a while for me to figure out that the stuck lid was simply a stuck lid, and some force allowed me to open it in a herky-jerky way. A spring release—or even some good ol' WD-40—would have made for a more pleasant experience. I didn't like the feeling that I might be breaking the screen off a $200 product.
Starting videos is also an odd experience (especially if you have headphones on), as the unit emits a bleep and then a loud spinning noise upon startup of your iPod. It's a very analog sound for an all-digital setup. I also noticed an audible hiss while playing most videos. Sometimes this hiss was quite pronounced, and it was especially annoying while watching music videos.
The iFlip has its charms, though. For example, it's small enough for comfortable in-bed viewing. You can watch videos in either widescreen (16:9) or regular (4:3) aspect ratios. The unit also boasts two headphone jacks, an S-video-out port (mini-to-S-video cable included), an audio line-out port (stereo cable included), and a rechargeable lithium ion battery that powers the iFlip for almost six hours. (The battery takes about five hours to charge via the included AC adapter.) Memorex has also made it easy to connect the iFlip to your TV, making your iPod a nifty video server, and the video output can be superb when used this way.
The lowdown
The iFlip isn't a jack-of-all-trades product, but as an early starter in the video-iPod accessories game, it does a fair job of making iPod video-viewing more pleasant. A higher-quality display and less audio noise would go a long way towards making this a must-have gadget.