Whether you spend your days behind a desk or on the go, there's a surplus of gadgets and gizmos out there that will help make your Mac experience that much sweeter. But you don't have to take time out of your busy day to search high and low for the fun and practical Mac add-ons—we do all the hard work for you as part of our annual Gear Guide. In part one, we look at gear for the office and for the open road that will make Mac users happy this holiday season.
Gear for the Office
Workers of the world, unite—you have nothing to lose but your lackluster gadgets, once they're replaced with this new and improved loot. Here are five gift ideas for the nine-to-fiver in your life, available in a wide range of prices:
Colorful conversations
If you're going to walk around with a Bluetooth headset hanging off your ear, you may as well like the way it looks. Jabra's BT160 headset includes 33 designer covers—from hip patterns to solid colors to fun figures—so you can customize its appearance. (Yes, longtime Mac users—they're very similar to the case inserts for Apple's PowerBook 1400.) Artistically inclined talkers can even make their own covers. Boasting up to 110 hours of standby time and up to eight hours of talk time, the BT160 should last through even marathon hands-free conversations, and an adjustable rubber earclip provides a comfortable fit. The BT160 works with any Bluetooth phone and some Bluetooth-enabled Macs.—DAN FRAKES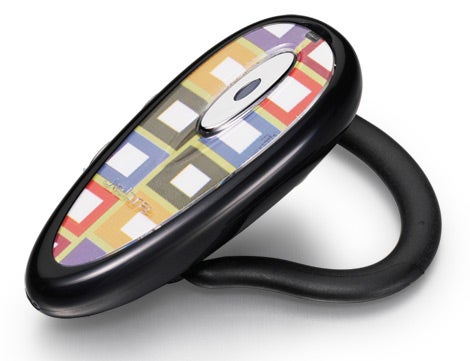 BT160 headset: $60; Jabra
Surge-a-pod
PowerSquid's five-tentacle Outlet Multiplier was all the rage a year ago; it let you plug in five bulky "wall wart" power adapters without a single one of them feeling crowded. Over the past year, the original circuit cephalopod has evolved into the Surge3000 Calamari Edition, which offers six outlets (two of them glow, to make plugging them in under desks easier); 3,240 joules of surge protection, including coaxial-cable, DSL, and phone protection; power filtering; and a $500,000 surge-protection warranty for connected equipment. The Surge3000 itself can plug into almost any outlet space, thanks to its unique low-profile, swiveling plug. Finally, the device's white and blue curves make the Surge3000 one of the most attractive surge protectors you'll find.—DF
Surge3000 Calamari Edition: $80; PowerSquid
Color me busy
The phone rings—so you look up from that project you're trying to finish before the noon deadline. You notice that a round plastic object next to the phone is glowing blue. This color tells you that the call is from one of your pals, so it can wait until you've met your deadline. And it's all thanks to the Color-Call Caller ID, which takes call screening to new, color-coded heights. You can assign one of four colors—red, blue, green, and purple—to as many as 100 numbers, so you can quickly see which group a caller belongs to. The Color-Call features an LCD that shows both the number and the name of the caller, and it lets you adjust its brightness—so you can see the red glow of your boss's phone call from across the room.—DERIK DELONG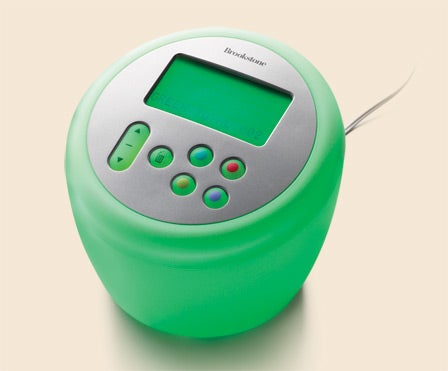 Color-Call Caller ID: $30; Brookstone
One phone to rule them all
A lot of cordless phones out there come with multiple handsets, but how many do you know of that can double as a bridge to your cell phone—and even act as surveillance equipment? Motorola's C51 Communication System can do these things and more; its array of add-ons includes a color-screen-equipped handset that works with a wireless camera/intercom accessory for video and audio monitoring, and a Bluetooth accessory that works with your mobile phone so you can use the C51's handset to place and answer mobile calls.—PETER COHEN
C51 Communication System: handset with digital answering machine, $70; wireless camera/intercom accessory, $80; Bluetooth interface, $100; Motorola, www.motorola.com
Nothing left to lose
Portable FireWire hard drives are both fast and handy, but toting around a cable—to say nothing of an AC adapter—means having one more thing to plug before you can actually play. It also means one more thing to possibly lose. Not so with Apricorn's Aegis Mini. Available in 30GB and 60GB capacities, the Mini has a built-in FireWire cable that tucks in tightly for travel. Plus, it's bus-powered, so you won't be tied in FireWire or adapter knots when trying to transfer files.—ERIC SUESZ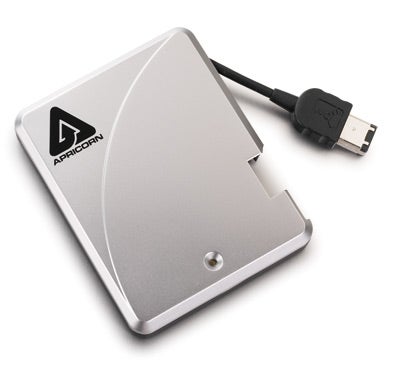 Aegis Mini: 30GB, $169; 60GB, $249; Apricorn
Gear for the On-the-Go
Travelers, laptop devotees, and other mobile users will want to hold still for long enough to check out some of these gadgets and accessories. We've found gear at the following prices:
Stop feeling the burn
For many recent portable computers, the term laptop is a stretch—they just get too hot to rest on human legs. So a laptop desk can be a lifesaver—or at least a lap-saver. LapWorks' Laptop Desk 2.0 is a portable, 22-ounce polycarbonate desk that keeps your laptop safely away from your skin. It also has grooves that let air circulate beneath it, so your portable stays cool. At 20.5 by 11.2 inches, it's large enough for even 17-inch MacBook Pros, but it folds up to half that size to fit in your laptop bag. And when you're working at home, a pop-up brace lets the Laptop Desk 2.0 function as an elevated desktop stand.—DF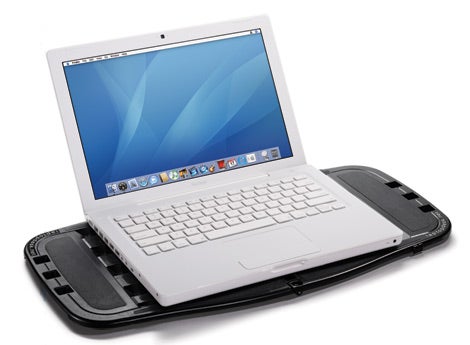 Laptop Desk 2.0: $30; LapWorks
Become a global power
Apple stopped including a wall charger with the iPod years ago, which makes it tough to recharge your iPod without the help of a nearby Mac. Apple will sell you that iPod charger for $30, or you can buy Griffin's sleek and capable PowerBlock for the same price. But for a mere $5 more, Griffin Technology's PowerBlock Travel lets you charge your iPod not only in Omaha and New York, but also in Rome and Beijing. The accessory handles any voltages you're likely to come across in your travels, converting them to the 12-volt DC needed to keep your iPod juiced. And as a bonus, both the PowerBlock and PowerBlock Travel can be used with many battery-powered devices that charge via a USB connection.—RICK LEPAGE
PowerBlock Travel: $35; Griffin Technology
Let your Mac (finally) be your guide
If you're a GPS-using Mac owner, you've probably found yourself envying the abundance of Windows software that comes with GPS devices. Sure, Apple's Boot Camp and Parallels Desktop will let you use your Mac to talk to your GPS, but they're no substitute for a real Mac app. So Mac users with a penchant for exploration should check out RouteBuddy, a Universal app that provides street-level mapping of most of the United States and Europe, as well as a smattering of Asia. With it, you can transfer routes, waypoints, and tracks to and from your GPS while easily searching for tens of thousands of points of interest. (To transfer map data, you'll have to use the bundled Windows software.) RouteBuddy can even show you your current position on its map, or use Google Earth or Google Maps to automatically display your current position.—BEN LONG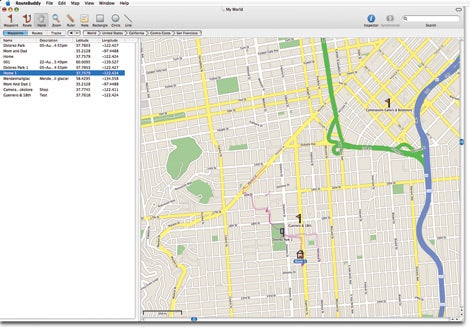 RouteBuddy: $100; United States map, $50; other map prices vary; RouteBuddy
iMac to go
It's no secret that the iMac uses a lot of the same parts as a laptop. And even though the 17-, 20-, and 24-inch iMacs weigh in at 15.5, 22.0, and 24.7 pounds, respectively, they're fairly portable, thanks to their slender form factor. Still, you don't want to expose such a beautiful veneer to the bumps and bruises of the road. The Timbag is designed to carry an iMac; it has special compartments that hold the keyboard, the mouse, cables, and even a few CDs or DVDs. With different sizes that fit each of the three iMac models, the Timbag is the ideal container if you need to transport your desktop out into the wild.—DD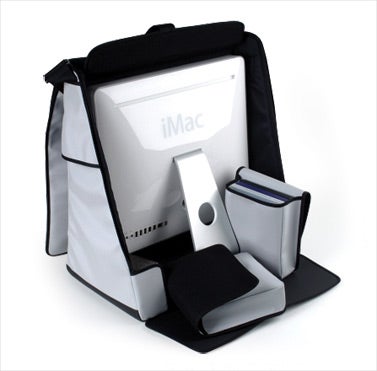 Timbag: €179; Timbag
The just-in-case case
Most of the time, my PowerBook G4 sits on my desk. I only occasionally unplug it, to take it home or on a business trip. So I don't really need a dedicated laptop bag. But when I do travel, I want my laptop to have at least some protection. That's why I like laptop sleeves: they let me carry my PowerBook in a regular bag, but they provide just enough padding that the machine can withstand the rigors of mobility. RoadWired's Skooba Skin 1415 is a current favorite. This padded envelope can hold any 15-inch notebook (other Skooba Skin sizes are available)—be it a PowerBook or one of those new-fangled MacBook Pros the kids are getting these days—and it slides easily into my Tom Bihn shoulder bag (I bet it will fit inside your bag or briefcase, too). Plus, the Skooba Skin's top flap can be flipped up to form a handle, and it's available in a bunch of different colors and materials—from blue ultrasuede to pink vinyl—so you won't be stuck with boring old black Cordura.—DAN MILLER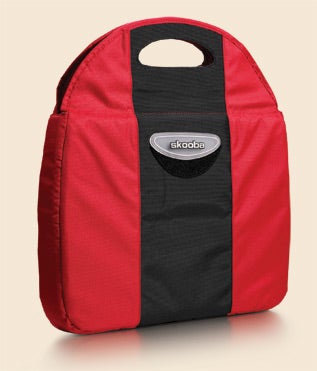 Skooba Skin 1415: $35; RoadWired
Portrait of the artist as a mobile user
If you're tired of all those look-alike laptop bags, check out Timbuk2's new Artist's Canvas Bag. Because it's made of untreated cotton, you can draw on it, paint it, and otherwise personalize it however you wish. (For inspiration, check out the artists' gallery.) But the Artist's Canvas Bag is still a Timbuk2 messenger bag, which means sturdy construction, a waterproof liner, and a nice wide shoulder strap. No, it's not padded specifically for a laptop, but you can take care of that with a laptop sleeve (assuming you can find one that doesn't offend your artistic sensibilities).—DM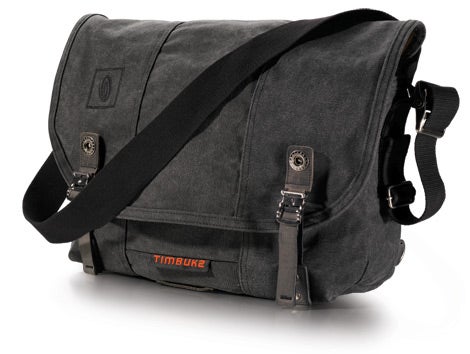 Artist's Canvas Bag: $90; Timbuk2
See where you're going
Google Maps is the best. But you can't really take it with you. NavMan's line of tiny Global Positioning System (GPS) receivers—highlighted by the NavMan N60i —are like a live version of Google Maps. Use the touchscreen to tell the NavMan where you want to go; it knows where you are thanks to the orbiting GPS satellites, and its hard drive is pre-loaded with maps that cover North America. The NavMan calculates your destination, shouts out helpful directions ("In one eighth of a mile, turn left!"), and does a remarkable job of calculating your estimated time of arrival. It's even got a built-in digital camera so you can snap geo-tagged photos of wherever you are. Although the NavMan ships with Windows software, it's completely unnecessary: there's an SD slot for your images or you can transfer data directly via USB.—JASON SNELL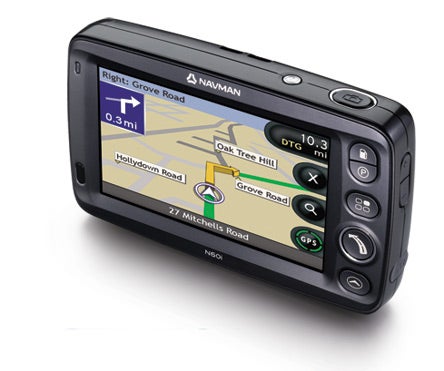 NavMan N60i: $600; NavMan
Get a handle on things
Apple laptops are legendary for their superlative design, but one thing's missing from these otherwise perfect portables—a handle for easy transport. QuickerTek steps into the breach with the Handle, available for 13-inch MacBooks as well as the two-different sized MacBook Pro models. I tried out the $48 Handle for my 15-inch MacBook Pro. (The 17-inch and MacBook versions cost $50.) Attaching four screws into the bottom of my MacBook Pro was a snap—I completed the entire assembly process while conducting a five-minute phone call. Besides providing a safe and secure grip for my laptop, the brushed, anodized handle handle also props up the MacBook Pro at an angle when it's not in use, helping with heat dissipation.—PHILIP MICHAELS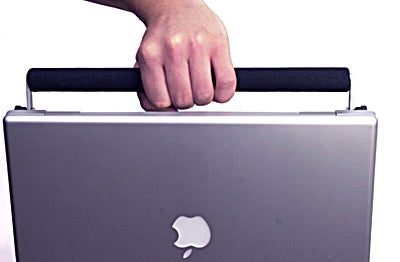 MacBook Pro Handle: $48-$50; QuickerTek
[ Photography by Peter Belanger. ]
Note: When you purchase something after clicking links in our articles, we may earn a small commission. Read our affiliate link policy for more details.