A year ago, we dubbed 2005 the Year of the iPod —the year when Apple's line of portable players, and the slew of unique accessories surrounding it, made things abundantly clear that the iPod ruled the roost.
And 2006? Well, this was the year that both the iPod line and attendant accessories matured. All three iPod models saw second-generation updates that improved on the originals' features and performance. And although we didn't see as many new types of iPod accessories, we saw significant improvements in the offerings in many add-on categories—better speakers, headphones, cases, transmitters… the list goes on.
Since we get a chance to play with these accessories (or, to put it more professionally, "test and evaluate them"), we've got a pretty good idea of which products surpassed expectations to be the best in their class. Our editorial staff has put their collective heads together to select our favorite iPod- and digital-music-related products of the past year. The 23 products we picked for our Plays of the Year stand out for their exceptional quality, innovation, usefulness, design, and value.
Our top product picks are spread out over the next four pages. On this page, you'll find awards for general categories, such as the top iPod of the year and great iPod software. The next page features our picks for the top headphones and speakers while page three profiles our favorite cases and car accessories. Finally, we wrap up with a look at top digital audio offerings.
General awards
Best iPod: Second-generation iPod Nano (2GB, $149 ; 4GB, $199 ; 8GB, $249 ; Apple )
When it comes to the iPod, Apple has followed a consistent plan: keep what works, change what doesn't, and do it fast. Last year, the newly-introduced iPod nano replaced the best-selling iPod mini and quickly took the crown of Best New iPod; a year later and, as Steve Jobs would say, "boom!"—it's gone. In is place is a new nano that combines the best of the original nano (small size, flash memory, a color screen) with the best of the mini (a hard-to-scratch, aluminum exterior and robust build) and increases capacity to up to 8GB. As if that weren't enough, the new nano also tosses in a brighter screen, search functionality, a choice of six colors, and—my favorite subtle touch—an ever-so-slightly concave select button. For music fans who don't want to waste their time with videos and games it's—dare we say it—the best iPod yet.—DAN MOREN
Most Innovative iPod Accessory: Nike + iPod Sport Kit ($29 ; Apple )
Nike and music have gone together since at least the 1980s, when baby boomers everywhere lamented the company's use of The Beatles' Revolution in advertising. But Nike's latest musical revolution, the surprisingly inexpensive Nike + iPod Sports Kit , might just win back some good will. The seductively simple Sports Kit consists of a tiny receiver that plugs into the dock-connector port of your iPod nano and a transmitter that attaches to your shoe (directly into the sole of a Nike+ shoe model, or tucked into an attached pocket, such Marware's $10 Sportsuit Sensor+ ). The transmitter measures your progress and sends your run data to your nano; time, distance, and pace information are displayed on your iPod's screen as you run. You can also hear your progress through your headphones by clicking your iPod's Center button, and you also get congratulatory feedback from athletes such as Lance Armstrong when you achieve new milestones (for example, fastest time or longest distance). Once you get home, your data is automatically uploaded to the Nike+ Web site when you sync your iPod with iTunes, so you can track your runs and see how many calories you've burned off with the click of a mouse. Since its launch this summer, Sports Kit-using runners have already clocked more than 2.5 million miles. So whether you're training for a 5K fun run or an ultra-marathon, tune in and hear the burn.—MATHEW HONAN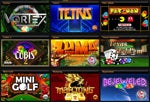 Best Way to Waste Time with Your iPod: iPod games ($4.99 each; Apple )
The first iPod was a music player; a ground-breaking music player, but a music player nonetheless. Come 2005, our favorite little device sliced, diced, and played back our favorite movies and TV shows. But this year Apple surprised many by adding premium games to the iPod's repertoire. The iPod's always had games, of course—all the way back to the hidden version of Breakout in the first generation iPod (appropriate, given that Breakout was originally designed by Apple co-founder Steve Wozniak). But the new offerings aren't your father's—er, well, older brother's —games. Solitaire and Parachute might have been a good way to kill a minute or two, but compared to the nine titles rolled out this year, those were like listening to music on 8-track when you've got a, well, an iPod. All nine games feature slick graphics and control schemes designed to work with the iPod's Click Wheel. From Texas Hold 'Em to Bejeweled, Tetris to Pac-Man, the new lineup has something for everyone.—DM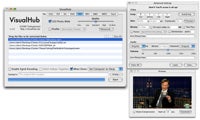 Best iPod Video Converter (for the Mac): Visual Hub ($23; Techspansion )
While we welcome the availability of video and movies from the iTunes Store, we're well aware that there's a world of video out there that isn't provided by Apple—home movies, Web clips, and, yes, even DVDs. Regrettably, most of this material is in a form not compatible with the iPod. To make it compatible, Techspansion offers the $23 VisualHub , a universal video converter for Macintosh. While not designed solely for the iPod—it can also convert video to PSP, DV, DVD, TiVo, AVI, MP4, WMV, MPEG, and Flash formats—it provides a load of help to iPod owners. To begin with, it converts video to the higher-resolution H.264 standard now supported by fifth-generation iPods; many other conversion utilities still support only the original lower-resolution standard. It converts video faster than QuickTime Pro. You can batch convert multiple files. And finally, should you have a movie that's chopped into multiple parts—a multi-part MPEG-4 video you've downloaded from the Web, for example—VisualHub can lend a hand by stitching together these files into a single movie. Our one wish: Make a version for Windows; PC users have nothing so powerful or intuitive. (Note: VisualHub can't "rip" your commercial DVDs for watching on your iPod; you'll need last year's Plays-of-the-Year winner, HandBrake, for that.)—CHRISTOPHER BREEN
Note: When you purchase something after clicking links in our articles, we may earn a small commission. Read our affiliate link policy for more details.