Our annual Gear Guide continues with five digital photo offerings, from cameras and add-ons to services that transform your images into something special. We also profile a few camcorders, a digital projector, and a universal remote for multimedia-savvy Mac users.
Gear for Photo Buffs
These selections will not only help you get great shots, but also help you turn the resulting images into something memorable.
Contorting yourself into a pretzel-like shape to compose a shot is a pretty steep price to pay for adding another memorable photo to your library of images. Fortunately, Hoodman continues to come up with ingenious little devices that help photographers take better pictures. The latest is the Universal Right Angle Viewer, an attachment that snaps onto the viewfinder of most digital SLR cameras and allows you to shoot from a comfortable position while pointing your camera every which way. The attachment has a comfortable rubber eyepiece and a built-in diopter lens for those of us whose eyesight is in as good a shape as our knees and backs.—RICK LEPAGE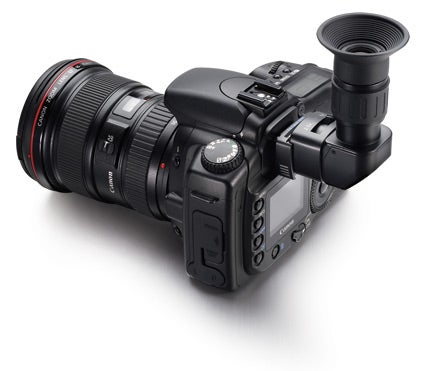 Universal Right Angle Viewer: $130; Hoodman
Tired of squinting at your digital camera's LCD as you try to decipher the menu items? Then feast your eyes on the Stylus 730, from Olympus. This 7-megapixel camera has a generous 3-inch screen that displays text and icons in large, easy-to-read type. What's more, buttons for commonly used features, such as macro and exposure-compensation settings, are on the camera body—so you'll spend less time scrolling through menus, and more time taking pictures.—KELLY TURNER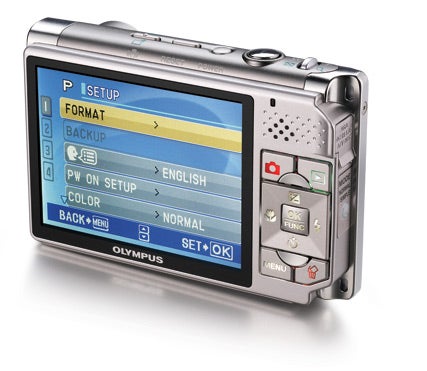 Stylus 730: $400; Olympus
If the way to the heart is through the stomach, these tasty treats are bound to inspire love. To create its Oreo Picture Cookies, Lady Fortunes starts with an Oreo cookie, dips the cookie in white chocolate, prints the photo you've submitted on top of the chocolate—in edible ink, of course—and then surrounds the artwork with sprinkles of your choosing. Nine cookies (which come prettily packaged in a gold box with a matching ribbon and gift note) cost $28. The box ships with a cold gel pack that keeps things cool. Lady Fortunes also prints photos on fortune cookies and sugar cookies, so you're sure to find a snack as tasty as your photos are striking.—KT
Oreo Picture Cookies: $28; Lady Fortunes
You just snapped a photo of Bill Gates jogging with an iPod nano, and you need to get it to the tabloids—fast! If you had the Nikon Coolpix S7c, you could run to your nearest cybercafé and e-mail the photo to your 30 closest friends and editors, directly from the camera. This slim 7-megapixel camera can upload photos via just about any open Wi-Fi hotspot. In fact, it comes with a year's access to T-Mobile's HotSpot Wi-Fi service, which offers Internet connectivity at more than 7,000 U.S. locations. Images are uploaded to Nikon's Connect server; e-mail recipients then receive a message with thumbnails and a link for downloading the images. The camera also features a 3-inch LCD, a compact design, and in-camera image processing that helps you get better images when shooting portraits or low-light photos.—KT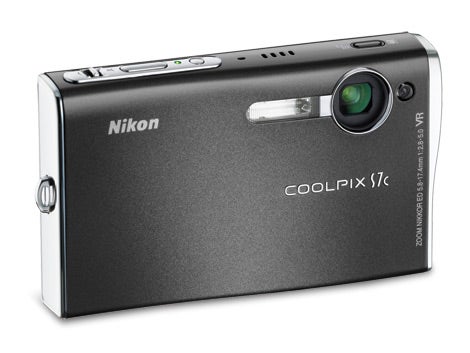 Nikon Coolpix S7c: $350; Nikon
Tilano Fresco's Marble Coaster Kit lets you place the image of your choice on a 4-by-4-inch marble tile. The kit comes with four tiles and everything you need to produce the finished product—except the photos. You can use the same photo for all four tiles or put a different picture on each. The do-it-yourself element is fun but time-consuming—it'll involve at least one trip to your local copy shop. But the finished product offers a unique way to preserve some of your memorable photos.—JACKIE DOVE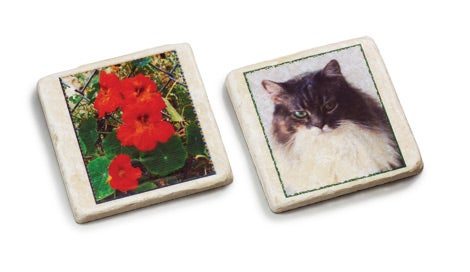 Marble Coaster Kit: $40; Tilano Fresco
Gear for Multimedia Mavens
Solidify your Mac's role as the hub of your digital lifestyle with peripherals that will help you watch and capture video from the comfort of your couch.
Gear for more than $350: PowerLite Home Cinema 400 Canon HV10 Panasonic PV-GS300 VPC-HD1a Xacti Media Camera Harmony 980
The ultimate Mac-based multimedia setup doesn't necessarily have to include a high definition television set. All you need at your disposal are a bare white wall (or better yet, a retractable movie screen), your Mac, a DVI-to-HDMI cable, and Epson's new PowerLite Home Cinema 400 high definition front projector—and you can fill a room with bright, rich video. This three-chip LCD-panel projector boasts a native resolution of 1,280 by 720 (720p), an aspect ratio of 16:9, seven color (brightness) modes, and—in case you want to plug something other than your Mac into it—a multitude of inputs including component, HDMI, composite, S-Video, and VGA. HD on-the-go has never been easier.—CHRISTOPHER BREEN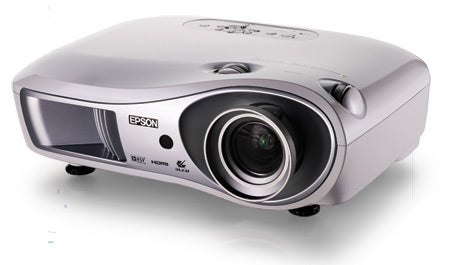 PowerLite Home Cinema 400: $1,600; Epson
Canon's first consumer high definition camcorder is a cute little thing: at just over 4 inches high and 2.2 inches thick, the HV10 will fit comfortably into a coat pocket. But the video that this one-pound camcorder captures is definitely not lightweight: It records 1080i HD video to MiniDV tapes, capturing more detail than standard definition camcorders. And you can easily transfer the video to your Mac and edit it in iMovie, to preserve your high-def holiday.—RICHARD BAGULEY
HV10: $1,299; Canon
For people looking to capture holiday festivities—or any of the year's get-togethers—Panasonic's PV-GS300 shoots top-notch standard-definition video, thanks to its three CCD image sensors (one red, one blue, and one green). It's also one of the better camcorders for shooting in low light. The lens includes optical image stabilization (an element of the lens moves to compensate for camera shake—very useful after a couple of glasses of eggnog). And the bright 2.5-inch wide-aspect LCD screen makes it easy to ensure that you're capturing every last embarrassing moment at the office holiday party.—RB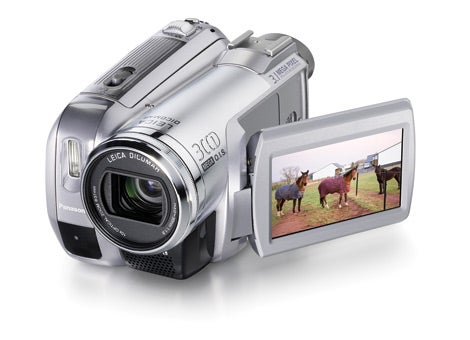 PV-GS300: $500; Panasonic
Sanyo's VPC-HD1a Xacti Media Camera doesn't record to videotapes; instead, it records 720p HD video and 5-megapixel still images to SD Memory Cards. And at just 8.3 ounces and less than an inch thick, it's great for capturing candid videos. A 2GB SD card (which costs about $50) can hold about 30 minutes of the highest-quality MPEG-4 video that the Xacti captures (this video can be edited in iMovie), and there's a special mode for shooting videos to show on a video iPod.—RB
VPC-HD1a Xacti Media Camera: $700; Sanyo
Life, the universal remote, and everything
When your couch is cluttered with remotes—for the TV, the stereo, and heaven knows what else—it's easy to see the appeal of universal remotes. But finding one that's easy to use can be a challenge. Logitech's Harmony 890 automatically configures itself to control your AV equipment, drawing from an online database of thousands of brands and models. It can handle up to 15 devices, including home-automation systems, but what really sets the Harmony 890 apart is that its functions are based on Activities. A color LCD screen displays the things you're most likely to do, such as Watch TiVo, Watch DVD, or Listen To CD; you choose the desired Activity, and the Harmony 890 automatically configures each component in your system for that task (including turning off components that aren't needed). The included Wireless A/V Bridge lets you control infrared-based devices without line-of-sight. (Another remote—the $250 Harmony 880—offers similar functionality without the Wireless Bridge.)—DAN FRAKES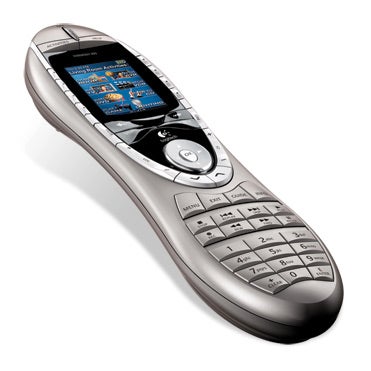 Harmony 890: $400; Logitech
[ Photography by Peter Belanger ]