Our look at great Mac gear concludes with a profile of five eye-catching iPod accessories. (For even more iPod-themed gift ideas, check out Playlist's Winter Gear Guide and its look at speakers, headphones, and other add-ons for your portable music player.) And if you're into making music as well as listening to it, we have five products sure to appeal to audiophiles.
Gear for iPod Users
Apple's insanely popular media player seems to do it all—music, videos, and photo slide shows. But these add-ons will allow your iPod to do even more.
Gear for $61 to $150: HomeDock Deluxe
Gear for $151 to $300: JBL Go + Play Multipot Personal Electric Charger
When Apple unveiled the fifth-generation iPod, an exciting specification was hidden in the fine print: with a compatible microphone, this iPod could record CD-quality audio. Although it took the better part of a year for such devices to appear, they've finally arrived—and XtremeMac's MicroMemo tops the list. This iPod add-on not only offers a flexible mono mike that captures clean recordings, but also houses tiny speakers that let you listen to your memos and music (albeit at transistor-radio quality). The MicroMemo accepts microphone and line-level inputs, and its somewhat bulky microphone can be removed so you can attach a mike of your choosing. Just plug in the MicroMemo, and lectures, dictation, and even audio reminders to yourself can take their rightful place alongside Lost episodes, Lyle Lovett albums, and photos of your recent ski trip.—CHRISTOPHER BREEN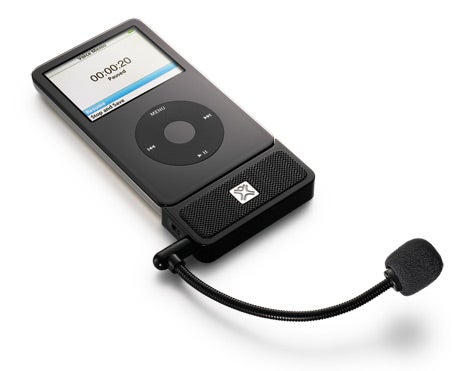 MicroMemo: $60; XtremeMac
Grado's SR60 has long earned praise for being an "entry-level audiophile" set of headphones that provides stellar sound quality for just $60. But it hasn't garnered raves for being comfortable and attractive. With the iGrado, the company has taken the guts of the SR60 and stuck them into a sportier, behind-the-head model. The iGrado won't win any beauty contests either, but it does provide that famous Grado sound, and it's comfortable and snug enough for active wear.—DAN FRAKES
iGrado: $60; Grado
No, that's not an insect head below; that's JBL's new Go + Play portable speaker system for the iPod. The brushed-metal handle, curved body, and large metal speaker grills make the Go + Play look unlike any boom box you've seen before, and it's unique in several other ways, too. A horizontal iPod dock on top makes controlling your iPod easy while keeping it protected; an RF remote provides great range and the ability to navigate your iPod's menus from afar; an S-Video output lets you view photos and videos on your TV; and sound quality and maximum volume are impressive for a battery-powered system. It's the first iPod boom box that looks and sounds good enough to double as a home system.—DF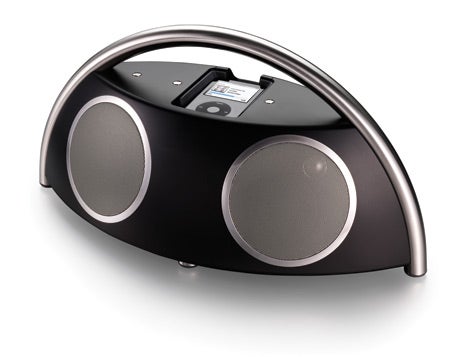 Go + Play: $300; JBL
Everyone loves gadgets, but few people love the charger-cable clutter that comes with them. The Multipot Personal Electric Charger aims to solve that problem with designer flair. At 7.5 inches tall and 9.25 inches in diameter, the Multipot looks like a fancy flowerpot—but in reality, it's the most attractive power strip I've ever seen. Underneath its lid are five standard power outlets. You plug in the chargers for your iPod, your mobile phone, your PDA, and the like, hiding them from view; the cable ends emerge from a small hole on top, ready to charge your tech toys. (The sunken top is also a handy place to stash your keys and wallet.) Available in amber, black, silver, or white to match any decor, the translucent Multipot also includes an ambient LED light.—DF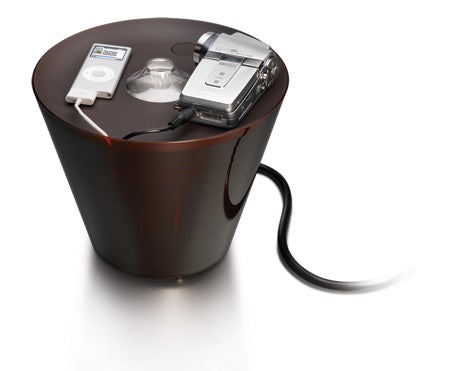 Multipot Personal Electric Charger: $228 to $238, depending on color; Design Within Reach
When you've tethered your iPod to a television, being able to control it from across the room is wonderful. But unless you have a pair of binoculars with you, it's awfully hard to read the text on that tiny screen. Enter DLO's HomeDock Deluxe —the $150 dock lets you navigate your iPod's music via menus on a connected TV screen. Complete with a handsome IR remote, the HomeDock Deluxe includes S-Video and AV outputs for connecting to a TV and an AV receiver. Regrettably, Apple has barred this and similar docks from showing video and slide-show menus, but, if you're willing to strap on those binoculars, you can control these functions on the iPod remotely when you switch the HomeDock into iPod mode.—CB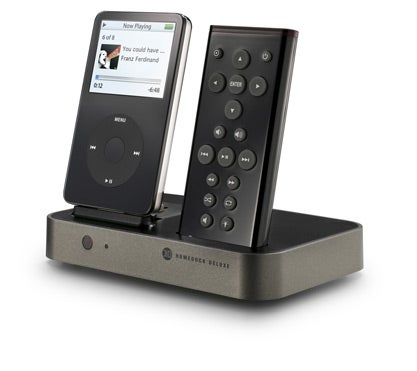 HomeDock Deluxe: $150; DLO
Gear for Music Lovers
Listen to music—or create your own—with this Mac-friendly hardware and software.
For a guitarist, making music with a Mac doesn't have to involve multiple devices and a complicated setup. With Line 6's TonePort UX2, you can connect to your computer via USB and have everything you need to create a masterpiece. Using the included GearBox software, you have an impressive array of tones at your disposal—to make your guitar sound like anything from Mississippi Blues to modern Heavy Metal. Plug it in, turn it on, and start recording with your favorite piece of software—it doesn't get any easier than that.—JIM DALRYMPLE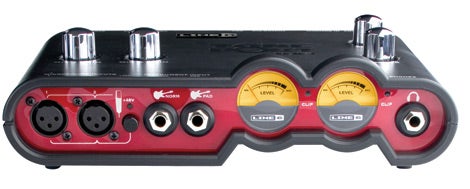 TonePort UX2: $269; Line 6
Now that the recent iTunes update has introduced gapless playback—which eliminates those unnatural, between-CD-track pauses that have bedeviled fans of classical music in particular—there has never been a better time to listen to classical music on the Mac. For people who want to start building up a collection of the classics, innovative classical-music label Naxos has partnered with the DRM-free music site eMusic.com to release 12 electronic classical box sets, called MPKeys. Each set focuses on a theme—Classical Guitar, Great Symphonies, and so on. Each CD-size box includes an eMusic download code good for three or six hours of music, depending on the set, along with the informative CD insert missing from most electronic releases. Files are encoded in variable-bit-rate MP3 format, have average bit rates of 180 to 210 Kbps, and play on iPods or any other digital media player.—DF
MPKeys: 6-hour sets, $20; 3-hour sets, $15; Naxos
Apple's GarageBand lets Mac users tap into their inner John Mayer with an assortment of music-creation tools. iPlayMusic's Beginning Guitar Lessons helps you make sure that when you do fire up GarageBand, you won't cause people to run screaming from your digital hub. The guitar tutorial software includes more than four hours of on-screen video lessons, an electronic textbook, and chord charts that teach playing techniques and complete songs. And it's designed to work with iLife: once you learn a song, you can record your performance in GarageBand and then share it via iTunes and iWeb. And the iPlayMusic software lets you export any video lesson to iPod-ready format and import it into iTunes, with one click.—DF
Beginning Guitar Lessons: $50; iPlayMusic
People who enjoy their music the old-school way eschew silvery discs and iPods in favor of a petroleum-based medium—good-old reliable vinyl records. Trouble is, vinyl collectors who want to make digital copies of their tunes face a process only slightly less daunting than sneaking backstage at a Stones concert—they need a preamplifier, an audio interface between the preamp and the Mac, and audio software for recording and editing the music. Or they could just turn to Ion Audio's iTTUSB Turntable. As its name implies, the turntable plugs into your Mac's USB port, allowing you to record music directly from your favorite LPs and 45s to the included open-source audio editor, Audacity. It's enough to make even the staunchest vinyl-phile embrace the digital age.—CB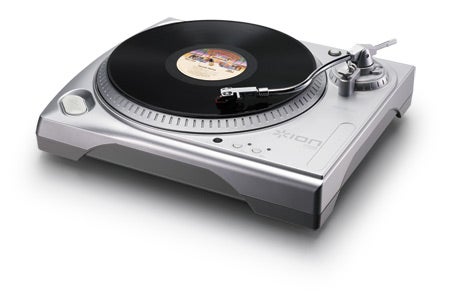 iTTUSB Turntable: $199; Ion Audio
Most clock radios don't cost $150. But then again, Boston Acoustics' Recepter Radio isn't just any clock radio. Its compact, attractive design and austere appearance disguise great performance and features: two independent alarm clocks; impressive radio reception with 20 presets; stellar, surprisingly full-range sound quality; and an auxiliary-in jack that lets you connect your iPod for bedside listening. But what makes the Recepter Radio so Apple-like are its ease of use and the little details. A single knob performs many functions—radio tuning, preset selection, and time and alarm setting—depending on the task at hand; the faster you turn the knob, the faster it whisks you through frequencies or times. And soft rubber buttons let you set the alarm without waking anyone else in the room.—DF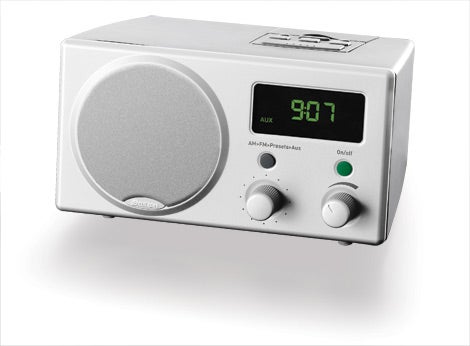 Recepter Radio: $150; Boston Acoustics
Note: When you purchase something after clicking links in our articles, we may earn a small commission. Read our affiliate link policy for more details.