Just over a year ago, I explained in a hint how to see what installers have installed. As explained in the hint, by using Terminal and the lsbom command, you can see exactly what bits got installed in which places—for any program that's installed using Apple's Installer application.
But what if you want to see what an installer will install before you run the installer? One option is the $20 shareware progarm Pacifist, which will not only let you peek inside installation packages, but actually install only certain pieces of the package. You can use it, for instance, to recover from that moment of stupidity when you deleted the Mail application. Using Pacifist ( ; August 2006 ), you can reinstall just Mail, and not all of OS X as you'd have to do using Apple's installer.
However, if you don't need all those features, here's a free, built-in method to see what an installer will be installing. This capability is actually built right into the OS X Installer application, though very few of the people I quizzed about this were aware of the feature. When you launch a package that uses Apple's Installer, you'll (most likely) see a license screen appear first. Agree to the license, then select File -> Show Files, or just press Command-I. When you do, a new window will open, listing every file that will be installed. Here's how that window appeared for the recent RAW update from Apple: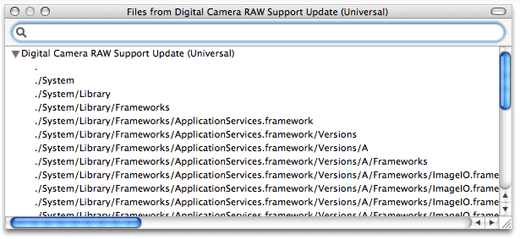 Listed in that window is every single file that the RAW update will install. I like to use this tool when I'm trying to install some application that I think shouldn't need to use Apple's Installer—"why is the simple arcade game Pongo Bongo using Installer? What is it writing to my disk, and where?" Using the Show Files command, most of the time I find out that the program really isn't doing anything other than installing itself in /Applications. But it's always nice to know before you say "go."
You can also copy and paste the text out of this window into another program. You could, for instance, create a collection of uninstall documents. Copy and paste the file list to a new text file, name it something like Uninstall – Pongo Bongo , and keep it and your other uninstall directions in one directory. If you ever decide you need to remove a program, take a look at the uninstall document to see exactly which bits you'll need to delete. While not a replacement for a fully automatic uninstaller, you'll be assured that you're getting nearly every file the program installed.
I used "nearly every file" in that last sentence because there is one class of files you won't see in the Installer's file list: any files created by scripts that run during the installation process. So if there's a shell script in the installation package that creates, for instance, Pongo Bongo.cfg , then that file won't be listed in your uninstall list. There's not really a workaround for this, other than to use Spotlight to search based on the name of the application you're removing. File such as this, however, would typically consist of text-based files, so it's not a great concern.