Repeat a myth often enough, and people come to accept it as fact. And there's a myth that's been repeated enough times by Mac gamers this year that bears that old saying out—that 2006 was a lean year for Mac games because of Apple's switch to Intel-supplied processors.
There's no question in my mind that the Intel switch made things more challenging for Mac game publishers, but let's get something straight: 2006 would have been a lean year either way. People aren't buying games for their Macs in huge numbers. And no one's quite sure why, as the number of Mac users has been increasing. Maybe they're satisfied with game consoles, or maybe they're not aware of what their choices are. Maybe they just don't want to play games.
Whatever the reason, this trend started long before the switch to Intel Macs happened. And as it turns out, the Intel switch is helping Mac gaming stay alive, not hindering it. Look for more of the same to happen as the calendar flips to 2007 as well.
Now that Apple's completed the Intel transition, hand-wringing about the future of products for PowerPC-based Macs is pointless, especially when it comes to games. If you haven't replaced your Mac with an Intel-based system, you need to start thinking about it, or you're going to be left in the dust. Because a well-ported game running on a iMac Core 2 Duo often runs better than it does on a high-end Power Mac G5, and that difference in performance is going to continue to increase over time.
The big picture
This next year is going to be much like 2006 in one respect: The major commercial Mac game publishers will pick and choose which games they're going to introduce based on what's a solid property with lots of appeal on the PC platform. Aspyr Media is a good case in point.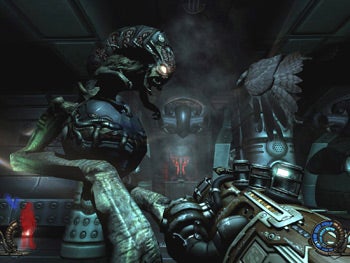 Prey for deliverance The first-person shooter Prey will be one of Aspyr Media's first releases in the coming year; the company has already set a January ship date.
One of Aspyr's first Mac releases for 2007 will be Prey, a first-person shooter from Human Head Studios, which we last saw years ago with the Viking-themed action game Rune. Prey is another shooter with an unusual idea—this time you're a Cherokee warrior who suddenly gets very much in touch with his roots once humanity is threatened by an invading alien force. The game uses the same underpinnings as Doom 3, so Aspyr is anticipating a quick turnaround—it's planning on getting Prey out in January.
Aspyr's also working on Star Wars: Empire at War, a real-time strategy game set in the Star Wars universe during the period immediately before the events that took place in the first Star Wars movie, A New Hope . You can command squadrons of X-Wings, AT-ATs, Star Destroyers and the other vehicles you've seen in the movies as you square off for control of locations like the jungle planet Dagobah, Yavin 4 and the desert wastes of Tatooine.
Aspyr has pushed back the release of its game e-commerce system, first announced as "Gamerhood," to sometime in 2007. That system promises to resolve long-simmering issues with retail shelf space for games by making it possible to download full versions of Aspyr's titles, including titles in the company's back catalog you haven't seen in stores for a while.
MacSoft is keeping tight wraps on its plans for the new year, but the game company certainly made a mark towards the end of 2006 with the release of a Universal Binary version of Halo: Combat Evolved, the landmark first-person shooter developed by Bungie, and the more recent release of Age of Empires III, the latest edition of the award-winning real time strategy game series that takes you to the exploration and colonization of the New World by the great European powers.
MacSoft's parent company, Destineer Studios, first made its own mark on the gaming world with Close Combat: First to Fight, a first-person squad-based combat game that put you in charge of a Marine fire team. Close Combat is a beloved gaming franchise that predates Destineer's acquisition of Atomic Games, the series' creator. The good news is that Destineer is continuing to work on its own games and expects to produce a new Close Combat-themed title in 2007; company President Peter Tamte says that Macs will be on the list of supported platforms.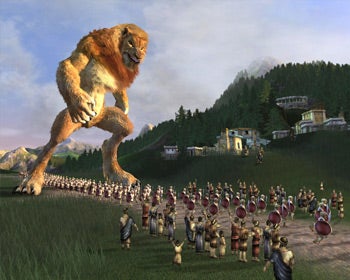 All Hail the Lion King Black and White 2 puts you in role of a supreme being—look for Feral to release this "god" game in 2007.
Blizzard Entertainment is going to have a license to print money with World of Warcraft: The Burning Crusade, its long-awaited expansion pack for the popular massively multiplayer online role playing game. Shipping simultaneously for the Mac and Windows mid-January, just as its predecessor did in late 2004, The Burning Crusade adds countless new elements to the game, including a new continent for high-level characters to explore, new monsters and dungeons, new items, new playable races (the Draenei and the Blood Elves), a new profession (Jewelcrafting), and much much more.
Poor Feral Interactive —2006 was the company's annus horribilis , thanks to a change of development studios, missed shipping targets and programming delays. While there's some indication Feral will clear much of its plate in the remaining weeks of 2006, 2007 is looking better for the company, with the expected release of Black & White 2, the new "god" game from Lionhead Studios that puts you in the role of a supreme deity who derives power from being worshipped—it's up to you to decide whether that worship comes in the form of adulation or fear.
Indie efforts abound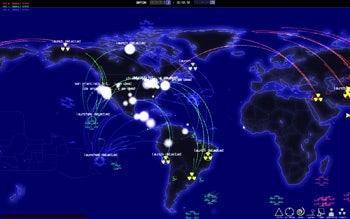 Greetings, Professor Falken Ambrosia Software's upcoming Defcon takes its cues from the movie WarGames , letting you play a little Global Thermonuclear War.
Ambrosia Software has long partnered with U.K.-based developer Introversion to bring its unique games to the Macintosh, including Uplink, the game that puts you in the role of a computer cracker trying to commit corporate espionage, and Darwinia, a "virtual themepark" where you must destroy a rampant computer virus before it kills the sentient residents of the world. Now Ambrosia is bringing to the Mac Introversion's most ambitious title to date: Defcon, which takes a page straight from the 1983 motion picture classic WarGames . It's time to play a game of Global Thermonuclear War—as an online multiplayer simulation. Can you take out your enemy's ICBMs while simultaneously exterminating their civilian population? Introversion calls Defcon a "genocide 'em up" instead of a "shoot 'em up." Sick? Sure. Fun? Surely.
Freeverse Software continues to champion the cause of original Mac games. 2007 should see it ship Escort Wing, an arcade-style action game that won the first "Original Mac Games Cup"—a Mac game programming contest co-sponsored by iDevGames —in early 2006. Freeverse is also also putting the finishing touches on a Mac game conversion of Heroes of Might & Magic V, the epic strategy game, which should be out in January. Heroes of Might & Magic V will be one of the first commercial applications of Cider, a Windows game translation technology developed by TransGaming that enables Windows games to work on Intel-based Macs without requiring an extensive bit-by-bit conversion or port. Also, Freeverse is developing a 3-D mini-golf game called Tiki Magic Minigolf, using the third-party Unity game development engine that it's also used in Big Bang Brain Games (which isn't out as I write this but is expected to debut in December, first as a downloadable game).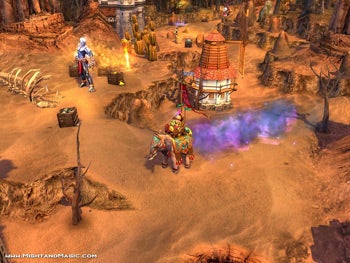 We Could Be Heroes Freeverse is using Cider, the Windows game translation technology, to bring Heroes of Might & Magic V over to the Mac in January.
The Windows equation
It's no secret that Mac gamers' appetites have, in some cases, been sated by using Apple's Boot Camp software, which lets Intel-based Macs run Windows natively. I've played quite a few levels of Half-Life 2 and Tomb Raider Legends on my Intel-based iMac myself, so I'm no exception.
We'll see that continue in 2007 as Boot Camp is made an official part of the operating system, with Apple's release of Mac OS X 10.5 sometime in the first half of the year. But my experience—which I think is pretty typical—is that rebooting into Windows just to play games is a long row to hoe. I'd rather just use Mac OS X all the time, so while there's some novelty in running Windows at native speeds, it's not a great user experience, because what makes a Mac a Mac is both the exquisitely designed operating system and the exquisitely designed box it comes in.
Parallels promises to add some form of 3-D graphics acceleration in a future release of its Desktop for Mac software, which would help to ameliorate at least one issue—having to reboot the Mac just to play a game. Hopefully that'll come to pass before too long.
Cider is another virtualized machine effort that promises to improve Mac gamers' choice of titles in 2007. An outgrowth of TransGaming's "Cedega" efforts on Linux, Cider enables a Windows application—to wit, a game—to run on Mac OS X without needing a discrete version of Windows to be installed and without making the Mac reboot. Freeverse's release of Heroes of Might & Magic V will be a big litmus test for Cider, so we'll see how it goes—if Freeverse succeeds, maybe it'll offer some hope that other PC developers and publishers might be willing to put Macs on their lists of supported platforms, if the engineering and support issues aren't overwhelming.
Finally there's CodeWeavers, an outfit that adapts the open-source WINE project (WINE Is Not an Emulator) to run on Intel-based Macs with its CrossOver Mac product. Still in development as of this writing, CrossOver Mac promises to provide Mac users with some limited ability to run Windows executables, including some games, without having to partition a big chunk of their disk to run a full Windows operating system as they do with Parallels and Boot Camp.
Looking down the road
This really only scratches the surface of what's happening in games for the Mac, but it gives you a taste of what to expect in the new year. Casual games are another burgeoning market, especially on the Mac, and we'll see plenty of activity in 2007 from Big Fish Games, GameHouse, Popcap Games, PlayFirst, Large Animal Games and other companies that have taken the Macintosh under their wing as an important new platform for development and distribution.
If you see games you like, regardless of whether they're casual titles or hardcore games, whether or not they're full-on conversions or making use of technology that's only possible now that Macs use Intel chips, please make sure to patronize the vendors by buying their products.
At the end of the day, the success or failure of the Mac game market is in our hands—and it's up to us to support the companies that support Mac gamers.
[ Peter Cohen covers games in the Game Room blog. ]