One thing that has made the iPod such a success is its relationship with iTunes. Hand-in-hand with this relationship is the increasing interest in purchasing music online—driven largely by the iTunes Store. While Microsoft could have made the Zune yet another Plays4Sure device—allowing it to work with music purchased from such online music merchants as Rhapsody, Yahoo! Music, and Napster—it chose, instead, to mimic the iPod/iTunes model by creating a music service tied specifically to the Zune and its software. In today's installment of the Zune Diary I take a gander at the Marketplace to see what it offers.
On account
If you haven't already created a Zune Tag while initially setting up the Zune, you can do so after the fact. Just click Sign In at the top of the Zune software window and a Signing Into Zune dialog box appears. Click the Create a New Account link and then click Sign In (you needn't create a new ID if you have an Xbox Live account). Up pops the same Create Your Zune Tag dialog box that appears during Zune setup. After choosing a unique user name you're told that you need a Windows Live ID. If you have an MSN, Hotmail, or Passport Network account you already have one. If so, you can select an option that queries you for that information. I didn't have a Windows Live ID so I set about creating one.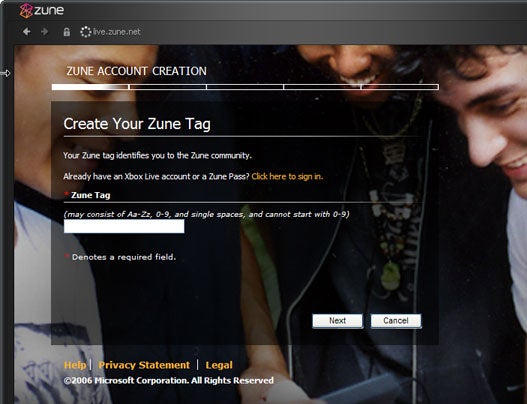 What follows is pretty much standard operating procedure. You provide an email address, password, and configure a security question. Then enter account information that includes such required data as your name, language, state of residence, phone number, date of birth, and contact email address. Fill this out correctly and Microsoft sends an email that asks you to confirm or cancel the request for the Windows Live ID. Browse to the included link, enter username and password, and you're good to go.
Return to the Zune software and you see you're offered the option to visit the Zune Marketplace, buy Microsoft Points, or get a Zune Pass subscription. Let's briefly look at the second option.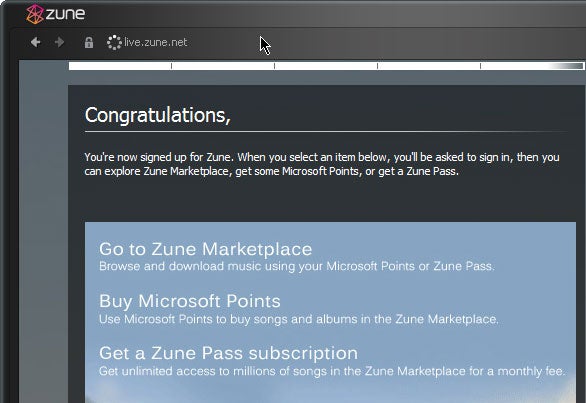 What's the Point?
Unlike other online music services, the Zune Marketplace doesn't use "real" currency. Instead, ZM uses Microsoft Points—Microsoft's own currency worth 1.25 cents per point. Tracks at the ZM cost 79 points, which equals $.9875 per track. You can't purchase tracks or albums without first purchasing points—in other words, you can't select a track, click buy, and expect $.9875 to be charged to your credit card. Instead you must purchase blocks of points—400 points for $5 is the minimum (you're also offered the option to purchase 1,200 points for $15, 2,000 points for $25, and 4,000 points for $50). Note that the price of these points doesn't include "applicable taxes."
What's wrong with this scheme other than the fact that it tends to hide the true value of what you're purchasing? You're always leaving a little something in the bank for Microsoft. It takes your money up front and when you purchase as much music as your points allow, there's still a little left in the bank for Microsoft to use as it wishes.
When you select the number of points you want and click next, you're asked for your credit card information. Enter this information and click Purchase to buy your points. Click a couple of Finish buttons and you're back to the ZM, ready to shop.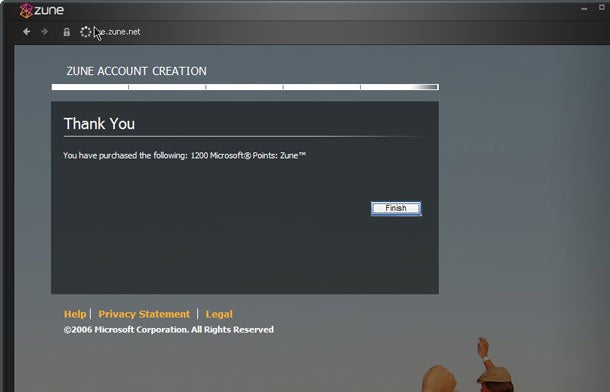 Find and buy
To find music on the ZM you can click entries on the home page. Because the ZM doesn't sell audiobooks, games, movies, or videos and doesn't provide any source for podcasts the home page is devoted exclusively to music. Here you'll find graphics and links to some featured artists and albums, a new releases bar, a section for playlists, and a column that includes top songs, top albums, and top artists. You can also choose a genre from a pop-up menu to view a subsection of tracks available within that genre. The iTunes Store used to work this way but now offers its genres from the main Music page.
To really find something you must rely on the Search field. Regrettably, its yet another part of the Zune software that's designed poorly. For example, click in the field, type Frank Sinatra , press Return, and you should be taken to a page that includes everything available from the Chairman of the Board, right?
Nope. Do this and absolutely nothing happens. What you must do is enter a name, click the downward-pointing arrow, and select Artist. Now you're taken to a page that offers links to the collections of both Sinatra Senior and Junior. These collections are represented by a stack of album covers. Double-click the stack and you're finally taken to a page that displays the albums that may be available from the store. That's right, may . For example, double-click on Sinatra's Strangers in the Night album and you're told that it's not available for purchase nor can any of its individual tracks be purchased. Why then is the album listed? Presumably because you can listen to it if you've purchased a subscription to the ZM.
When you do find an album that you can purchase, you'll find a nice description of the album in an album notes area, links to related artists and related styles, and prices for the entire album and individual tracks in Points currency. Interestingly, each of the tracks on the album are rated. By whom? Beats me.
Also, if a track is already in your library, the Action menu in the album area tells you so. I like the idea as it prevents you from buying the same track twice, though I'd like to know if this is done locally—I'm not sure I'd like it if the contents of my music library was being transmitted to the ZM without my say so.
Unlike with the iTunes Store, there's no obvious indication in the interface of how many points sit in your account. If you want to get that figure you can select Account Management from the Account pop-up menu at the top of the window and wait while the Account Management screen loads. A faster way to do it is to simply click on the album purchase link. A confirmation dialog box appears that tells you your points balance as well as how much the album will cost. Click Confirm and the music downloads to your computer. There's no Purchased entry in the source list as there is in iTunes so you can quickly locate the music you've purchased. However, under the marketplace entry in the source list you do see an active downloads entry. Click it and you're taken to a window that lists the tracks you've downloaded (even though it says "You are currently downloading the following songs").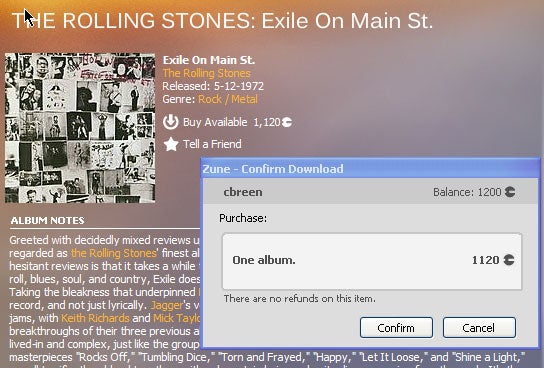 Prices at the ZM are all over the map—but then, so too, increasingly are those at the iTunes Store. Both ZM and iTunes largely maintain standard pricing per track—79 points for ZM and $.99 for iTunes. But Apple's album prices often vary from iTunes' once-standard $9.99. Because of Microsoft's points system it's difficult to tell if you're saving or losing money compared to prices at the iTunes Store. For example, the iTunes Store sells the Rolling Stones' Exile on Main Street for $12.99. The ZM sells it for 1,120 points ($14). Peter Gabriel's Shaking the Tree: Sixteen Golden Greats is $9.99 at iTunes and 880 points ($11) at ZM. The remastered version of the Talking Heads' Fear of Music is also a dollar more expensive at the ZM. Again, if you fail to wrap your head around the fact that a point doesn't equal a penny, you could easily spend more money than necessary to get the music you want.
Once you've purchase music from ZM you can copy it to your Zune or burn it to a blank CD—or, at least, I think you can. The Zune software refused to acknowledge that I had a blank CD in my burner. To test the hardware I tried to burn a CD in the Windows version of iTunes and had no problem.
Summing up
The Zune Marketplace is yet another flawed piece of the Zune puzzle. I understand that the ZM is brand new and, as a subscription service as well as a music emporium, is going to offer a different experience than the iTunes Store. But, as with the Zune software itself, it's the basic notions behind the ZM that's goofy. Other than to confound your customers (and overcharge them while keeping some of their cash), why on earth would you implement a points scheme instead of establishing a standard cash-for-goods system? Why create a home page that's an ugly melange of ideas—particulary when you only have music for sale? Rhapsody and Yahoo! Music have managed to put together coherent interfaces for their music store/subscription services. After waiting this long to get into the game, with the resources at Microsoft's disposal, and the experiences of others to learn from, how could the Zune Marketplace miss by such a wide margin?
Next time: Final thoughts
Previously: Out of the Box and Software and syncing