One of the great features of Apple's second-generation (2G) iPod shuffle is its tiny profile. At two-thirds the size and weight of the original shuffle, and using a more compact design, it's one of the smallest media players in the world.
Unfortunately, this smaller size also has its drawbacks. Whereas the original shuffle featured a standard USB plug, making it easy to connect your shuffle to any USB port for charging and syncing, such a plug wouldn't fit on the newer, smaller version. Instead, the 2G shuffle features a unique, all-in-one headphone jack that—with the right plug—handles audio, power, and data. Included with the shuffle is a small docking cradle that connects to your computer's USB port via a long cable. Although convenient for home use, this approach has a distinct disadvantage compared to the original iPod shuffle, as it means you can charge and sync your 2G iPod shuffle only when you've actually got the dock cradle with you; the original shuffle could be plugged directly into any USB port.
In fact, that was part of the beauty of the original shuffle—it looked and functioned just like a USB "thumb" drive. You could even use it that way, storing files and data on the shuffle and plugging it into any computer, Mac or Windows, to access your data. The lack of this standard USB plug is a major drawback to the new shuffle, so I was excited to test—less than a month after the 2G shuffle was actually available—Incipio's new $6 IncipioBud ( ). Barely larger than a standard USB plug, the 5.6-gram IncipioBud features just such a plug on one side, with what looks to be a standard headphone miniplug on the other. But this isn't just any miniplug; it offers the same data and and power connections as Apple's dock cradle. You plug the IncipioBud into your 2G shuffle's headphone jack, then insert the USB plug into a USB port on your computer; your shuffle will appear in iTunes, syncing and charging all the while. (In my testing, the speed of syncing through the IncipioBud was comparable to using the shuffle's own cradle.) And if you've got your shuffle set up with disk use enabled, your Incipio-attached shuffle will appear as a data drive in the Finder.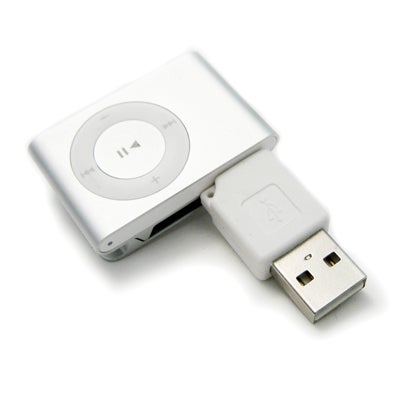 (As a cereal box might say, these images have been "enlarged to show detail.")
The IncipioBud also makes the 2G shuffle compatible with USB chargers, such as Apple's own USB Power Adapter. Unfortunately, in my testing, the IncipioBud doesn't pass audio from the shuffle to the USB plug, so it doesn't provide compatibility with USB-plug speakers and FM transmitters designed for the original shuffle. (Although, to be fair, there are relatively few of these accessories out there.)
The IncipioBud is small enough to always carry in your backpack, purse, or laptop bag, and at only $6, it's a no-brainer (although the relatively high single-unit shipping charge—$5 to ship one, but only $13 to ship 10—means you should place an order with some friends). Apple should include one with every 2G shuffle.