At a Glance
Expert's Rating
Pros
Ten courses to play
Adjustable graphics
Great soundtrack
Cons
No multiplayer capability
Sluggish on some Macs
Our Verdict
What happens when you mix bowling with mini-golf, then encapsulate the whole thing in an atomic-age milieu that's supposed to evoke the fictional 1958 Kalamazoo World's Fair? The answer is RocketBowl Plus, a rolling good time from Large Animal Games, available for download from Mac casual game portals including Macfun.com.
In RocketBowl, the goal of the game is the same as standard 10-pin bowling—knock down all 10 pins in as few rolls as possible. You have three rolls to knock down the pins. But unlike bowling you might find in an alley, RocketBowl's lanes are wide open expanses, more like a vast golf course covered in polished wood planks rather than a bowling alley. There are dips and turns, hazards like water and obstructions, and no gutters to speak of—though there are plenty of places for your ball to get lost if you're not careful.
The change of venue completely alters the gameplay mechanics of bowling in RocketBowl, so it's a good thing the game lives up to its name: Your bowling ball is rocket-propelled. You launch it a bit like a projectile—pick a direction and the relative amount of power you want to apply, then let it loose. Figuring out how to bowl a strike when there's a winding canyon between you and the pins takes some finesse, and it's a big part of the challenge.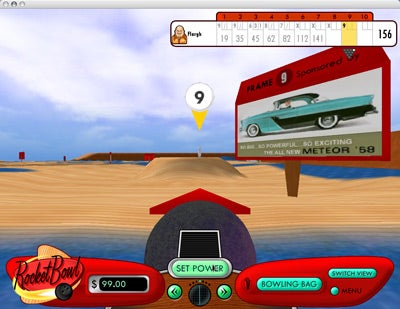 Bowled Over RocketBowl turns the sport of bowling into a mini-golf-like affair with rising terrain and other obstacles standing between you and a perfect strike.
Each course is liberally sprinkled with money coins, and many of the different "frames" of play feature money pins—green pins that will reward with you an extra dollar if you knock them down. Picking up the coins and knocking down the pins with your ball earns you cash—as does entering tournaments and playing challenge games against other players—and you can roll that money into new equipment, such as new balls with rocket boosts. The boosts let you change the direction of the ball while it's moving—just the thing you need sometimes to avoid a nasty 7-10 split.
There are new courses to unlock—a total of 10 in all—and you'll have to square off against increasingly tougher opponents as time goes on. You can explore each course over 10 frames in a free play mode, then play a good-natured money game against a computer-controlled opponent. Mini-games in which you have to bowl as many strikes as possible in 30 seconds help you pad your wallet a bit; when you have the money, you can enter a big tournament.
Those winnings in turn help you buy bigger and better bowling balls with more rocket power. The more expensive ones let you boost not only vertical velocity but horizontal as well—just what you'll need to get some dangling coins hovering in the air, or miss some obstacles like water traps. The better balls also feature multiple boosts and hook/slice capabilities.
A space-age pop soundtrack that sounds straight out of the imagination of Juan Garcia Esquivel bolsters the atomic-age design of the game, and there are adjustable graphic settings to tweak performance depending on your Mac's capabilities (it's a Universal Binary, by the way). I really had to downgrade the graphics quality of the game to run it on my 1GHz PowerBook G4—some better information about what the game's system requirements are would be helpful.
A total of eight bowlers' slots are available, so each member of the family can maintain their own separate bowler profile, with information maintained on average score, earnings and last course played. There's no multiplayer, alas, but there's a lot to keep you busy here.
The bottom line
Bowling is fun, and RocketBowl Plus is even more fun—a strange mix of bowling and golf that'll make you long for an era that never was.