Every year, Macworld reviews hundreds of products, everything from Apple's newest desktops and laptops to smaller utilities from smaller developers that do things you never thought you needed done. But which ones were the most useful or innovative? Which ones will we still be using a year from now? Which ones were really the best—in terms of both quality and value? Answering these questions is what the Editors' Choice Awards are all about.
The yearly job of selecting Eddy winners starts in the fall, when every Macworld editor compiles a list of the most significant products released in the past year in his or her assigned beat areas.
Products released between November 1, 2005, and November 1, 2006, were considered for this year's Eddy Awards.
We then convene a series of meetings to debate the merits of each nominee, and to separate the truly exceptional from the merely good. This year, we whittled a list of 120 products down to the 29 that you'll find extolled on the following pages. Some are obvious choices, and some may surprise you—but all represent the best of a very good year for the Mac market.
And the winners are …
24-inch iMac Core 2 Duo
Mac desktop gets Intel era off to roaring start
Apple's first Intel-based Mac—an iMac, naturally—received incredible scrutiny. To everyone's relief, those first Core Duo systems were, by all appearances, Macs like any other. And the second generation of Intel-based iMacs has continued to improve on what was already a good thing. The best example of that is the top-of-the-line 24-inch iMac Core 2 Duo ( ; December 2006). Its huge display is bright and beautiful, and it's powered by a 2.16GHz Intel Core 2 Duo processor. One gigabyte of RAM and a 250GB SATA hard drive are standard, as is a FireWire 800 port. This $1,999 consumer Mac has more than enough computing power for all but the most demanding professional users.—JASON SNELL
Company:Apple / Price:$1,999 / Original Review: December 2006
After Effects 7 Professional
Motion effects app gets its best update in years
With After Effects 7 Professional ( ; July 2006), Adobe released a great update to an already powerful app. The biggest improvement is in the interface. Previous editions had been bogged down by palette bloat. The new, unified interface solves that problem very nicely, with dockable and groupable panels. After Effects also now uses standard Adobe tools, palettes, menus, and customizable keyboard shortcuts, for a more familiar look-and-feel. There's added support for higher bit depths and HDR media, and the new time-remapping features really help when you're speeding up and slowing down clips, Matrix-style. Add more-comprehensive and easier-to-apply presets, and After Effects 7 Professional is the best update this app has seen in years.—JONATHAN SEFF
Company:Adobe / Price:$999 / Original Review: / July 2006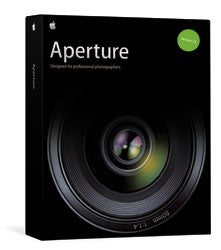 Aperture 1.5
Photo manager gives the imaging world a jolt
Last November, Apple released Aperture 1.0, an entirely new photo-management and -editing application targeted at pro photographers. A few months later, Adobe released a Mac-only beta of its own image-management app—Lightroom—and announced that there would be plenty more to come. (The official Adobe Lightroom release is scheduled for early 2007). That competition has put Mac photographers in a particularly sweet spot. Apple responded to Lightroom by dropping Aperture's price by $200, releasing two significant (and free) updates, and offering a free trial version of the software. Aperture 1.5 ( ; January 2007) has some kinks for Apple to iron out, but its powerful management tools, nondestructive raw-image workflow, and competitive spirit have given the digital photography world a much needed kick.—KELLY TURNER
Company:Apple / Price:$299 / Original Review: January 2007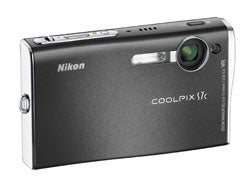 Coolpix S7c
Compact camera makes wireless delivery painless
Nikon's Coolpix S7c ( ; February 2007) isn't the first compact camera to offer a built in Wi-Fi connection. It's not even the first such camera from Nikon. But it is the first camera we've seen that makes the process of e-mailing photos directly from the camera practically painless and completely intuitive. How easy is it? Five minutes after opening the box, you'll be e-mailing your first photos. In wireless mode, you select the photos you want to send, and then you use the scroll wheel to input e-mail addresses (the camera stores 30)—and off they go. Recipients get an e-mail inviting them to go online to view a slide show or to download full-resolution photos. The 7-megapixel S7c is also compact, has a bright 3-inch screen, and corrects for camera shake. Someday, Wi-Fi will be common on cameras. This is a little taste of how that'll make digital photography easier.—KELLY TURNER
Company:Nikon / Price:$350 / Original Review: / February 2007
Deep Freeze Mac 2.0
Hardware-restoration utility is like a magic Undo command
If you've ever tested bad software, downloaded a file you shouldn't have, or mucked about in Terminal with unpleasant results, or if you manage a bunch of Macs whose users do all that and more, you've probably wished you had a magic Undo command that could reverse the damage. That's exactly what Faronics' Deep Freeze Mac 2.0 ( ; June 2006) does. It starts by taking a snapshot of your system in its clean state. After that, you can install software, create and save files, change settings, and do pretty much anything else you normally do. When you restart the Mac, Deep Freeze will discard all those changes and return the system to its original, clean condition. Deep Freeze has been available on the Windows platform for years; this year, it came to the Mac. You may not need it. But it will be essential for some people.—ROB GRIFFITHS
Company:Faronics / Price:$30 / Original Review: / June 2006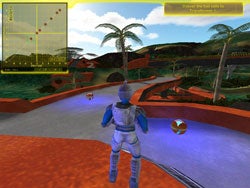 Dimenxian
Learn algebra, shoot monsters
Education software is often as appealing to kids as a trip to the principal's office. The folks at Tabula Digita have come up with a novel alternative: Dimenxian ( ; Game Room), a pre-algebra and algebra tutor in the guise of a first-person shooter. The game starts you on the surface of an alien world. You can run around and shoot things—but to do so you have to complete a series of tasks that help develop and reinforce math skills. For example, one mission requires that you navigate the surface of the planet using grid coordinates. Tabula Digita's slogan: "Learn math or die trying."—PETER COHEN
Company:Tabula Digita Price:$30 Original Review: online only

EyeTV Hybrid
Pocket-sized TV tuner sets new standard
Elgato's EyeTV Hybrid ( ; January 2007) sets a new standard for Mac TV tuners. While other companies offer tuners for either digital or analog reception, only the Hybrid gives you both. And you can get those TV signals over the air (via an antenna) or by plugging in a coaxial cable. Best of all, the Hybrid is small enough to fit in your pocket, so you can watch TV on your Mac anywhere you can get a signal—at home in the den, at your office during lunch, or while vacationing at the beach. The Hybrid also comes with Elgato's EyeTV 2.1 software ( ), which you can use to schedule recordings, edit out ads, and export movies for your video iPod.—ERIC SUESZ
Company:Elgato Systems Price:$150 Original Review: January 2007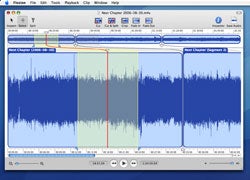 Fission 1.1
Editor offers easy, inexpensive way to trim audio files
Not long ago, audio-editing applications were the exclusive province of audio engineers and tech-savvy musicians. Now, thanks to the iPod, iTunes, streaming media, and podcasting, nearly every modern Mac user has a reason to muck with music. This year, Rogue Amoeba gave us amateurs an easy, inexpensive way to edit our audio files: Fission ( ; February 2007). Boasting an intuitive interface, Fission lets you trim, split, and fade common audio files, such as MP3, AAC, Apple Lossless, and AIFF, in their native formats—no need to reencode or convert files the way you do with other audio editors. For splitting long audio streams (captured from the Internet, an audiobook, an LP, or a cassette), Fission offers a Smart Split command that is more accurate and easier to use than similar features in other audio apps. And unlike the competition, Fission lets you edit metadata (ID3 tags)—track title, album, and artist information, for example—for each track from within the program.—CHRISTOPHER BREEN
Company:Rogue Amoeba Price:$32 Original Review: February 2007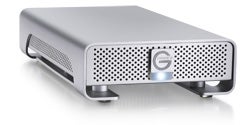 G-Drive Q
Desktop hard drive is the most versatile you'll find
Only one of the desktop hard drives we tested in the past year garnered a five-mouse rating: the G-Drive Q ( ; November 2006), from G-Technology. This hard drive is extremely versatile, incorporating nearly every type of connection you could want—USB 2.0, FireWire 400 and 800, and eSATA. In addition, it doesn't require a driver and can be configured as a backup boot drive. (It's bootable via all four of those ports.) That kind of flexibility seemed all the more impressive when we tested the G-Drive Q and found that it was quite speedy and nearly silent in operation. Plus, its aluminum exterior stylishly coordinates with Apple hardware. It wasn't the fastest or biggest drive we tested this year. But its combination of features makes it one of a kind.—ERIC SUESZ
Company:G-Technology Price:$559 Original Review: November 2006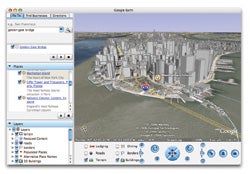 Google Earth
3-D mapping tool is out of this world
It takes a lot to upstage Apple at a Macworld Conference & Expo. But when Google released a Mac version of Google Earth ( ; Mac Gems) at the January 2006 trade show, the buzz it generated rivaled that of any Intel-based hardware or iLife innovations coming out of Cupertino. After just a few minutes with the 3-D-mapping and -navigation software, you'll see why. Google Earth gives you a bird's-eye view of any place on the planet, a view you can tilt, pan, and rotate as much as you like. As with Google Maps, you can punch in an address to get driving directions or find nearby eateries. But Google Earth lets you to do much more. For example, during the 2006 midterm elections, Google created a Google Earth layer showing voter information for each United States congressional district. And the application's vibrant online community is constantly augmenting the program. Google Earth remains in perpetual beta, but don't be fooled—this is a full-featured application that opens up a whole world of possibilities.—PHILIP MICHAELS
Company:Google Price:Free Original Review: online only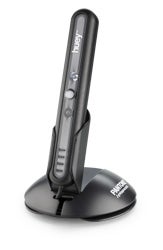 Huey
Color calibration comes to the masses
Color calibrators—hardware-software combos that make sure your monitor is displaying colors accurately—have been standard tools among graphics professionals for years. And they've been priced for that pro market. With the $89 Huey ( ; October 2006), Pantone has brought color calibration to the masses. The small, portable USB device measures ambient room light and in a matter of minutes adjusts your monitor to standard color temperatures. You can optimize the settings for specific activities (Web browsing, photo editing, graphic design, video editing, and so on), and the Huey software will then continually adjust your monitor in the background.—DAN MILLER
Company:Pantone Price:$89 Original Review: October 2006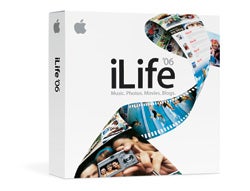 iLife '06
Best-yet versions of four apps elevate suite
Apple released the iLife suite in 2003, and we've given Eddys to individual iLife apps (such as iPhoto and GarageBand) before. But we've never awarded an Eddy to the whole suite—until now. This year, Apple did a stellar job not only of upgrading individual apps, but also of combining them into a coherent whole. iLife '06 offers some of the best tools available for producing single images, movies, DVDs, Web sites, music, and podcasts. That's not to say it's perfect. The newest iLife app, iWeb ( ), in particular has some annoying quirks. But those annoyances are offset by best-yet versions of iPhoto, GarageBand, iMovie, and iDVD. With iPhoto 6 ( ), you get better performance, a slew of new printing options, and full-screen editing. GarageBand 3 ( ) now does podcasts and integrates with iChat. iMovie 6 ( ) has new themes, real-time previews, and audio effects. And iDVD 6 ( ) offers new wide-screen support, resizable windows, and support for third-party DVD burners. Put all that together, and you get the best iLife yet.—JACKIE DOVE
Company:Apple Price:$79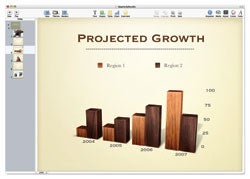 Keynote 3
Presentation app evolves into viable PowerPoint alternative
For years, Microsoft's PowerPoint had no competition when it came to assembling presentations on the Mac. Then, in 2003, Apple introduced Keynote. While the program brought a fresh approach to creating and editing presentations, it was missing some fundamental features. Keynote 3 ( ; April 2006), part of Apple's iWork '06 suite, effectively fills many of those holes. Now you can interleave graphics with text builds and put more than one bulleted list on a slide. Images can now be easily masked with any shape you can draw, a Bézier-curve drawing tool lets you create curved shapes, and you can add a semitransparent reflection to any graphic with one click. A slider makes sorting and adding transitions to longer presentations much simpler. These and other new features, combined with Keynote's extremely friendly interface and professional looking themes, have finally made the app a viable alternative to PowerPoint.—ROB GRIFFITHS
Company:Apple Price:$79 (as part of iWork '06 suite) Original Review: April 2006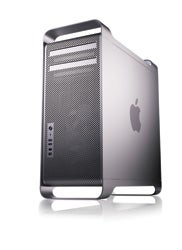 Mac Pro
Intel-based desktop keeps its cool
When Apple announced that it was switching to Intel chips, much of the speculation centered on what that'd mean for Apple laptops. Little did we realize what a huge impact those chips would have on the flagship of the Apple desktop line. Because those Intel chips ran so much cooler, the Power Mac-replacing Mac Pro ( ; November 2006) didn't have to devote so much of its internal space to cooling systems. That left room for more storage (up to four SATA hard drives at a time, for up to 3TB [terabytes] of storage), two optical drives (instead of the Power Mac's one), and some pretty cool graphics-card options. Of course, those Intel chips did more than keep things cool: they allowed Apple to release its first Intel system with four processing cores. The sum of all those parts is a to-die-for, high-performance workstation and a more than worthy successor to the venerable Power Mac.—DAN MILLER
Company:Apple Price:$2,499 Original Review: November 2006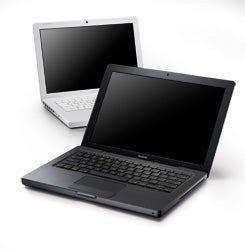 MacBook
Surprisingly powerful portable inspires laptop love
Macworld editors see a lot of Apple hardware, so you might not expect us to get excited about new Macs. But the day Apple released its new Intel-based consumer laptop, our offices were abuzz. Several of us went out that day and bought MacBooks ( ; August 2006) with our own hard-earned cash. Why the love? The MacBook lets iBook owners step up to a surprisingly powerful dual-core system. It also gives owners of the 12-inch PowerBook G4 a powerful Intel-based replacement. Yes, there have been reports of individual MacBooks with production flaws, and Apple had to release a firmware patch to address a spontaneous-shutdown problem. But even the MacBook owners we know who've been bitten by such bugs still rave about how much they love their little laptops.—JASON SNELL
Company:Apple Price:$1,099 to $1,499 Original Review: August 2006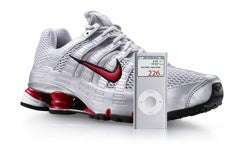 Nike + iPod Sport Kit
iPod nano accessory improves your workouts
The iPod nano is a great exercise accessory, thanks to its diminutive size, its skip-free flash memory, and the simple fact that it's an iPod. Nike's Nike + iPod Sport Kit ( ; Playlist) makes the nano an even better workout partner. A small transmitter attached to one of your running shoes tracks your movements and sends that data to your nano via a tiny receiver. As you run, your iPod provides feedback on your progress and encouragement as you approach your goals. Afterward, when you sync your iPod, iTunes sends your workout details to the Nike+ Web site, where you can set goals, see your best times and distances, and compete with runners from around the world.—DAN FRAKES
Company:Nike Price:$29 Original Review: online only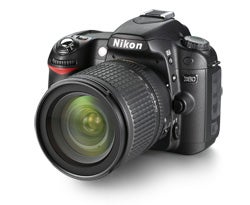 Nikon D80
Digital SLR offers tremendous quality at a great price
The Nikon D80 ( ; February 2007) may not make any headlines for technical innovation. Instead, it offers tremendous quality at a great price. The camera handles more like a high-end SLR than many of its similarly priced competitors, and it comes with an extensive list of impressive features—some of which you won't find even on more expensive cameras. Beginning users will appreciate the camera's intuitive interface, while experienced shooters will like its full range of controls and options. Everyone will benefit from the camera's 10-megapixel resolution and excellent image quality. The D80 also offers editing tools that let you perform sophisticated corrections before you export your shots to your Mac. With the D80, Nikon has raised the performance bar in the sub-$1,000 market—and that's something even Canon devotees should applaud.—BEN LONG
Company:Nikon Price:$1,000 (body only) Original Review: February 2007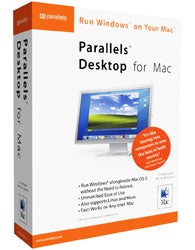 Parallels Desktop for Mac
Virtualization tool introduces Mac users to the Windows world
Every so often, a product that defines its market segment comes along. Parallels Desktop for Mac ( ; September 2006) is one such product. If you have an Intel-powered Mac, Parallels lets you run Windows and Unix-based operating systems at nearly native speeds. Depending on your Mac, Windows applications run at anywhere from 80 to 95 percent of their native speed—more than fast enough for all but the most demanding Windows user. (Try that, Virtual PC.) Unlike Apple's Boot Camp, Parallels doesn't force you to reboot or partition your hard drive. It'll even let you run multiple operating systems simultaneously (as long as you have gobs of RAM). Sure, there are some drawbacks. Parallels Desktop can't, for example, support full 3-D accelerated graphics, and some hardware peripherals won't work properly with it. But if you need (or want) to use Windows on your Mac, Parallels Desktop is the easiest—and for most users, the best—solution available.—ROB GRIFFITHS
Company:Parallels Price:$80 Original Review: September 2006

PhoneValet Message Center 4.0
Premier telephony program only gets better
Parliant's PhoneValet Message Center 4.0 ( ; July 2006) does one simple thing—but does it so well, it's hard to believe that no one else has done it before. Previous editions of the program have established PhoneValet as the premier telephone message-recording system for the Mac; version 4 has cemented that leadership position. The app now does a lot more than answer calls. It can also dial, record, log, and search through your calls; it'll also automatically forward them to your cell phone when you're on the road. Despite all those new skills, PhoneValet Message Center 4.0 is still one of those apps you can set up and never think about again.—JIM DALRYMPLE
Company:Parliant Price:$170 Original Review: July 2006
Photosmart Pro B9180
Photo printer turns digital images into fine art
With eight pigment inks, including a gray ink for better black-and-white images, HP's Photosmart Pro B9180 ( ; February 2007) creates gorgeous, tabloid-size prints that will last as long as 200 years. Not bad—but that's a standard already set by Epson, long the acknowledged leader in the pro-quality photo-printer market. In designing the B9180, HP realized that it had to surpass the usability, features, and design of its rival's products—and it has. This printer comes with a Photoshop plug-in for quickly making prints without wading through multiple dialog boxes; a simple manual-feed tray for thick papers (with clear guides for proper alignment); support for fine-art papers; and a built-in color densitometer (a first for a printer priced under $1,000) that ensures consistent prints from day to day. Digital SLR cameras have revolutionized photography; the B9180 lets us turn those digital images into fine art.—RICK LEPAGE
Company:Hewlett-Packard Price:$700 Original Review: February 2007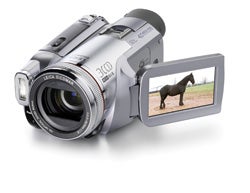 PV-GS500
Camcorder does almost everything well at a reasonable price
There are plenty of good video cameras out there, and they're more affordable than ever. Still, Panasonic's PV-GS500 ( ; September 2006) camcorder stands out—not necessarily because it has the best specs or is the top performer in any one area, but because it does almost everything well and is reasonably priced. You get excellent video quality (in both standard and 16:9 aspect ratios), thanks to a 3-CCD sensor and a Leica lens; effective image stabilization; impressive battery life; easy-to-use controls; and a fully manual mode for advanced users. To top all that off, the PV-GS500 also takes very nice photographs, thanks to its 4-megapixel still-image mode. If the PV-GS500 is too pricey for you, check out its GS300 and GS200 siblings, which offer many of the same features at lower prices.—DAN FRAKES
Company:Panasonic Price:$1,000 Original Review: September 2006
R

evolution Mice
Innovative scroll wheel sets mice family apart
An Eddy for mice? That won't seem so strange if you've ever used one of Logitech's new Revolution mice—the full-size MX ( ; February 2007) and the portable VX. Both are comfortable and ergonomically correct. Both feature lots of programmable buttons, include high-precision laser tracking, and are RF wireless. But what really sets these mice apart—and makes them Eddy-worthy—is the scroll wheel. In addition to operating in the traditional way—with the cursor moving up or down one on-screen "line" per wheel click—Logitech's MicroGear Precision Scroll Wheel has a Free-spin mode: Flick your finger, and the wheel spins freely, scrolling through dozens of pages at a time. Gently touch the wheel, and scrolling stops immediately. Once you've tried it, you'll never go back to a standard scroll wheel.—DAN FRAKES
Company:Logitech Price:MX: $99; VX: $80 Original Review: February 2007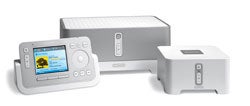 Sonos Digital Music System
Latest ZonePlayer completes this home entertainment system
When Sonos released its Digital Music System in 2005, we were impressed. Connect a ZonePlayer to some speakers wherever you want to listen, and use the Sonos Controller to wirelessly stream music from your Mac. The much smaller ZonePlayer 80 ( ; Playlist) extends those capabilities by connecting the Sonos system to your existing stereo. Taken together, the Digital Music System can replace much more expensive custom-installed home sound systems while in many ways improving on them, in terms of both functionality and ease of use. No other system so effectively combines digital music, high-quality audio, wireless convenience, and simplicity.—DAN FRAKES
Company:Sonos Price:$349 to $1,499 Original Review: online only

SuperDuper 2.1
Scheduled backups make this utility a back-to-back winner
Last year, we gave Shirt Pocket's SuperDuper 1.5 an Eddy because, in its first year, it had already become an indispensable tool for creating bootable hard-drive backups and for migrating between different Mac systems. With SuperDuper 2 ( ; Mac Gems), the program has become even more useful. It now offers scheduled backups, improved scripting, and better options for creating disk images. But our favorite improvement is SuperDuper's impressive new interface design: while most backup and disk-utility programs are unfriendly at best, SuperDuper 2 uses plain, easy-to-understand language to explain what's going to happen (based on the options you've selected) when you press the button to start your backup.—JASON SNELL
Company:Shirt Pocket Price:$28 Original Review: online only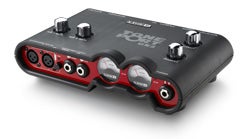 TonePort UX2
Interface is just what Mac-based musicians need
Line 6's TonePort UX2 ( ; February 2007) is the perfect companion for Mac-friendly guitar players, bass players, and singers. After you plug the TonePort into a USB port, the GearBox software lets you completely configure amp settings; for example, you can customize your guitar sound for everything from Mississippi blues to modern metal. You can save all your amp and effects setups for instant recall. And because the TonePort is compatible with other Line 6 devices (such as the Pod xt Live), you can use those settings onstage as easily as at home. Portable enough to put in a backpack, the TonePort UX2 gives you the best tone possible at a pretty reasonable price.—JIM DALRYMPLE
Company:Line 6 Price:$269 Original Review: February 2007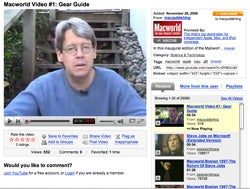 YouTube
Video-sharing Web site takes the world by storm in 2006
Video on the Web isn't new—Nor are tagging, commenting on, or linking to videos. But combine those elements and make it easier than ever to play and upload video clips, and you have something that'll take the Web by storm. Officially launched in December 2005, YouTube did just that in the space of one short year. Sure, you can watch only so many clips of college students lip-syncing Cher's "If I Could Turn Back Time." But now instead of trying to describe that hilarious Daily Show episode to your friends, you can send them a link. Instead of sending your relatives a 5MB QuickTime file of your baby's first steps, you can simply upload your video and send out a URL. Groups, channels, playlists, and subscriptions make it easy to share your videos with the world. And it still doesn't cost a dime.—CURT POFF
Company:YouTube Price:Free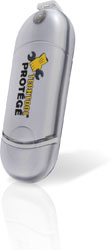 TechTool Protege
Troubleshooting goes portable
If you've ever had a computer problem on the road, you know how essential it is to have a bootable emergency drive. The Micromat Protege ( ; February 2007) is just that: a thumb-sized, flash-memory-based, 1GB FireWire drive that's preloaded with essential troubleshooting utilities (Micromat's $99 TechTool Pro and $50 DiskStudio; Apple's Disk Utility, Terminal, and System Profiler; and whatever troubleshooting utilities you want to add). Plug the Protege into your Mac's FireWire port and use it to boot, and then use the utilities to diagnose and repair your system. Protege's FireWire connection means booting is fast. Troubleshooting has never been so easy or so portable.—DAN FRAKES
Company:Micromat Price:$229 Original Review: February 2007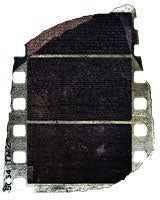 VisualHub 1.1
Video conversion software is iPod owner's best option
Techspansion's VisualHub ( ; Mac Gems) lets you convert videos for use with fifth-generation iPods, optimized either for the iPod's 320-by-240-pixel screen or for the higher resolution of a television. But so do several other apps. What sets VisualHub apart is its versatility: it makes converting videos to AVI, DV, DVD, Flash, MPEG, MP4, PSP, and WMV easy. You can choose between MPEG-4 and H.264 encoding. If you have a Series 2 TiVo, you can encode videos with VisualHub and then transfer them from your Mac to your TiVo. VisualHub is also much faster than QuickTime Pro at video conversion—faster still if you use distributed batch encoding—and works with files that QuickTime just can't.—JONATHAN SEFF
Company:Techspansion Price:$23 Original Review: online only
WingNuts 2: Raina's Revenge
Mac original is year's top game
Freeverse's follow-up to its 2001 arcade-style action game Wingnuts, WingNuts 2: Raina's Revenge ( ; Game Room) has the same basic format as the original: while traveling through time, you shoot down squadron after squadron of robot-controlled airplanes—everything from old propeller planes and zeppelins to futuristic high-tech fighters. Combine Freeverse's trademark sense of humor (resident bad guy Baron von Schtopwatch cracks an endless series of corny, and occasionally ribald, jokes, even as he tries to shoot you out of the sky) with top-notch production quality (OpenGL is used to great effect), and you have a game that's fun, challenging, beautiful to look at, and delightful to play. Oh, and WingNuts 2 is a Mac original—how many games can we say that about these days?—PETER COHEN
Company:Freeverse Price:$30 Original Review: online only
Note: When you purchase something after clicking links in our articles, we may earn a small commission. Read our affiliate link policy for more details.