If you've ever given a Keynote or PowerPoint presentation, you've likely received a common request: "Can I have a copy of your slides?" Maybe you gave a great presentation, or maybe someone who wanted to attend wasn't able. In either case, what the person really wanted probably wasn't just your slides, but your entire presentation. Unfortunately, it's tough to give them that; you'd need to videotape the session, transfer it to an application such as iMovie, and convert it to a format suitable for distribution.
An appealing alternative is offered by Humble Daisy's ProfCast 2.0 ( ; $30). Put simply, ProfCast lets you create a podcast out of your presentations—a podcast that includes your slides. First, you drag your Keynote or PowerPoint presentation file into the ProfCast window (you can also click the + sign and navigate to the file). Then you choose your microphone input. Finally, click Start Recording—your slides will open in Keynote or PowerPoint and start playing—and give your presentation as you normally would. You can record live presentations, or you can create "studio" recordings back home or at the office.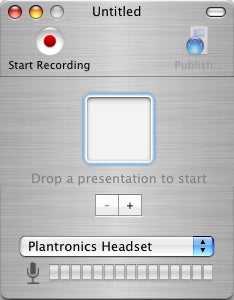 After the presentation is finished, you click the Stop Recording button and then the Publish button; your options will include:
Podcast manager: This uses ProfCast's own Publishing Assistant to publish your presentation as part of a series of enhanced podcasts that you can send via email or manually upload to a server. (ProfCast's preferences dialog lets you create shortcuts to frequently-accessed servers, using the FTP, SFTP, .Mac, or WebDAV protocols. Humble Daisy provides several pages of instructions for publishing your podcast to various types of servers.) ProfCast even generates the proper RSS feed.
Save: This saves your ProfCast project to disk in case you want to work on it later.
Enhanced Podcast: This option lets you create an enhanced podcast file and save it to disk without actually publishing it. This is useful if you're creating a one-time podcast.
Send to GarageBand: This sends your audio recording, slides, and synchronization info to GarageBand, where you can edit the podcast as desired and then publish it through GarageBand.
Send to iWeb: This options creates an enhanced podcast, complete with episode and advanced information tags, and then sends it to iWeb for inclusion in your iWeb-created blog.

Whichever option you choose, the resulting file contains your audio as the podcast's audio track and your Keynote or PowerPoint slides as chapter art—each slide, and its accompanying audio, becomes a separate chapter in the podcast. Anyone "viewing" the presentation in iTunes or on an iPod will see the chapter art change just as if you were skipping to the next slide while giving the presentation live. This also means that viewers can quickly skip to any slide using iTunes' Chapters menu or the iPod's chapter-skip feature; the audio will automatically jump to match that slide. (Unfortunately, slide transitions and builds are not preserved; you see the final, post-build version of each slide.)
Of course, iTunes' tiny album/chapter-art panel isn't exactly the best way to view slides that were originally designed to be viewed on a large screen. So at the expense of a larger podcast file, ProfCast gives you the option to use "presentation size" versions of your slides as chapter art; this is a great feature, as it means that your viewers can—using iTunes' full-screen chapter art mode—see your slides at full size.
ProfCast also gives you a few other options. A handy one is the ability to take screenshots during your presentation; for example, if you exit your slideshow to demonstrate a piece of software and you want your podcast audience to be able to see your screen. You just press a user-definable F-key shortcut, and an attractive overlay appears that offers the choice of a full-screen, window, or selection screenshot. Click the desired type, take the shot, and the resulting image is automatically inserted into the podcast as chapter art for a new chapter. You can then switch back to your presentation and continue with your slides—ProfCast doesn't miss a beat.
It's tough to describe what a ProfCast-created presentation podcast looks and sounds like, so I've created a sample using a few slides from a presentation I gave on the recent MacMania V cruise. You can download this 5.9MB sample podcast here. (Option-click the link to force it to download to your hard drive, then double-click the downloaded podcast file to open it in iTunes. If you simply click the link, it will play in your browser without the enhanced-podcast features.)
ProfCast is not without its glitches. For example, it refused to publish one particular PowerPoint presentation, claiming that PowerPoint "could not export the slides" (even though I could, indeed, export from within PowerPoint). I also experienced an issue where repeatedly closing a ProfCast recording and then opening a new one (because I kept making mistakes while speaking and wanted to start over) resulted in ProfCast failing to save any audio—a very frustrating experience. Quitting and relaunching ProfCast before opening a new recording avoided this issue completely, but hopefully Humble Daisy will fix the problem in a future update. Finally, I couldn't get ProfCast's Web-link feature—which lets you include live Web links in your chapter-art slides by including the URLs in your Keynote or PowerPoint slide notes—to work properly.
These issues kept ProfCast from earning a higher rating, but even with them, ProfCast is a clever utility that's easy to use and produces high-quality results.
ProfCast requires Mac OS X 10.4.x or later, as well as either Keynote or PowerPoint, and is a Universal binary. The developer also lists minimum hardware requirements of a 667MHz (or faster) PowerPC Mac or any Intel Mac.