One of the common requests I get from readers is for software that lets you fill out PDF forms. Of course, if a PDF was actually produced as a full-featured form with editable fields, the free Adobe Reader and (in Tiger, at least) OS X's own Preview let you fill in those fields. Unfortunately, I get a lot of PDF forms that don't include editable fields—the sender expects me to print out the form, fill it out, and then fax or send it back. The solution for me has been to use one of a number of commercial software titles that let you add text to such PDFs, such as SmileOnMyMac's $50 PDFpen and $95 PDFpenPro, full versions of Adobe Acrobat, the $30 FormMate, or even the $30 GraphicConverter.
(There's actually a kludgy way to use Microsoft Word, Pages, or OmniGraffle to fill out forms—by using the PDF as a background layer—but it works only with single-page PDFs and it's, well, kludgy.)
Andrew de los Reyes offers a low-cost alternative to these commercial products in the form—no pun intended—of Formulate 0.0.1 ( ; payment requested). This tiny app does one thing, and one thing only: it lets you type text onto PDFs.
Unfortunately, Formulate's interface isn't the most intuitive I've used. Instead of clicking somewhere on a PDF form to get a text box and then typing the desired text, you instead type the text—into Formulate's text-entry box— first , then press Return, then click on the location on the page where you want the text to go. (If you "miss," don't worry, you can drag the text around to align it properly.) You repeat this process—type, Return, click—for each bit of text you want to include in the PDF.
If you decide you want to move or delete text, just click the "show/hide drawer" button to view the list of text items you've added to the PDF. Select one (which turns that text red on the page for visibility) and you'll be able to move it around the page or—by clicking "Delete selected entry"—delete it entirely.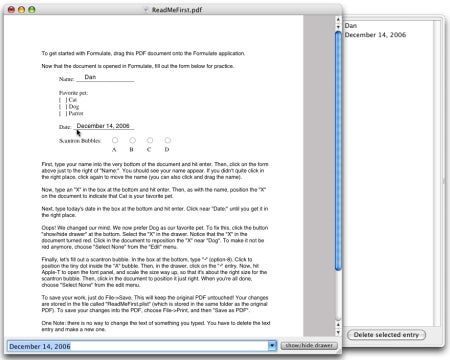 (I like that the developer has combined a "user manual" and a tutorial in a single PDF file; you open the PDF in Formulate and follow along as it explains how to add text to that PDF.)
Once you've finished adding text to the page, you can print it, save it as a new PDF (using OS X's "Save as PDF" option in the Print dialog), or save it (via File: Save) as a Formulate settings file. The latter option doesn't alter the original PDF in any way; instead, it creates a preferences (.plist) file, in the same folder as the original PDF, that contains all your text entries. The next time you open that PDF file in Formulate, as long as that .plist file is in the same folder as the PDF document, Formulate will add your text entries to the document.
That's the extent of Formulate's feature set. You can't change the font or style of text entries; you can't add things other than basic text (for example, drawing objects or a graphical image of your signature); you can't edit or alter the original PDF's text; and multi-page PDFs appear in Formulate as a single, long page rather than as distinct pages. Still, if all you need is a cheap way to add text to PDFs, Formulate is just that and works well.
Formulate requires Mac OS X 10.3 (Panther) or later and is a Universal binary.