On Saturday, Dec. 16, a long-time friend and colleague of mine, Bruce Fraser, passed away. He succumbed after a short bout with lung cancer, a few weeks shy of his 53rd birthday. To many of us, he was a warm, gregarious man and a loyal friend. To anyone who ever read his columns, reviews or books, he was a writer of wonderfully clear and often highly opinionated prose. To those fortunate enough to see him speak, he offered valuable tips and tricks with a minimal amount of technobabble and a fair helping of Scottish humor.
Bruce defined himself as a "color geek," and that he was. Long before any of us were paying attention to RGB, CMYK and ColorSync, Bruce was knee-deep in it, largely a result of his frustration and fascination with the first generation of scanners for the Mac. He turned that passion into his profession, moving from product reviewer and user to book author, lecturer and guru. Later, as one of the co-founders of PixelGenius, he became a software developer of sorts, helping create a suite of Photoshop plug-ins because no one else was making the tools that he needed to use in his own work. Over the years we joked about the rise of "Bruce, Inc.," but he never lost that interest in helping one more person get past some problem with Photoshop or digital photography. It was important to him that he not be viewed as some lofty lord of the digital realm—although he relished that role—but as a regular guy who was unbelievably happy that he could make a living doing something he loved.
When I first met Bruce, I was a writer at MacWeek , and our common love of photography led us to shared experiences on the the digital imaging frontier. By the time I became MacWeek's reviews editor in 1990, he was one of our primary contributors, turning out review after review of scanners, digital imaging applications, color management tools and digital cameras. He was fair and considerate in his reviews, but was never afraid to call a product bad when it was. To him software and hardware development was a process that was never finished: something could always be made a little bit better, and to those developers willing to listen, he often provided valuable feedback. He was one of Photoshop's first big champions, and ultimately became a small driver in the development of the application, regularly spurring Adobe in print and behind the scenes to make it better. Photoshop returned the favor by making his Real World Photoshop (co-written with David Blatner) a huge best-seller.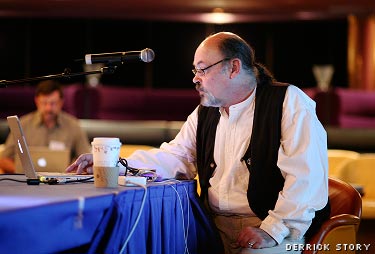 Bruce worked as hard for MacWeek's sister publication, MacUser , as he did for us, and, when those publications went away, he brought his talents to Macworld , acting as a valuable rudder to the magazine as digital imaging matured. Unfortunately for us, the demands on Bruce's time, and the conflicts inherent in his relationship with Adobe and as a software developer, meant that we were able to use him less and less over the past few years, but he never ceased acting as an advisor and mentor to many of us at Macworld .
Bruce and I were close over the years, and while I have plenty of pleasant memories of us testing and discussing scanners, hard drives and printers in MacWeek's labs, it is a week of music that lingers with me. During a sabbatical in 1994, I rented a studio in San Francisco, and spent a week playing music with Bruce, Ric Ford of MacInTouch, and another friend. Rest assured that I will never be mistaken for a musician. Bruce, on the other hand, was as gifted a musician as he was a color geek, and was just as generous with his time and knowledge. To him, there was no difference between pushing us to stretch our fledgling talents and telling us why we absolutely had to calibrate our monitors. He was just happy to be there, playing music with some friends.
The undulating circumstances of life brought me further and further away from both reviews and San Francisco, and, as a result, I saw less and less of Bruce in recent times. But, every time I ran into him—in the lab, at Macworld Expo, or randomly on the street—he greeted me with warmth and concern for my general well-being. That's the kind of guy Bruce was. He had his prickly side (I did mention that he was highly opinionated), but at heart, he was a decent man.
I look over at my bookshelf and at a glance, see five books that Bruce wrote (you can find many of them here ). I will continue to use the techniques and tips that those books have taught me, long after the applications they reference are gone, but, more importantly, I will cherish the fact that I knew the man who was behind those volumes. Bruce, Inc. might be no more, but there are thousands upon thousands of people who were touched in some way by the things he did. These days, that's a good legacy to have.
Peace, my friend.
Here are links to some of Bruce's work on Macworld.com (click here for all of it): ? The Color Challenge (are LCD monitors good enough for precision color work?) ? Inside Camera Raw (we also posted an excerpt from his Peachpit book on the same topic) ? True Colors (a classic on getting the best prints out of your inkjet printer) ? Print Publishing Secrets (a treatise about ColorSync)