If there's ever been a product that's delivered more business to online retailers than the iPod, I can't think of what it might be. Need some headphones or a speaker system for your new music player? Just hop online, and with a few clicks of a button, your order will be wending its way through the ether until the product is delivered to your front door.
Still, online shopping isn't without its drawbacks. You don't get the same instant gratification that you do when buying a product in person at a store and taking it home that day. And during the holiday season, that's an even bigger issue—buy too late, and your gift recipient ends up with an I.O.U. while you wait for delivery.
With that in mind, I went on a scouting trip this past weekend to see what my local chain stores had to offer in terms of iPod gear. If you've got one of these stores in your area—and if you live in the U.S., it's a pretty safe bet that you've got several—you've got a source of readily available gifts for your favorite iPod-lover. Arm yourself with buying advice from Playlist's Product Guide, our Winter Gift Guide, or our picks for the best products of 2006, and you can be confident that your last-minute shopping trip is still going to uncover a great, reliable gift.
Apple Stores
If you've got an Apple retail store in your area—Apple boasts more than 170 outlets around the globe—you've got one of the best iPod-accessory-buying experiences anywhere. Most stores have an entire row of shelves stocked with stocking-stuffers—cases, chargers, and other add-ons—and everything is meticulously arranged and organized, with clear price labeling and not a product out of place (something that can't be said about most other stores).
Turn around, and you're likely to find a large area full of speakers and other large accessories you can try before buying. (Even Apple's "mini" stores offer a good selection of iPod gear, although without the variety—or the hands-on area for larger gear—of the full-size stores.)
One downside to Apple Stores: they tend to carry products from "bigger" brands and products with higher margins, so you won't find some of the less expensive products—such as $5 no-name car chargers—that you'll be able to get some of the other locations I visited. On the other hand, here is where you'll find the widest selection of Apple's own accessories outside the online Apple Store.
Best Buy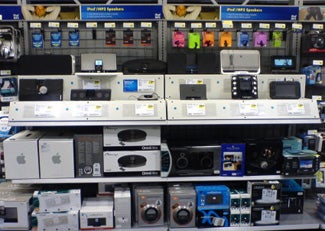 Best Buy offers an impressive variety of speaker systems.
Best Buy's devotion to iPod accessories has waxed and waned over the past few years, but it's currently waxing strong. At a Best Buy store here in the San Francisco Bay Area, I found two full store-rows of iPod gear—more than at any store save Apple's own. Belkin, DLO, and Griffin Technology were clearly the main brands, but I was also able to browse products from Apple, Bose, Dynex, Kensington, Monster Cable, and several off-brands I hadn't previously heard of.
Best Buy also had a sizable collection of iPod speaker systems on display including Altec Lansing, Apple, Bose, iHome, JBL, Logic 3, and Logitech, and was the only store that carried speakers from Athena and Mirage. There was also an entire wall of portable-player cases, the vast majority of them for iPods.
Circuit City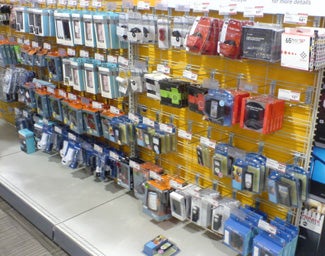 A wide selection of inexpensive add-ons—car chargers, adapters, and many off-brand accessories—sets Circuit City apart from other big-box retailers.
I didn't have to search long in a local Circuit City store to find the iPod gear; a huge ceiling banner reading "iPod/MP3" pointed the way. Although not as big—or as well-organized—as the iPod-accessory section at Best Buy, Circuit City still offered an impressive array of gear. Again, Belkin, DLO, and Griffin took up most of the shelf space—including pricier items such as DLO's HomeDock Deluxe —but products from Apple, Nike, and several off-brands were also available. The speaker selection included systems from Altec Lansing, Bose, iHome, Klipsch, Logic 3, Logitech, MTX, Polk—the only store carrying Polk iPod speakers, actually—and Sonic Impact.
I also discovered a rack of very inexpensive off-brand add-ons, such as car chargers, cassette adapters, and the like for under $10 each, although I can't vouch for the quality (or possible lack thereof). Finally, Circuit City had a slew of gift cards, in various amounts, for eMusic, the online music store that focuses on independent artists and provides music in no-DRM MP3 format.
Costco
If you're in an area served by a Costco warehouse store, you're in luck. Although Costco carries none of the lower-cost iPod accessories stuffing the shelves of most other retailers—cases, cables, chargers, and such—the company offers a good variety of higher-priced products at substantial discounts (displayed in classic warehouse style, natch).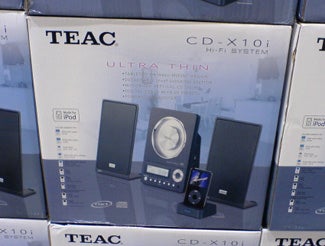 You'll find plenty of speaker systems on the shelves of Costco—including this CD/iPod system from Teac—but the warehouse store prices them at substantial discounts compared to other retailers.
For example, my local Costco had Klipsch's iGroove for $150 (normally $250), Sonic Impact's iFusion i-F2 for $95 (normally $150), and JBL's On Time for $190 (normally $250). Other discounted systems included speakers from Altec Lansing, iHome, Logitech, and even a CD/iPod system from Teac.
As is the norm for Costco, there were also Costco-only accessory bundles, such as Belkin's TuneBase FM for iPod, AC Power Adapter, and USB dock-connector cable packaged together for only $60. And as my colleague Chris Breen noted last week, you can get $50 iTunes Gift Cards for $44.99. Finally, if you're in the market for an actual iPod for your favorite gift recipient, Costco sells most current iPod models for $10 to $20 less than you'll find them elsewhere.
Radio Shack
I remember a time when Radio Shack was a great place to get parts for DIY electronics projects, but not such a great place if you were in the market for quality TV and stereo equipment. Although still not a higher-end store, Radio Shack's component offerings have improved dramatically, and their iPod gear selection is actually quite impressive.
My local Shack is a small one, yet when I visited, an entire section of the store was dedicated to Apple's player. In addition to an impressive variety of Radio Shack's own Accurian brand of cases (which don't look anything like generic "house brand" products), the store also carried cases from XtremeMac; it also was the only retail store where I found cases from Pacific Design and Speck. In addition, I found electronics (cables, chargers, etc.) from Griffin Technology and Monster Cable, as well as speaker systems from Accurian, iHome, iSymphony, and JBL. I was also surprised to discover Ultimate Ears' super.fi 3 Studio headphones, one of our 2005 Plays of the Year Awards winners.
Sears
"Sears?" I hear you asking. Yes, Sears. You know the iPod has become ubiquitous when Sears sells iPod accessories—some, at least, and mainly inexpensive speaker systems from Altec Lansing, Emerson, iHome, Jensen, Logitech, and Teac (one system per brand in my local store). Other than speakers, though, the only iPod-specific accessories I found at Sears were from Belkin, Griffin Technology, and Monster Cable, and the selection was fairly limited.
On the other hand, Sears had the unique distinction of being the only store that carried accessories—such as Griffin's AirClick and iTrip —for older iPod models such as the 3rd-generation iPod and iPod mini.
Target
Target stores have had dedicated iPod sections for a while, but all of the Targets I've been to recently have set aside an entire aisle—an end aisle, no less—dedicated to the player and its add-ons.
iPod accessories from companies small and large take up an entire aisle at my local Target.
The main brands are again Belkin, DLO, Griffin, and Monster Cable, but I was surprised at how many smaller vendors' products were available. For example, Target was the only store that carried the excellent line of cases from Agent 18, and the only one besides Apple to carry Incase products; XtremeMac was also represented.
At my local store, speakers from Altec Lansing, Apple, Bose, DLO, iHome, JBL, and Sonic Impact were prominently displayed, and if your budget is tight, Target also carries inexpensive iPod speaker systems from Emerson, Jensen, and Memorex.
Final thoughts
Of course, all of these vendors also carry a variety of denominations of iTunes Gift Cards and an array of third-party headphones; not all of the latter are good ones, but I was pleasantly surprised to see Sennheiser and Shure models at Target and Apple Stores, as well as Ultimate Ears at Radio Shack. And if even these national chain stores are too out of the way for you, even my local grocery store had a few iPod-related gadgets on display last week.
In other words, if you're running behind with your holiday gift buying, not to worry—you've still got plenty of places to get stuff for the iPod owners on your list.
[ Dan Frakes is Playlist's Senior Reviews Editor. ]