For years now, digital entertainment fans have been dreaming of a Digital Media Center—a unified collection of devices that would enable them to enjoy all their Mac-based music, videos, photos, and games from any room of the house, no matter where that media is stored. Ever since articulating its digital hub vision back in 2001, Apple has slowly been assembling the pieces of that media center. The iTV—when it's released sometime in early 2007 (and which won't actually be called iTV when it finally arrives)—will wirelessly connect your home entertainment hardware to your Mac, and it could be the final piece in that puzzle.
Evolutionary development
The first steps toward the Mac media center came in 2001, with the introduction of the iPod and iTunes. Those two products established the link between Apple and entertainment and started the trend of loading hard drives with music and (later) TV shows and movies. Other high points on the timeline include the following: in July 2004, Apple shipped the AirPort Express with AirTunes, which let you wirelessly stream music from your Mac to your stereo; a year later, Apple introduced its second-generation iMac G5, with its Front Row software and the Apple Remote; and in early 2006, it issued the second-generation Mac mini, with digital audio and DVI output, Front Row, an Apple Remote, and a built-in AirPort connection that let it stream media from your Mac.
But that Mac mini was an incomplete solution. Out of the box, it could play DVD video, TV shows and movies purchased through iTunes, and user-created home movies. But it still lacked a TV tuner and digital video recorder (DVR) for capturing broadcast television. In other words, as Roger L. Kay, president of Endpoint Technologies Associates, puts it, "If Apple doesn't offer a show you want, you're out of luck." The other key feature users want in a media center is an extender—a device that'll let them send content from a hub (the Mac in the den, say, or a dedicated media server) to multiple screens around the house.
Will the iTV fill those holes? It's expected that the iTV will access audio, video, and pictures over a wireless network, but many questions remain. Will it have a TV tuner and DVR functions? What about a CableCard slot that would allow you to get rid of your cable set-top box? And what about high definition video? Whereas many of today's home entertainment centers have made the leap to HD, the video downloads now available through iTunes aren't even DVD quality. How many of us would want to watch a low-resolution movie on our HD TVs?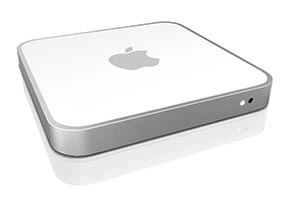 Illustration by Oliver Wolfson.
But sending high-quality video over the Net and through the air poses a big problem: If it takes half the night to download the movies currently available on iTunes, imagine how long it would take for a DVD-quality feature. And today's 802.11g wireless standard, with a top theoretical speed of 54 Mbps and a realistic rate of 11 Mbps, is barely up to the job of sending one HD stream at a time. So what happens when you're trying to send multiple video streams to multiple screens?
The answer to that last conundrum could be the forthcoming 802.11n standard, which could be ten times faster than 802.11g. Apple will no doubt release 802.11n hardware in 2007, but will the first iteration of iTV include the new standard? Probably not.
The question about whether iTV will have a TV tuner may not matter in the long run. According to analysts, Internet Protocol Television (IPTV)—television transmitted digitally over the same broadband connection that connects you to iTunes—may either replace broadcast television or at least be a viable alternative to it within five years. Then you wouldn't need a TV tuner at all. For that matter, Endpoint's Kay suggests that on-demand services could replace the broadcast model altogether. Why should stations continuously clog bandwidth with shows no one may be watching? Instead, users could simply download the programs they want.
Buying advice
If you plan to watch your media on your computer, you have all the pieces available to create a media center: with a few third-party add-ons, a Mac mini (or an iMac, if the screen is big enough for you) can handle music, video, photos, and more with aplomb. (For more on turning a Mac into a multimedia center, check out My multimedia Mac mini and My week with the iMac.) But if you want to extend your media experience to many screens throughout your home, you'll want to wait for your iTV.
[ Michael Gowan is a freelance writer in Oakland, California. ]