Palm-based PDAs have always been the most Mac-friendly models out there. And with the Treo, Palm has done a nice job of melding its PDAs with a cell phone that Mac users can enjoy toting around—and has showed the rest of the industry what's smart about a smart phone.
The Palm OS approach
If you've ever used a Palm OS handheld, the Treo 650, 680, or 700p will be completely familiar—mostly because Palm OS has changed little over the years. While we could argue that this indicates stagnation, it also shows that simplicity works.
The Treo includes a full miniature QWERTY keyboard and uses a four-way directional pad that, combined with a central button, makes one-handed operation possible: you can access almost all its features without using the touch screen.
One of the hallmarks of Palm OS is its thoughtful yet uncluttered interface. For example, you use large, easy-to-read buttons to activate three-way calling and the speakerphone. The Treo also includes an invaluable hardware feature: a switch on top of the device puts it into silent mode.
Mac synchronization
Unlike the other smart phones on the market, the Treo includes its own software for synchronizing information with a Mac. The Palm Desktop software provides a place to store your contacts, appointments, tasks, and memos. And its HotSync framework, which uses a set of software plug-ins called conduits, shepherds traffic between Palm Desktop and each of the phone's core applications. Thankfully, HotSync isn't limited to the outdated (and PowerPC-only) Palm Desktop software. You can use the USB cable included with the Treo to sync iCal and Address Book between your Treo and your Mac via iSync. To do so, choose Enable Palm OS Sync-ing from iSync's Devices menu (you'll still need to install Palm Desktop, which includes the HotSync software, even if you don't end up using the Palm Desktop application).
Unfortunately, Palm Desktop is getting long in the tooth—and it's unclear how much longer Palm will continue to support the Mac. A much better alternative is Mark/Space's $40 The Missing Sync for Palm OS 5.1.1 ( ). The Missing Sync uses OS X 10.4's Sync Services to synchronize data with Apple applications, letting it bypass iSync altogether. It's also a Universal application, so it works well on PowerPC- and Intel-based Macs alike.
The Missing Sync can synchronize any folder in the Finder to a smart phone's SD memory card, includes a Mac application for both viewing and creating memos, and comes with a conduit for updating the phone's clock when you synchronize the phone with your Mac.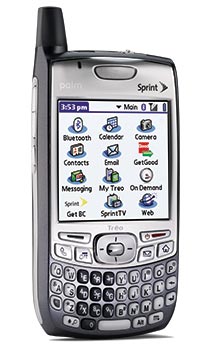 Palm Treao 700p
E-mail
The Treo includes the VersaMail e-mail client, which supports POP, IMAP, and Microsoft Exchange ActiveSync accounts. It directly retrieves e-mail messages over the smart phone's built-in modem; the Treo 700p can access Verizon's high-speed EVDO network in the United States, for example. The phone comes with several presets, such as one for .Mac accounts, that help you set up the software. However, many people prefer Snapperfish's SnapperMail 2.3 ($25 to $60), which is a fuller-featured e-mail app.
While cell network operators don't offer BlackBerry-style push e-mail (which we'll explain in more detail in the BlackBerry section) as a feature with Palm OS, several companies (including Yahoo) let you push messages to your device from their hosted e-mail, or offer plug-ins for corporate mail servers.
Unfortunately, there's no way to transfer desktop e-mail to your Treo when you synchronize the device. Although Windows users have enjoyed this capability for years, it has never made its way to the Mac (or not very well, at least).
Other media
Palm covers the basics by including HotSync conduits that let you send music and images to a Treo, a Media application for displaying photos, and a version of RealPlayer for listening to music (none of the smart phones out there can play music or videos purchased from the iTunes Store). The Missing Sync for Palm OS goes beyond Palm's efforts by including its own conduits that tie into iTunes and iPhoto. You can choose only playlists and albums, not individual songs or pictures, but it lets you do things such as create a smart playlist that's limited to 100MB and contains your highest-rated songs, for example.
The iPhoto conduit works in both directions, so you can move photos you've shot using the Treo's built-in camera directly to iPhoto or a folder in the Finder. Double-click on the Mark/Space Photos conduit and select the Download Pictures From Handheld option to set it up.
And for people who like to read news, sports updates, travel advice, and more, Mark/Space's support for AvantGo is a welcome addition. Mark/ Space has created a conduit that connects to AvantGo's servers during synchronization, letting you download Web content to your phone. (The AvantGo application on the Treo can also take advantage of the smart phone's wireless data connection for Internet access on-the-go.)
In case you want to get some work done during your daily commute, the Treo includes DataViz's Documents To Go, which lets you read and edit Microsoft Word and Excel documents, as well as sync them back to your Mac.
The bottom line
In terms of integration with the Mac, it's hard to beat a Palm OS Treo. Although Palm has provided minimal support for the Mac, a small investment in The Missing Sync for Palm OS makes the Treo the most Mac-friendly smart phone on the market.
[ Jeff Carlson is the managing editor of TidBits and the author of iMovie HD 6 and iDVD 6 for Mac OS X: Visual QuickStart Guide (Peachpit Press, 2006). Glenn Fleishman writes for the Economist, the New York Times, and Popular Science . Photography by Peter Belanger. ]
In the Palm of Your Hand: The Missing Sync for Palm OS lets you move your iTunes playlists—in addition to standard data—onto a Palm OS–based smart phone.