You may have noticed that one smart phone platform is missing from the larger story: Symbian OS. Although Symbian runs roughly 70 percent of all smart phones worldwide, it has barely a toehold in the United States (similarly, Linux is number two globally but U.S. carriers don't sell Linux smart phones).
So why is Symbian virtually absent in the United States? We use two different cell network types: GSM (Global System for Mobile Communications) and CDMA (Code Division Multiple Access). Worldwide, GSM dominates, but in the States CDMA is in the lead.
Though Nokia once had plans to release a CDMA-based Symbian model for the U.S. market, the company announced in September 2006 that it would no longer make CDMA phones of any kind.
Even among GSM networks, there are variations in frequencies used, and the United States is out of sync with much of the rest of the world. Until recently, Symbian phones didn't handle some of the GSM spectrum in use in the States; this limited Symbian's rollout here and prevented European phones from working as effectively in the United States.
Finally, there is a mismatch in 3G high-speed data networks. European carriers use different frequencies for their GSM 3G networks than U.S. carriers use. Because smart phones are now typically coupled with 3G networks, it was unlikely that Cingular—as it rolled out its own network—would sell a smart phone that could run only at modem speeds.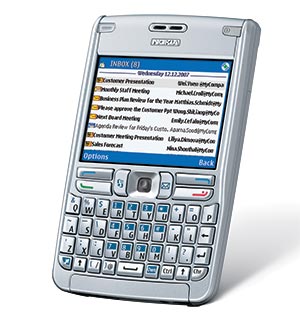 Nokia E62
Only Cingular sells Nokia Symbian smart phones in the United States, and it sells only two models (although you can purchase unlocked phones separately from the carriers and then add service to them on Cingular's or T-Mobile's network). Despite all this, Apple does support some Symbian devices through iSync for basic information synchronization.
For people with phones that iSync doesn't support natively, Nova Media sells a set of iSync plug-ins for a variety of Symbian phones, for €10. Some Symbian phones offer full Bluetooth support for copying files, as well as OS X-compatible USB support for transferring music and other files to the phone.
Symbian may make a greater push into the United States in the future, but for now, phones that use it are hard to come by.
[ Jeff Carlson is the managing editor of TidBits and the author of iMovie HD 6 and iDVD 6 for Mac OS X: Visual QuickStart Guide (Peachpit Press, 2006). Glenn Fleishman writes for the Economist, the New York Times, and Popular Science .]