At a Glance
Expert's Rating
Pros
Cutting edge graphics details
Key improvements over previous games in series
Built-in scenario editor
Cons
Heavy system requirements, especially for multiplayer
No cross-platform multiplayer support
Our Verdict
Real-time strategy games have been around for more than a decade now. Blizzard defined the genre with Warcraft and Starcraft, Westwood Studios refined it with Command & Conquer, and Ensemble Studios has constantly improved it with the Age of Empires series. Now Ensemble's Age of Empires III is on the Mac, thanks to the hard work of MacSoft.
This game takes you back to the European exploration and colonization of the New World, starting during the Age of Discovery and continuing through the Industrial Age. It's quite epic, very involved and lots of fun to play. What's more, it's absolutely gorgeous to look at, as long as you have the graphics horsepower to run it.
The main thrust of the game is a single-player campaign comprising two dozen missions involving the Black dynasty, starting with Morgan Black—a Knight of St. John who travels to the New World to stop Spanish Conquistadors from seizing a natural wonder. The single-player campaign mode continues through three distinct acts—Morgan's grandson, John, fights on the side of Native Americans during the Seven Years' War, and John's granddaughter, Amelia, tries to create an railroad empire as the United States pushes ever westward.
Age of Empires III also includes multiplayer capabilities, or skirmish support that lets you play random maps against the computer. Internet multiplayer is limited to Mac-to-Mac gameplay only through GameRanger, a Mac online game-finding service, although MacSoft also incorporates LAN-based support for people on the same network who want to play one another.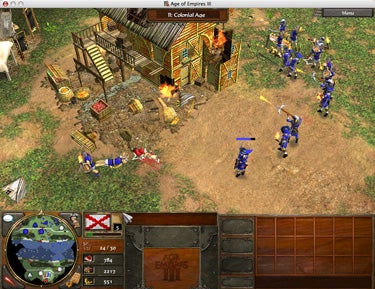 So much for your dacha, Boris A small Spanish garrison sends a message to Russian colonists encroaching on their land. Using flaming arrows and torches in Age of Empires III.
The lack of PC-to-Mac gameplay is a big problem—that excludes a big group of players from participating against each other. It's also not mentioned anywhere in the documentation for the game, or on the box, so it might be an unpleasant and very unwelcome surprise to some gamers. Mac-to-PC online gaming compatibility issues are certainly nothing new, but MacSoft's apparent obfuscation of the problem is not helpful.
Online gaming features two distinct types of games: Supremacy, in which each player starts without any resources and must win either by conquest or surrender; and Deathmatch, in which each opponent starts with a stockpile of resources. Deathmatch is a lot more conducive to quick online battles.
Age of Empires supports up to eight players at once—more online players will rather dramatically increase system requirements. While a 1.2GHz processor and 512MB of RAM is the basic required system, MacSoft recommends a 2.5GHz system with 2GB RAM for a full-on eight player game.
As a real-time strategy game, Age of Empires puts an emphasis on smaller levels of resource and unit management than a sprawling turn-based game, like Civilization IV, for example. You set out with limited resources—some townspeople to populate a settlement, a basic cadre of soldiers, perhaps a boat or two, and then it's up to you to gather the additional resources you need, such as food to feed your burgeoning population, minerals to mine for currency and wood to turn into structures, such as buildings and defensive installations such as forts and guard towers.
In the Campaign mode, you're tasked from mission to mission with specific goals—defending your outpost from enemy attack, defeating an opponent in battle, harvesting a certain amount of resources, and more.
You're not entirely cut off from civilization, however. One of the innovations in Age III not found in previous Age games is the concept of the Home City—a European port-of-call that you can occasional request additional resources from, be them bodies, food, weapons or more, so you can constantly keep replenishing your dwindling stocks. You can also establish trading posts in your new home, earning regular payments of resources, eventually upgrading them to get even more.
Those aren't the only ways to gain advantages in Age of Empires III. As your heroes, explore the map, they'll come across the occasional treasure, often zealously guarded by enemy units that will need to be defeated. Treasures, when turned over to your control, will yield some kind of benefit—maybe additional resources, or a new unit type you hadn't had access to before, like a friendly native who possesses a special weapon type.
Just because real-time strategy games inherently focus on a small scope than turn-based games doesn't mean that battles are small in Age of Empires III, either—in fact, they can be vast, putting you in control of infantry, cavalry, Native American scouts and warriors, mercenaries and even naval flotillas. You can instruct each of your unit types to attack with different formations, or you can leave it up to the game's AI to figure out how best to organize your defenses. This flexible approach to unit management frees you up from some of the aspects of micromanagement that strategy game players occasionally find onerous.
Eight different colonial empires are represented in Age of Empires III, including the Spanish, British, French, Portuguese, Russian, Ottoman, German, and Dutch. Each civilization features unique unit types—Russian Cossacks, for example, figure as a light, highly mobile cavalry, while the Ottomans possess the Great Bombard, a building-leveling artillery unit. Each civilization gets a special bonus, as well—when your Home City delivers its shipments, you might find a free Uhlan (a heavy cavalry unit) if you're playing as Germany, or you might find extra Manor Houses that spawn more Villagers when playing as the British.
The game gets pretty complicated pretty fast, especially for a real-time strategy game, but fortunately MacSoft has included a printed Quick Reference Guide that offers you a visual technology tree, reminders of hot keys, and information on what sort of military units each civilization has. A robust printed manual is also included with the game.
When Age of Empires III was first released for Windows, a Macintosh conversion looked dim because Ensemble Studios licensed Havok, a physics engine developed for games that hadn't appeared in any modern Mac titles because of its licensing fee. Rather than pony up the cost, MacSoft used a different approach—its game conversion specialists ended up gutting Havok all together, substituting it with a significantly less expensive technology called PhysX, developed by Ageia. The net result is that Age of Empires III on the Mac still sports remarkable 3-D graphics complete with realistic physics – cannonballs will bounce and ricochet, for example. Soldiers collapse like rag dolls when they're hit. The environments are destructible, too. Early in the game I watched with no small amount of wonder as a pirate's fort collapsed and splintered under the barrage of my soldiers' cannon fire.
Age of Empires III is, by far, the best looking game in the series—realistic shadows, tone mapping, and photorealistic water effects all help to complete the effect. Adjust the angle of your view and you'll watch as sunlight, water motion and other effects are adjusted as well.
Because Age of Empires III uses a fully 3-D game engine, you can zoom in and out of the battlefield to give yourself some situational awareness, trying to take in as much as possible, or just focusing on specific skirmishes on a part of the battlefield.
All this graphics and physical embellishment puts a big strain on system resources. As I previously mentioned, a 1.2GHz system with 512MB is the bare minimum. Some of the shadowing and lighting effects are only available to Macs equipped with the latest graphics hardware. In particular, if your Mac uses an Nvidia graphics chip or you have a system like a MacBook or Mac mini that uses integrated Intel graphics, you might feel a bit left out.
A very Windows-looking scenario editor will let you create your own missions, and a "sandbox" skirmish mode won't limit your play in terms of resources. Both these capabilities help extend the gameplay beyond just the campaign and online modes.
The bottom line
Age of Empires III has a lot of different options and so much varied gameplay, it'll keep you busy for weeks, if not months, but the lack of multiplayer cross-platform support is this game's Achilles heel.