The oddsmakers in Vegas wouldn't have even thought it possible, but Adobe shocked the Mac video editing community with Thursday's announcement of the return of Premiere for Mac. Few would have guessed after Adobe dropped Mac support for its video-editing program three and a half years ago that the company would aggressively relaunch Premiere Pro, including it as part of a new Production Suite bundle scheduled for a mid-2007 release.
After all, the picture painted by Adobe when it came out with the first Windows-only version of Premiere in 2003 was one where the company felt it could no longer compete with Apple's digital-video editing offerings (namely Final Cut Pro). Back then, David Trescot, senior director of Adobe's digital video products group, told Macworld , "If Apple's already doing an application, it makes the market for a third party developer that much smaller."
But that stiff competition from Apple may have been only part of the picture. According to Simon Hayhurst, Adobe's director of product management for dynamic media, at that point in Premiere's development, Adobe was at a crossroads. "We weren't happy with [ Premiere 6.5 ]. We knew that if we wanted it as a truly professional application, we needed to rewrite it from the ground up."
The interface for the Mac version of Adobe's Premiere Pro
Splitting its efforts between a PC and Mac rewrite would have pushed the next version of Premiere too far back. Instead, Adobe opted to concentrate on the PC version. And with Premiere Pro, Adobe has found success on the PC side, even among high-end users. The application let video pros edit ultra high quality 4:4:4 color space HD (with a third-party Bluefish video card) before rival apps Final Cut Pro or Avid could.
The popularity of Premiere Pro on the PC platform seems to stem from two strengths. Adobe created Premiere Pro with an open architecture. Third-party hardware and software developers can get SDKs for Premiere Pro and build their products around the program, adding features to the Premiere Pro in the process. So Matrox can sell its Axio HD and SD platforms, which are built around Premiere Pro. And Cineform can offer its Prospect HD product.
Premiere's other strength comes from how Adobe bundles its software offerings, building on heavyweight products like Photoshop and After Effects. "They do bundles like no one else does," said Gary Adcock, a Chicago based film and HD consultant and a longtime Premiere/Premiere Pro user. "Apple tried to do it with Final Cut Studio and they did a good job tying all those apps in, but to have Photoshop, Illustrator, Acrobat, and Premiere Pro and then throw in Encore DVD and Soundbooth…Adobe is going to make a major play."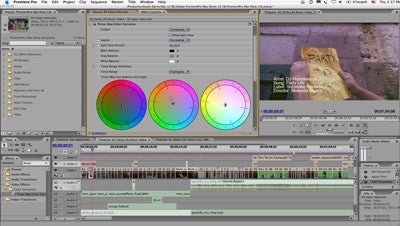 Premiere Pro's color-correction feature
Interoperability is key to Adobe's Production Suite bundle. Dynamic Linking is a prime example. With Dynamic Linking, you can work on a composition in After Effects, Adobe's motion-graphics application, and then drag that composition into Premiere Pro or Encore DVD without rendering it out first. In this case, Premiere Pro would simply treat the After Effects composition as a clip. However, if you subsequently make changes to the composition in After Effects, those changes automatically translate over to the Premiere Pro project. By contrast, current Mac users need to render their After Effects sequences and export to QuickTime before they can start using them in Final Cut Pro or Avid.
By returning to the Mac platform, Adobe still does face a wicked one-two punch on the non-linear editor front from Apple's Final Cut Pro and Avid's offerings —programs that have been anything but idle in the three years Premiere has been away. However, as part of the Production Suite bundle, Premiere Pro may indeed find some traction, especially if Adobe prices it aggressively. And don't be surprised if the same advantages that helped Premiere on the Windows side wind up appealing to Mac-based editors as well.
[ Anton Linecker is a writer and technical advisor living in Los Angeles. He contributes to Macworld 's Creative Notes blog. ]