Here's a little diversion for the Friday-calm-before-the-Expo-storm, something to tide us all over until Steve Jobs takes the Macworld Expo stage on Tuesday to announce Apple's new HoverMac. (What? You haven't heard about the new HoverMac? I've already said too much. )
Many more Expos ago than I care to remember, I was in a briefing with the late, lamented Connectix, when the post-product demo talk turned to the then-relatively new Mac OS X and its Dock. The folks in the room started talking about what we stored in our respective Docks—the apps we kept, the ones we removed, the ones we made sure to add. If memory serves the Dock discussion may have lasted longer than the actual product demo that preceded it. "You should make this a recurring feature in the magazine," one of the product managers suggested to me. "Talking to various people each month about what they keep in their Dock and why." "Maybe I will," I said. So, of course, I never really did anything about it.
Until now, I guess.
At any rate, since then, I've been unduly fascinated by the Docks of other Mac users—which apps they go out of their way to permanently add to the Dock and which pre-installed Dock icons they wind up banishing to the land of wind and ghosts. Rick LePage's Dock, for example, is a sprawling strip of Mac applications, reduced to the smallest size imaginable because of the sheer volume of programs he chooses to keep at hand. And as sizable as his Dock-ed applications may be, it's a pittance compared to what Rob Griffiths keeps in his—basically, if you're a Mac developer and your software isn't included in Rob's Dock, you probably ought to send him a formal letter of complaint. Below is a view of Rob's Dock sliced up into rows so that it can be viewed by ordinary humans—readers made of sterner stuff can click the link to see the 1,898-pixel wide screenshot of his Dock or scroll to the bottom of this Weblog post to see the Oliver Stone-sized QuickTime movie he made scrolling from one end of his Dock to the other.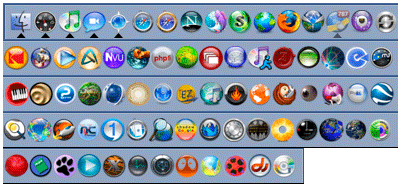 At the risk of opening myself up to the kind of ridicule I heap upon Rob, here's my own Dock, with explanations about what did and didn't make the cut. You'll note I go for a spartan approach.

What's Missing
These are apps that were in the Dock of my MacBook Pro by default which I've since removed.
Mail: Nothing against OS X's built-in e-mail client, but it's not my e-mail app, so it seemed silly to keep it around.
iMovie and iWeb: Two iLife apps I simply don't use; plus I got tired of accidentally clicking on the iMovie icon every time I tried to hastily launch iTunes, so away it went.
QuickTime: The only time I ever launch it is when I click on a .mov file.
Photo Booth: Yeah, don't really see the purpose.
What I Added
These are the apps that are apparently so crucial to my workflow that I wound up keeping them in the Dock. Basically, my guiding principle is that if I wind up going to the Applications folder or (shudder) Spotlight more than a couple times each week to find and launch a program, then it should probably be in my Dock permanently.
Word and Excel: Two parts of the Office suite that are kind of essential to my line of work.
TextEdit: I like to have an app where I can jot things down, and Apple's text editor is convenient enough for that purpose.
BBEdit: Fun fact—every word you read on Macworld.com with my name attached to it is composed in BBEdit.
Entourage: My e-mail client for now, but if a Universal version doesn't appear soon, I'll be entertaining suggestions for a replacement.
FileMaker: You don't want to know how many databases I need to do the things I do.
Calculator: Doing math in my head is a correction waiting to happen.
Internet Connect: For fast easy access to the VPN 'round these parts.
Internet Explorer: Embarrassing. But some Web pages don't always render well in Safari, and I find Firefox's appeal elusive. So IE it is; it's on probation, if that spares me any derisive e-mail.
Google Earth: C'mon—like the mood to look at things from space doesn't strike you on occasion.
Activity Monitor: I actually have no idea how this wound up in my Dock—that's disturbing. Seems like a good thing to have on hand, though.
Photoshop: These screenshots of people's Docks don't appear on Macworld.com by themselves.
Parallels: Please welcome the newest addition to Philip Michaels' Dock.
MacMAME: When the deadline has been met and the work day is over, there's nothing quite as relaxing as a quick game of Centipede or Ikari Warriors.
Now that's my Dock. But as I said above, I'm unduly fascinated with other people's Docks. What's in yours?