Editor's Note: While the Mac universe converged upon San Francisco for Macworld Expo, the rest of the technology world turned its attention to the Consumer Electronics Show in Las Vegas. We dispatched MacUser blogger Dan Moren to Sin City to see what all the fuss was about.
I knew by the end of my second day in Las Vegas for the International Consumer Electronics Show that it was going to be a long trip. Already half a dozen people, upon seeing my badge, had asked me if I was in the wrong place. As the lone Macworld correspondent walking the show floor of the largest technology convention in North America, I could see what they're thinking.
But to return to the "Are you in the wrong place?" question, the answer is yes and no. While it's true that most of the diehard Mac contingent has fled north to San Francisco for Macworld Expo —running concurrently with CES this year—that doesn't mean there isn't something to glean from the rest of the tech industry. Apple, of course, doesn't operate in a vacuum—much as the company might like you to think so. Companies like Sony, Intel and, yes, even Microsoft, can shed light on what we might expect or hope to see from Cupertino in the near future.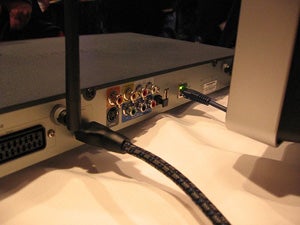 The back of Netgear's Digital Entertainer HD—a potential Apple TV rival—features standard video and audio connectors, including HDMI, component and composite audio.
Look Ma, no wires!
When we look back on the year 2007 in times to come, I believe it will be remembered as the beginning of the end for the wire. We've been spoiled in recent years by the popularization of wireless networking via Wi-Fi and Bluetooth, but it was only a matter of time before we looked around to notice that while we were no longer bound by Ethernet cables, there were any number of other things that kept us tethered to our desks.
This year, wireless has exploded into other consumer-friendly realms, such as audio and video. In one day alone, I saw wireless speaker offerings from Soundcast, Mitek, Eos, and Griffin, all predicated on giving you the freedom to listen to your music without having to string cables.
In the video segment, Apple's forthcoming Apple TV will hardly be alone. Netgear unveiled its Digital Entertainer HD streaming solution, Samsung discussed plans for rolling out a wireless HDTV, and a company called Quartics is rolling out a streaming device called PC2TV that does exactly what its name would imply.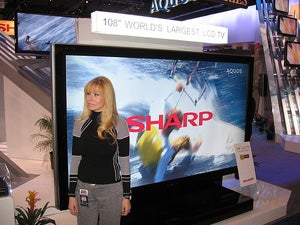 100-plus inch HD displays were in abundance at this year's CES.
Wireless is also gaining ground in peripherals with a wireless version of USB that's slated to see wide exposure this year and even more 21st century Arizona company WildCharge was showing off a system for wirelessly charging your phone, portable gaming device, and even your iPod. The future has never looked quite so fancy free.
Definition, please
High definition has been the Next Big Thing for going on years now—remember The Year of High Definition Video, Mac fans—but with the analog shutoff date of 2009 quickly approaching, consumers are starting to pay more attention. CRTs were pretty much nowhere to be found at CES: I did discover one lonely looking line of the old TVs, but having been spoiled with the likes of flat screens from Toshiba, Sharp, and Panasonic I could barely stand to look at those old, flickery cathode tubes. And while the Super Size option might be gone from McDonald's menus across the land, it's alive and well in the realm of HD displays: Panasonic, Sharp, and LG all showed off huge HD monitors that measured more than 100 inches.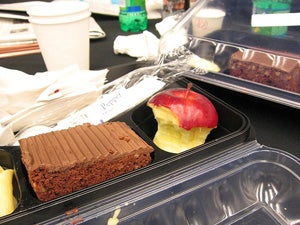 This was the only Apple presence I saw this week at CES.
The other big news of the HD world is the continuing war for the successor to the optical format throne. While DVD still looks great on my 27-inch CRT, one only needs to watch it one of those 100-inch screens to see the flaws. That's where HD DVD and Blu-Ray come into their own and, seen in their full glory, they do look spectacular.
This year's CES finally gave hope that a compromise might be reached for consumers, if not for the companies behind the rival standards. LG announced a hybrid player that would accept both HD DVDs and Blu-Ray discs for less than the price of buying players for both, while Time Warner announced a technology that would allow both formats to co-exist peacefully on one disc.
Either way, that's not going to stop HD DVD and Blu-Ray from going at it full throttle: propaganda from their respective parent companies of Toshiba and Sony was everywhere, from huge banners to taxi cab marquees.
Connect the dots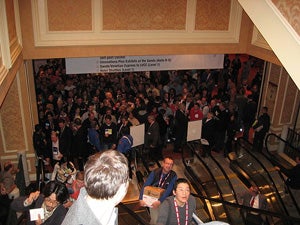 It's not quite like a Steve Jobs keynote, but Bill Gates' CES kickoff always draws a crowd.
Bill Gates may not be Steve Jobs, but it's hard to argue his impact on the technology industry. When he talks, people listen. As with the past several years, Gates gave the keynote speech before the official opening of CES. Microsoft's chairman talked about the idea of connections —while we may have all these great technologies like wireless and high definition, we haven't yet begun to exploit the connections between them.
Convergence has long been a popular buzzword in tech, but the point that the demos made for me, if subtly, was that our future contains not one device doing a multitude of things, from answering our phone to washing our dog, but a multitude of devices, each doing their own thing in harmony with all of the others. This was perhaps best shown to effect in Microsoft's partnership with Ford to provide a new system for dealing with your devices, from cell phone to iPod, your car. It might, as popular parlance goes, be evolutionary rather than revolutionary, but it's a step whose day is here now.
[ Dan Moren blogs about the Mac at MacUser and about new gizmos at Macworld's Gadgetbox. ]