Ovolab which makes the telephony automation application Phlink, is showing a clever new app at Expo. Geophoto lets you browse your photos (or those on any Flickr stream) by location, rather than file name, date, or the other usual criteria. And it does it with a really cool interface—a giant globe, made up of satellite photos accurate to within half a mile, with thumbnails of your photos attached to wherever you took them.
The software relies on new longitude and latitude tags added to your photos. You can add those tags using Geophoto's built-in database; type in "Golden Gate Bridge," and Geophoto will apply the correct coordinates. Once those tags are in place, Geophoto will show you all the pictures you took on that trip to Egypt last year, when you zoom in on the Middle East. Once you've tagged a Flickr photo stream with the appropriate geotags, other Geophoto users can relive the trip, too.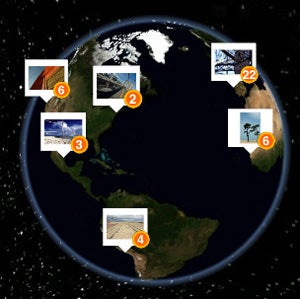 You can see Geophoto for yourself at booth #S313 at Macworld Expo. Version 1.0 is slated to be released in February, with a price of $39.95. The company says a future version will integrate with Google Maps, for even greater precision.