I had just finished up a breakfast meeting with Bare Bones Software's Rich Siegel—Bare Bones was a might bit busy leading up to Macworld Expo—and was scurrying off to Moscone Center to attend the next in a series of day-long drop-ins with assorted Mac developers. Which is when I saw the glitter of crashing cymbals and heard the thunder of rolling drums and the shimmer of trumpets.
"Expo week taxes all of my mental faculties," I thought to myself. "But surely I am not so far gone that I am imagining a revival of The Music Man has spontaneously broken out before my eyes."
And it hadn't—it was an honest-to-goodness marching band parading in front of the South Hall of Moscone Center, just as the show floor was opening up to the general public.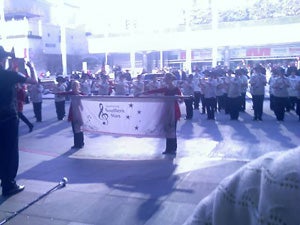 The band in question is the Australian Southern Stars—that's a picture of them to the right that I shot using one of those new-fangled camera phones all the kids are going on about. (You can find a higher resolution shot courtesy of one of the contributors to our Macworld Expo group on Flickr.) Near as I can tell, the band wasn't there at the behest of any particular vendor to promote some new product—they appeared to be in town that day fresh off an appearance at the Tournament of Roses Parade, so why not stop by Expo and treat passersby to snappy, martial renditions of You Can Call Me Al and Waltzing Matilda ?
(Side thought: I am sure the Australian Southern Stars drove or flew up here from its Rose Parade appearance. But the crazed part of my brain that I try to hide from the public likes to entertain the notion that the band simply marched all the way from Pasadena to San Francisco, playing the entire way up US-101, and that they will continue their trek northward along the Pacific Coast. Keep on your guard, Portland!)
Like I said, hearing the marching band put a spring in my step before what figured to be an exhaustive day. (In contrast, the next morning my walk to Expo involved several police squad cars mediating a local tiff—that was a whole lot less uplifting than a marching band.) So my plea to Expo organizers: More bands, please —fife-and-drum corps, show bands, Beatles tribute groups, I don't really care. But once you've had musical accompaniment to mark the start of a day at Expo, anything less is unacceptable.