More than once on the floor of Macworld Expo last week, I spoke with someone who lamented the long-departed Seybold Seminars, especially since the focus of Macworld Expo has turned to iPods, small business products, and consumer Mac gear. That doesn't mean that there weren't a few things to be found on the floor for creative professionals, but they were mostly centered on digital photography and imaging. Competition is king, and, although the Aperture-Lightroom rivalry was subdued in San Francisco (compared with what I saw at Photo Plus East last November), there were a few companies were vying for the wallets of creative pros with their products.
One thing that was pleasantly surprising was Quark, which is clearly trying hard to overcome both its less-than-satisfactory legacy with print professionals and the steamroller called Adobe InDesign. In addition to QuarkXPress 7.1, the company was showcasing Quark Interactive Designer and XPress plug-in vendors. The booth wasn't as crowded as it has been in the past, but it was clear that there still is a core group of users that hasn't given up on the company. As much ill will as there has been in the past, it would be a shame to see QuarkXPress cede the entire publishing market to InDesign, and, as I said, Quark is trying.
Leveling the pro photo-printer playing field On the printing front, Epson, Canon and Hewlett-Packard were all lined up in close proximity to each other, and their booths were full of interested photographers, fine-art printers, and print professionals. All three companies were showcasing their latest pigment-based, pro-level photo printers, and, if you spent time in each booth, you could clearly see that there has been a seismic shift in this market: Epson, long the acknowledged king of the premium photo printer market, now has some true pretenders to its throne. As many imaging geeks (including myself) have discovered over the past few months, things have changed, and you could see the results on the show floor in black and white (and in color).
HP is turning up the heat with the large-format Z2100 and Z3100 printers, as well as the affordable Photosmart Pro B9180 ( ). The crowds around the Z-series printers were quite big, and many attendees I spoke with felt that HP had finally shed its image as an also-ran in the pro photo space. As I noted in my initial impressions of the 12-ink Z3100, HP has really thought through the whole system surrounding photo printing—printer, ink and media—now they just need to get the word out, and last week's show was a good start for them.
Canon is also moving fast in the market, with a line of 12-ink pigment printers that range from the 17-inch imagePROGRAF iPF5000 ( ) to 44- and 60-inch large format models (but mysteriously, no 24-inch model). Unlike Epson and HP, Canon has a thriving professional camera business that helps drive people into their inkjet printer business, but their quality really wasn't up to par with Epson until last summer's release of the iPF5000. Canon really does need to compete with Epson and HP in the $500-$1,000 market, however—they've been showing the 10-ink Pixma Pro 9500 for a year now, and no one at the Canon booth could give me a ship date for the unit that had any degree of certainty. ("This year, for sure," doesn't cut it, guys—even your Web site says Spring 2007.)
And what of Epson? They were showing a bunch of new printers, some of which are aimed at the mid-level photo market, but the centerpiece of their booth was the new Stylus Professional 3800, which is now shipping in quantity. As has been the case with all of the Stylus Pro printers over the past few years, Epson's image quality remains second to none. Unfortunately, many observers believe that the large image-quality lead Epson has enjoyed since 2003 has all but disappeared.
I received my 3800 shortly after I set up the Z3100, and I've only been able to run about 30 or 40 prints through it, but they've all been exemplary. The quality difference between the 3800 and Epson's previous pro printer, the Stylus Professional 4800, is subtle, and nowhere near as stunning as the leaps in quality made by HP and Canon. Of course, Epson's long history here will help them, but it will be challenging for them to keep their market share as high as it has been in the past. As I noted when I wrote about the Aperture-Lightroom battle, competition between companies that offer great products is a great thing that benefits all of us. With the annual Photo Marketing Association exposition coming up in early March, expect to see the gloves come off as these three printer companies vie for mindshare and retail floor space among photo resellers.
Image editing smackdown Like me, you might be sick of the phrase, "Photoshop killer"; it's a useless term, as I've noted before. Nevertheless, there are companies out there trying to offer an alternative to the Adobe monolith, and their primary emphasis is simplicity. At the show, Light Crafts was showing Version 2.0 of LightZone (which I wrote about in my Photo Plus East round-up ), and a new company, 4G, which was demoing a new application called ColorBender that takes a very simplified approach to image editing.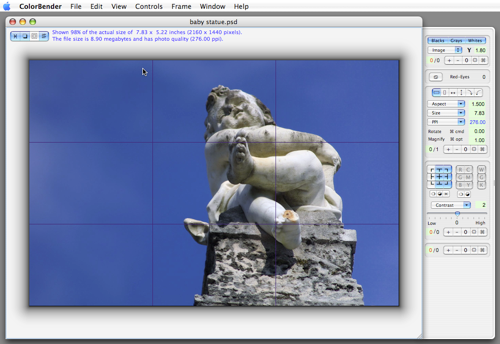 4G's ColorBender has a streamlined interface, with a few choice adjustment tools and a 9-sector grid used to apply effects to your images.
On the surface, ColorBender looks minimal, using a region-based approach to editing images. You select any combination of 9 regions in your image that you want to apply adjustments to, adding more adjustments to other sectors in a manner akin to Photoshop's layers (with a full Undo capability for any change you make to an image). There are tools for sharpening; contrast, brightness, and saturation adjustments; selective color correction; shadow and highlight recovery; and more. In the manner of a program that is proudly "anti-Photoshop," you won't see a Levels or Curves dialog anywhere near ColorBender. However, Dr. George Dale, 4G's president, claims that ColorBender's "adaptive image processing" technology will not clip your images in any way whatsoever, preserving both highlights and shadows throughout the editing process. The $149 application is available as a 30-day free trial. I don't see it supplanting Photoshop any time soon, but it is worth taking a look at.
LightZone is based upon Ansel Adams' Zone system for breaking images down into discrete tonal areas. It features a unique Bezier-style region-creation tool that lets you quickly select areas of your image that require specific adjustments.
As for LightZone, I confess to having a soft spot in my heart for the program, even if I find that I use it much less than I want (I feel the same way about OmniWeb ). LightZone uses some very simple metaphors for image adjustment, ones based upon traditional analog darkroom techniques, and it continues to improve in performance and features. If the complexity and heft of Photoshop aren't your thing, you should check out the demo version of LightZone: it's $250 for the full version, and $150 for a Retouch Edition designed to be used in conjunction with programs like Apple's Aperture, Microsoft's iView MediaPro and RAW conversion utilities like Nikon's excellent CaptureNX and Bibble Labs' Bibble.
Finally, speaking of Photoshop, the Adobe booth was hopping throughout the show, as Adobe pulled out all the demo stops, much like they did at Photo Plus East. With three public betas to demo (Photoshop CS3, Lightroom and SoundBooth ), there was plenty of interest, both from people who hadn't yet downloaded the applications, to those who wanted tips. tricks and a shipping date for any of the programs. Adobe reps were largely mum, but they had to be very happy with the excitement level in their booth, despite the occasional grumbler who wondered why InDesign didn't rate public beta status. I'll bet the folks in the Quark booth were very happy that Adobe didn't choose that route.