Macworld editors spent the past week combing the show floor at Macworld Expo, looking for news big and small. We've already shared our thoughts on Apple's announcements, commented on offerings from third-party developers, and reported from the show floor in our Expo notes blog. Now we're ready to look back on a hectic Expo week, with some of the annual trade show's more memorable moments.
Hardware happenings
Coolest announcement that got the least ink: With all the brouhaha over the iPhone and Apple TV, Apple's announcement of new, faster AirPort Extreme wireless networking gear didn't get the attention it merited. And one feature in particular was slighted: AirPort Disk, which allows you to plug an external hard drive into the new AirPort hardware's USB port and instantly share it with anyone on your network.—DAN MILLER
Your first Apple TV add-on: Apple's set-top box for delivering multimedia content from your computer to your TV won't ship until February, but when it does, XtremeMac will be ready. The company's XtremeHD cables are surprisingly affordable ($20 each), sold in Apple retail stores, and offer everything you'll need to get your Apple TV working in HD.—SCOTT SILVERMAN
Next it'll grow legs: Griffin Technology's Evolve speaker system is one of many speaker systems for the iPod, but it features a clever design that lets you pick up the two cube speakers and take them wherever you like. When they need to recharge, just plop them back down on the base. The Evolve will run $349 when it's released later this year.—DAN MOREN
Best combination of over-done gadgets: iPod-accessory maker Mophie held a contest where they asked attendees, on the first day of the show, to submit ideas for new iPod accessories; by Thursday, the company had already picked three and produced early prototypes. The best was Teresa Rivera's Montage (1.2MB PDF link), a "digital-picture frame" with a built-in iPod dock that lets you use any photo-capable iPod as the frame's source of images. You can also watch videos on the Montage's screen, listen to music via its speakers, and use its alarm clock to wake up in the morning. Although the world doesn't really need another digital-picture frame or another iPod dock, the virtual mating of the two results in clever offspring.—DAN FRAKES
Disappearing acts As Macworld Lab Director, I focus on Mac hardware and peripherals. So my Expo week tends to be a blur of meeting with every exhibitor who makes scanners, displays, storage devices, and whatever other hardware you can name—a pretty time-consuming goal. This year, however, with Expo vets like WiebeTech, ATI, Kano Technologies, Granite Digital and Seagate all deciding to pass on the show, I was able to walk (and not run) through Moscone between meetings.
After the show, I called up a couple of the missing companies and asked why they decided to forego a booth at Expo this year. The pair I talked to felt that the focus of the show has, over the course of the last couple of years, turned away from computing and toward consumer entertainment devices—and it's hard to argue with that assessment. Apple announced no new Macs at the show and dropped the word "computer" from the company name, and as I walked the floor, it did seem that nearly every other booth was pitching either iPod-related gear or laptop bags. Even some of the companies in my beat that did exhibit at the show, like Prosoft Engineering, FastMac, and Sonnet Technologies, were showcasing new products geared toward the white earbud-wearing crowd.
Of course there were some new companies at the show, and it was great to see both the North and South halls open again, but if this shift of focus from computer geeks to iPod freaks continues, I might need to figure out a way to benchmark iPods or find another trade show to attend.—JAMES GALBRAITH
Best non-Mac Mac: Although Apple didn't introduce any new hardware, there was one new Mac on the show floor: the ModBook. OWC and Axiotron teamed up to convert a MacBook into a true tablet Mac. They removed the keyboard, installed a new screen backed by a digitizer board to recognize stylus presses, flipped that screen around (including mounting the iSight camera at a usable angle) so it's facing up, and found a spot for the requisite stylus. Using a standard version of OS X and its included Inkwell handwriting recognition software, the ModBook is an impressive piece of engineering. While it won't be mistaken for a factory project, the prototype was very well built, and seemed solid and very functional during my limited time with it. If I had a need for a tablet computer, I'd definitely choose a ModBook over forcing myself to learn to use some version of Windows Mobile on a PC tablet.—ROB GRIFFITHS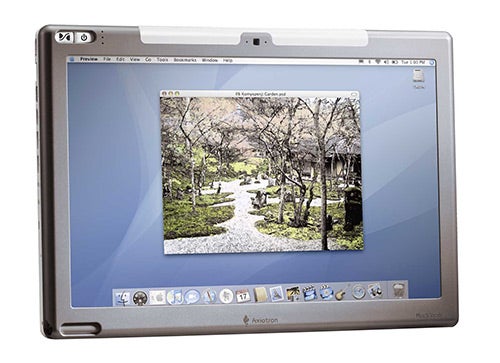 Creating product suspense: Give credit to Steve Jobs, who must have known what he was doing when Apple had only two iPhones on display on the show floor. Between the small number of devices, the glass podiums holding them, and the guards willing to grab anyone getting within inches of those cages, spectators felt like they were in the middle of an Indiana Jones movie staring at the treasure protected by booby-traps.—DERIK DELONG
Software sightings
Put others to work: The $45 MemoryMiner by GroupSmarts lets you fill in the stories around your photos by associating people, places, and background info with individual snapshots. But what about those photos that you don't know the history of? The new Web Annotation Service lets you send those photos to friends and family with the request for more info. Recipients get an e-mail with a link to a secure Web page containing annotation tools. When they're done, MemoryMiner downloads those annotations and updates your photo collection. The Web Annotation service is currently available as a free beta.—KELLY TURNER
Most impressive slideshow template: Pulp Motion, Aquafadas' $25 multimedia tool, lets you drop photos and movies into creative, and in some cases downright gorgeous templates. Some templates even let you use your iSight to record an evening news broadcast about your photos and videos.—KT
Best reason to rewrite the copy on those 'Get a Mac' ads: One thing that drives me up a tree about Apple's current TV ads—besides the fact that the Mac looks like an unkempt slob —is when the actor playing the Mac says that the PC may be good at handling business tasks, but the Mac is better at "life" stuff—suggesting that serious business apps on the Mac are in short supply.
Just a quick stroll from one end of the Moscone Center's South Hall to the other would reveal that statement to be a bunch of baloney. Starting east and heading west, you'd first happen on Xsilva Systems, on hand to show off its forthcoming LightSpeed 2 point-of-sale software. Just a few aisles away, you'd see the E.E.S. Companies booth, where the next version of the POS/OE 4 business operations software was available for preview. After stopping by the FileMaker Pavilion to look at the FileMaker-based point-of-sale offerings from PayGo and Ki Business Systems, you'd finally hit the Ensign Systems booth for a look at POS-IM.
No, I'm not deluded enough to think that point-of-sale software should be the centerpiece of Apple's next 30-second spot. But the next time Justin Long tries to sell the business side of the Mac short, I hope someone tells him to stuff it in his hoodie.—PHILIP MICHAELS
Damnit, Jim, I'm a doctor and a software maker : While I'm tallying up the number of business-friendly exhibitors at Expo, I should mention that I counted at least three developers who make practice-management applications aimed at medical professionals— MacPractice, AltaPoint, and Dr. Ron Smith's FileMaker-based PaperCut Pro.—PM
Art for art's sake: I couldn't stop going back to the Ambient Design booth to watch artists create stunningly life-like oil paintings with ArtRage 2. Some very complicated painting applications are geared toward fine artists, but none of them have ever appealed to me. ArtRage's gorgeous interface definitely caught my eye.
To say I'm a casual artist would give me too much credit, but I do like to occasionally get my paint on . (Some of my best work came out of a fertile period when I was introduced to MacPaint.) If, like me, you miss the fun of pushing color around on a canvas, check out ArtRage. It sells for the unexplainably low price of $20. If you're a starving artist, Ambient Design offers a free, stripped-down version.—ERIC SUESZ
Something to look forward to at future Expos: The folks at Omni Group were busy enough at this show, demonstrating their brand new OmniPlan project management software. But that didn't diminish the excitement over Omni Group's next project, a productivity app the company has dubbed OmniFocus. It will be based on Kinkless GTD, a free set of AppleScripts that work with OmniOutliner Pro to implement David Allen's Getting Things Done task-management system. How much interest is there in this program? So much that Omni Group hosted an informal presentation on OmniFocus at the San Francisco Apple Store on the Monday of Expo week. Not bad for a product that's still on the drawing board.—PM
Two tickets to dreamland: Stressed-out Mac users usually must turn to Expo's on-site masseuses and masseurs to unwind. But this year, two booths promised relaxation for those not satisfied with old-fashioned recordings of surf and songbirds at sunrise.
Released at the show, Flying Chao's $100 Headspace Explorer and $50 Headspace Explorer PE (personal edition) produce custom recordings for your iPod that use binaural beats, which some believe activate different parts of the brain. Choose from sessions geared to help you relax, learn, focus, mediate, energize, and more. The full edition lets you completely customize sessions, while the personal edition is more geared toward presets. Download free sample recordings here
Brainwave's $50 Pzizz 2.1 lets you create recordings geared to help you sleep or get energized. Scale the recordings to the amount of time you have, adjust the volume of the voice that guides you and the music that accompanies it. Then export as many recordings as you like based on these settings—each will be slightly different to ensure your subconscious doesn't "get bored." Pzizz uses a binaural beat as well as Neuro Linguistic Programming techniques. Find two short example sessions here.—SCHOLLE SAWYER MCFARLAND
The other virtualizer: Parallels is still capturing most of the virtualization spotlight, but VMware's presence with both a booth and free CD containing its latest beta of Fusion sent a clear message that there is competition in this increasingly intriguing area.—DD
The way to a geek's heart: Kudos to Circus Ponies for tapping into the senses of smell and taste with some fresh popped popcorn. Once passersby stopped to scarf down the free popcorn, Circus Ponies could entice them with a demo of its NoteBook 2.1 outlining and organizational software.—DD
The rest of the show
Best rock star moment: At the simultaneously joyful and sad industry tribute to the late Bruce Fraser, held last Wednesday, host Graham Nash made sure that things didn't get too mawkish by telling one speaker early on "not to go all Crosby on me." Bruce would have appreciated it.—RICK LEPAGE
King of profanity Kevin Smith has created a huge fan base with films such as Clerks , Mall Rats , and Chasing Amy . Most people knew what they were getting into when they entered the auditorium to see him speak about filmmaking. The older gentleman that got up and left after Smith let loose his hundredth four-letter word clearly did not. For those able to withstand the onslaught, Smith's insights were a real treat.—DD
It's too loud, I'm too old: Macworld 's "Meet the Editors" event at Mezzanine started off slowly but quickly gained steam, with appetizers giving way to drink and drink giving way to loud conversation—loud conversation encouraging more drink. If I needed proof that my recent birthday marked a point in life where I actually started feeling old, this was it: After eight hours of walking the Expo floor and two hours of meeting and greeting software, hardware, and vaporware vendors, someone on the loudspeaker asked if I was "ready to rock." I mean, was I really "ready to rock!?!?" I grabbed my coat and headed for the door. "Who wants to see a Cheap Trick cover band?" I reasoned. "Lame." Of course, it turns out it was the real Cheap Trick. Yes, son, your old man bailed on Cheap Trick because his feet-sies were sore. Lame.—ES
Most distracting schwag: One exhibitor—I think it was Speck Products, although I'm not positive—was giving away large, orange buttons with a ring of blinking, scrolling lights running around the outer edge. Effective advertising, but as someone who gave a good number of talks and presentations over the course of the week, I often found myself hypnotized by a button worn by a member of my audience, losing track of what it was I was supposed to be talking about and… I'm sorry. Where was I?—DF
Perplexing schwag, part one: When I visited Ricoh's booth, an exhibitor handed me a miniature rectangular plastic accessory displaying the company's logo. "If you can guess what it is, you'll get a second one," she said. Sadly, I couldn't figure out what it was—a cell phone cleaner. I felt like I had fallen down on the job for a moment, until I remembered that Ricoh's primary Mac offerings involve office equipment and cameras, not cell phones. (Maybe Ricoh's excited about the iPhone, too.) The exhibitor handed me a second knickknack anyway.—BRIAN CHEN
Perplexing schwag, part two: Weird handouts continued when I dropped by to see CodeWeavers. They gave me a small plastic cylinder with the company's name on the side—it was a wine stopper, the exhibitor told me, which, on the surface, would have very little to do with software that lets you run Windows programs on Intel-based Macs. On the surface , anyway—CodeWeavers' CrossOver Mac offering is based on Wine, an open-source implementation of the Windows API. Wine… wine stopper… get it?—BC
Speaking of CodeWeavers…: We'd be remiss if we didn't talk a little more about CrossOver for Mac 6.0, which lets you run Windows apps on your Intel Mac without having to install Windows. Think of all the hard drive space you'll save by skipping out on a pesky Windows partition or virtual machine. There are dozens of apps supported, though not all run completely bug-free. CrossOver costs just $60, and you don't have to shell out for a Windows license either.—DMO
Most effective promotional stunt: Maxtor's displays scattered around both halls attracted a lot of attention. How often do you see gigantic stack of CD cases (except for in a college dorm room of course) or a huge mound of photographs? Putting that storage space into terms of an actual use that passersby can touch really sells it.—DD
Most ineffective promotional stunt: I have already of spoken of my child-like delight at running into a marching band playing outside of Moscone Center on my way onto the show floor one morning. I figured that the fine musical stylings of the Australian Southern Stars were a happy convergence of events—that the band happened to be in town at the same time as Expo so why not regale the crowd with a few jaunty tunes.
As is so often the case, I am apparently misinformed. In its Technology Chronicles blog, the San Francisco Chronicle reports that the marching band was there at the behest of some exhibitor. "We asked what they were promoting," the Chronicle wrote, "but unfortunately we have since forgotten the name of the company, except that it has to do with iPod cases." If true—and the absence of any promotional material surrounding the band seems to suggest that it might be—that would be the very definition of a wasted P.R. effort.
The runner-up for this dubious distinction: the poor soul who dressed up as a cactus/cucumber/okra/indeterminate green object and frolicked outside the convention center. If Mean Green was on hand to promote some gadget or gewgaw, then a sign might have helped make things more clear. And if not… well, I choose not to ponder the implications of people dressed as vegetation randomly showing up at events.—PM
Much more than a mobile home: $2,000 a day gets you Confidence Bay's Mobile High-Definition Edit Suite, an RV complete with two Final Cut Pro-based edit stations. Confidence Bay parked its RV in the North Hall—also home to the John Lennon Educational Tour Bus, which looked like its big vehicular brother.
Confidence Bay's HD editing rig on wheels includes 300 feet of office space, an on-board 5.5 kilowatt generator, private bathroom, air conditioning, heat, and custom wooden decor and leather seats—portable opulence for producers and directors looking for the best way to edit or review content during remote location shoots. Be nice to the techs and you might find some beer in the fridge, too.—PETER COHEN
Surest sign that attendance was up: Expo organizers haven't announced attendance figures, but I'm willing to wager that more people tromped people through the Moscone Center than in previous years. Sure, the floors were crowded and the exhibitors I talked to were nearly unanimous in exclaiming this one of the best Expos they could remember, but I found the more telling indicator to be the number of people attending the Users Conference. Even though the price of a Users Conference pass was either $215 or $315, depending on when you registered—in other words, not the kind of price that attracts the casual attendee—there were so many Conference attendees that many speakers, myself included, had to give their talks twice .—DF
Worst timing: We went about selecting winners for the Best of Show awards somewhat differently this year. Instead of waiting until the show began to scurry about the show floor looking for noteworthy products, we invited exhibitors to submit their offerings early, posting several reminders. We received many, many entries, and while we'll continue to improve the process, we were pretty pleased with how things went.
We announced the winners Wednesday afternoon, and that night, I retired to my hotel room for a lengthy evening of writing news briefs and blog entries, when the following e-mail from a P.R. professional arrived, several hours after the last Best of Show honor had been dispensed.
Is it too late to submit an entry for the Best of Show awards?
Don't think of it as too late; think of it as getting a head start on 2008.—PM
Editor's Note: This article was updated at 4:58 p.m. on Friday, January 19, 2007, to clarify information about the ModBook.