The release of an application called ScopeBox, from Divergent Media, recently caught my eye. ScopeBox turns your Mac into a video-analysis tool that can measure a video signal's luminance and color values, among other things, to make sure that it conforms to broadcast standards. For the casual reader, a product like this is not particularly flashy; but for video professionals, accurate video scopes are like life preservers on a boat: when you need them, you need them, and nothing else will do.
Professional hardware quality-assurance components, like waveform monitors and vectorscopes, normally cost quite a bit of coin—from $10,000 to $25,000, depending on the brand and options—so the idea of replacing these hardware tools using a Mac and comparably inexpensive software is very intriguing (a video capture card is also required with ScopeBox in some cases, such as when you're monitoring uncompressed standard- or high-definition video).
Who would be interested in a product like ScopeBox? "First and foremost, we're targeting field acquisition with this product," said Mike Woodworth, CEO and lead developer for Divergent Media.
By field acquisition he means when professionals shoot video for commercials, documentaries, and TV shows—scenarios where capturing broadcast-legal video is essential. A typical setup might be a MacBook Pro running ScopeBox attached to an AJA IO box to monitor uncompressed standard-definition video. For high-definition shoots, a typical setup might use capture cards from vendors like BlackMagic and AJA with Power Macintoshes or Mac Pros (Divergent Media says that support for the HDV format is coming soon).
ScopeBox can also be used in a small videotape equipment room, so editors can double-check their video levels while working on color correction or while laying off to tape, where you might put hardware waveform and vector scope monitors in line for quality control.
The program also has some limited recording ability so that you can record as you shoot on set, even at a compressed video setting. This very useful feature lets you watch your takes for performance without rewinding the videotape in the cameras.
I gave the HD version of ScopeBox a whirl on a PowerMac G5 Quad with an AJA Kona 2 card for the video input and I was pretty impressed. The interface is quite nice and intuitive, with easily adjustable floating windows. And, once you have the layout you desire, you can save it.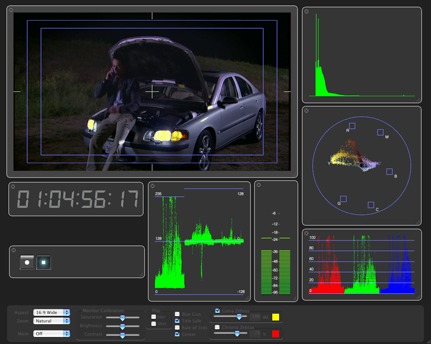 The digital scopes quickly give you an accurate read of the incoming video with a preview screen, vectorscopes, histograms and RGB parades. The Preview window lets you also set Zebra patterns for both Luma and Chroma values, to warn you if your video is approaching illegal values. There are also audio VU meters, although ScopeBox is currently limited to only two channels (a shortfall I'd like to see addressed in a future version). I hit one minor bug with the Waveform view in HD mode, but the developer said he was already working on a fix for it. On the whole, ScopeBox feels pretty solid for version 1.0 software.
ScopeBox is a Universal Binary and works with all Intel and G5 Macs (G4 Macs are supported, but the performance may suffer). The high-definition version costs $699 and the standard-definition version runs $399, and a demo version is available. If you're in the market for SD and HD quality-assurance monitors, ScopeBox looks like a great way to go.