At a Glance
Expert's Rating
Pros
Multiple player tracking
Familiar gameplay
Kid's mode features educational element
Adorable animation
Our Verdict
Grubby Games has rolled together elements of the classic arcade game Breakout with the PlayStation 2 hit Katamari Damacy and come up with an entirely unique mashup—the adorable FizzBall, a shareware action game that's fun for the whole family.
FizzBall features Professor Fizzwizzle, on a mission to save hungry animals from a series of island archipelagos. Something has frightened the animals' caretakers away, and it's up to you and the Professor to save them. The professor is on a crazy contraption on rails, and uses his FizzBall to contain the animals and bring them to a sanctuary. There's a little narrative in the game—story screens that appear as cartoon panels which help flesh out the reason why Professor Fizzwizzle is there and what he's doing.
The FizzBall itself is a spherical force field. The more animals and objects it picks up, the larger the FizzBall gets (shades of Katamari Damacy), accommodating larger and larger animals. So at first you may be limited to butterflies and fallen leaves, but soon you'll grow your FizzBall large enough to grab sheep, horses, snow tigers and lots of other creatures. Your FizzBall launches from Professor Fizzwizzle's railroad car, and you have to bounce it off the car whenever it reaches the bottom of the screen to capture more animals.
The goal of each level is to capture all the animals—a counter on the side shows you what you've rescued and how many critters you have to go. There are also obstacles you'll need to either avoid—such as containers of toxic waste—or break open, such as fences. There are even special bonuses you can collect in the forms of crates and barrels. Some will imbue you with special powers, like the ability to capture your FizzBall temporarily, blast a laser beam to clear a path, or get a point multiplier. Others will give you more cash.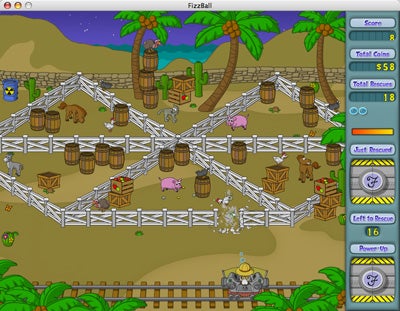 Don't Fence Me In Professor Fizzwizzle has to rescue livestock and other animals by breaking down fences and capturing the critters in his FizzBall.
You'll use the cash to buy food to keep your animal friends fed while they're in the sanctuary. In fact, the animals eat even when you're not playing the game, so FizzBall players have a strong incentive to come back and give the game another whirl from time to time, to make sure the animals they've already collected are well taken care of.
You can also collect trophies along the way—achieving specific goals, for example, such as capturing skunks before they spray, or collecting a certain number of cows or sheep. There are also bonus levels that let you collect extra points without fear of penalty.
All told, there are more than 180 levels in FizzBall; the story line will take you to several different islands, capturing more than 60 different species of animals. FizzBall also features tracking for multiple players, so each member of the family can keep tabs on their own progress.
This game is tailor-made for kids, featuring a delightful, light soundtrack, adorable animations, and, of course, lots and lots of animals and animal sound effects (gobbling chickens, meowing cats, neighing horses). In fact, FizzBall also incorporates a special "kid's mode," with slightly more forgiving game play (you can't lose a ball out of bounds, for example) and educational animal quizzes between levels.
FizzBall automatically saves between levels, so you can resume playing where you left off if you're only in the mood for a level or two. You can also share high scores with other FizzBall players online. The game's settings offer control over sound and music volume, mouse sensitivity, kid's screens, special effects, and full or windowed screen.
The bottom line
"Cute" certainly doesn't work for all gamers, but as a dad, I can't find a bad thing to say about FizzBall. It's a total home run in our house—my three kids, ages 6 to 11, all adore it.