Anyone who regularly uses Photoshop knows that there are a ton of plug-ins available to create all kinds of cool effects. But graphic artists often spend their workday in a page layout application, so, for those of you feeling a bit left out by the plug-in parade, I've recently uncovered two add-ons for Adobe InDesign that should make your day a little easier.
First is Page Control, a collaboration between plug-in developer DTP Tools and creative workflow expert Pariah Burke. This simple plug-in lets you to have multiple page sizes in a single InDesign document, a feature that greatly expands InDesign's capabilities. Here are just a few examples of how it can help you:
You have to design letterhead, business cards and envelopes for a client. Rather than creating three different documents, you create a single document that contains all of the required art. This also means you only have to create a single PDF file, rather than creating three individual documents that then need to be combined in Adobe Acrobat before you send it off to the client.
Or, let's say you have to produce several ads, all with different sizes, for the same event for your client. Normally you would make several documents, and creatively name them so you knew which one was which. Then you had to open all those documents to make changes. With Page Control, you can keep all the ads for a single campaign in one document which makes for easier editing and organizing. And again, you only have to make a PDF once to send off the proofs for client approval.
And for those who work on high-end magazines or annual reports, you won't have to create a separate document just for those fold-out picture spreads and financial charts. Page Control keeps everything nice and easy, including the automatic page numbering.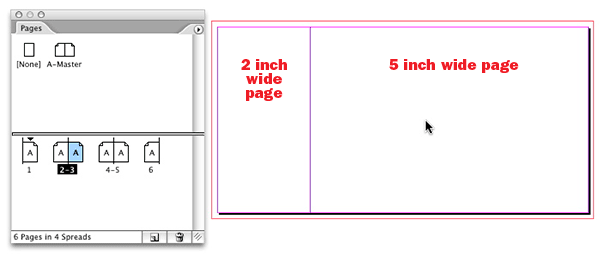 There are no extra palettes added to InDesign's interface. Page Control simply adds four items to the existing Pages palette menu:
Resize Pages changes the size and position of the pages or master pages in your document. It's a straightforward process and works just as you would expect. Override Master Page Size will keep the page size regardless of the size of a linked master page. Pasteboard Setup allows you to edit the minimum size of InDesign's pasteboard. Page Control automatically adjusts the pasteboard around the different page sizes, so this feature is only needed if you want to adjust it further. DTP Tools Page Control is where you activate your plug-in and send feedback or feature suggestions to the developer. This menu also has a link to a Web page that you will send an email to print vendors or other users who will open your document, giving them a link to download the free Page Reader plug-in.
You might be thinking that anyone who opens the document will need the plug-in to view it, but DTP Tools has cleverly thought this issue through. Any InDesign user can still open and edit your document; clients can even add pages to the document, but only at the page specified when you initially set up the document. If your clients or the printer need to move the different-sized pages around in the document, you will need the Page Reader plug-in.
Users of Adobe (formerly Macromedia, Aldus and Altsys) Freehand have had this option for a long time, and Quark recently added this capability to QuarkXPress. Now InDesign users have this incredibly useful feature as well.
Page Control is $59 and DTP Tools offers a 14-day trial version—if you like it, you can purchase a license right from within the plug-in.
Preflighting made simple
Next up is InPreflight from Zevrix Solutions. InPreflight gathers all sorts of information about your InDesign document, including colors, links and fonts, and then notifies your of potential problems based on the settings you have defined for the job.
While many graphic artists have heard of or used other preflight applications, they tend to be overly complicated. InPreflight is delightfully simple to use and does its job well.
And yes, InDesign has its own preflight capability, but what makes InPreflight better is its thoroughness. It not only tells you when you have a "problem" image, but displays the path to the file, the kind of file it is, its compression scheme, resolution and more. It can also display the color info from placed Illustrator and Photoshop files, including duotones and DCS files, and you can open the problem link directly from within the InPreflight window.
For those who work on magazines or newspapers that use lots of photos, you'll be happy to hear that InPreflight works much faster than InDesign's built-in preflighting. It is definitely worth a look, especially at a reasonable $40 (a demo version is available).
If these two InDesign add-ons don't excite you, I encourage you to check out the InDesign section of PluginsWorld for an extensive list of commercial and freeware plugins. There are a lot of plug-ins available to keep you from being green with envy at all the goodies available for Photoshop.