So let's say you're editing a TV commercial for an ad agency. Let's say it's a Super Bowl commercial (dream big, right?). It's crunch time. Your clients are in New York, London, and Tokyo and they all need to see your cut before they can give final approval. You don't have enough time to FedEx tapes around the world. How can you get your clients to get your works in progress?
Believe it or not, you can create a podcast for them. But not your typical podcast aimed at the masses—this is a special podcast: a password-protected podcast. This is the opposite of what most podcasters want—instead of getting your material out to as many people as possible, you want to make a podcast that only a select few will be able to see (one that will still auto-download new clips for the people who do have the password). iTunes essentially becomes the delivery system for your rushes.
All you need to do this is an RSS feed creator (I like a program called Feeder ), media for a podcast, and a .Mac account.
This article assumes that you already know how to create your content—an audio or video podcast—so I won't go into how you need to compress your video. Instead I'll concentrate on what makes this password-protected podcast different.
Step 1: Enable Password Protection for your .Mac account
Now you could set up a dedicated server for your protected podcast, but using a .Mac account is infinitely easier. Just open your .Mac System Preference and click the iDisk pane. There is a section of the preference pane that deals with your .Mac Public Folder, here is where you enable your password protection.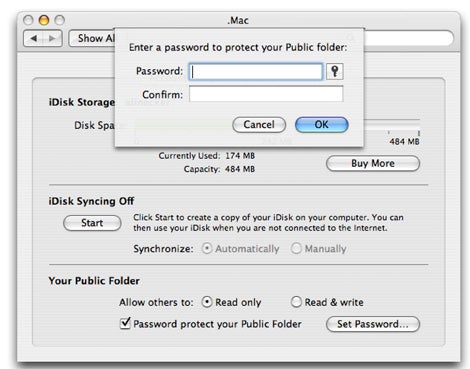 Your .Mac public folder can be viewed on the web by going to
http://idisk.mac.com/YOUR_USERNAME-Public/
. (Note that there's a dash between
USERNAME
and
Public
—.Mac automatically puts the Public folder on the Web.) The capital "P" in Public is actually case sensitive. Once password protection is enabled, your web browser will ask you for a Username (which is always Public) and Password before you can view the Web page.
Step 2: Create your podcast feed
I like to use Feeder to create my podcast XML feeds. It is pretty versatile and straightforward to use. Feeder makes publishing to a .Mac very easy, though usually it will put the RSS feed and media in the .Mac Sites folder by default. So we'll need to modify that slightly.
To do this, we need to modify the server settings for the podcast. Under the Setting Tab, click Edit Server in the Publishing section. In the Server window, click Edit Server again. Create a .Mac server and choose Default .Mac account (unless of course, you want to use another .Mac account). Then switch to file location, and set the Feeder and Enclosure locations to "../Public/". This changes the location from the Sites folder to the Public folder.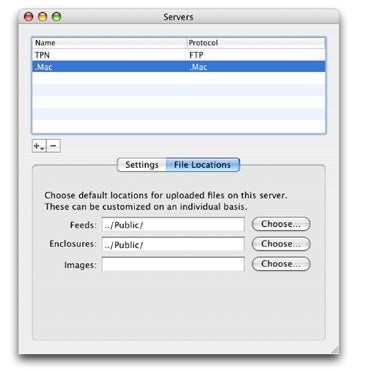 Click out of this window to save it (the red button on the upper left), and then set the Feed path to "../Public/" also.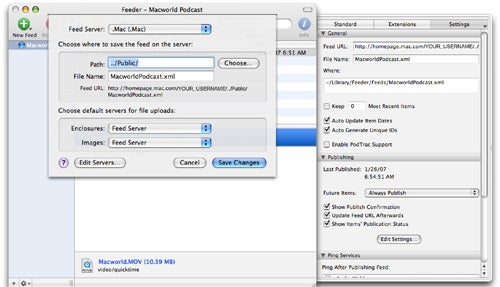 Now you just fill in the rest of the podcast information and attach the media file as you normally would (consult the Feeder manual for the nitty-gritty details).
One thing you should not do is Ping the various Podcasting Directory servers that are meant to advertise your offering. You don't want publicity for this podcast.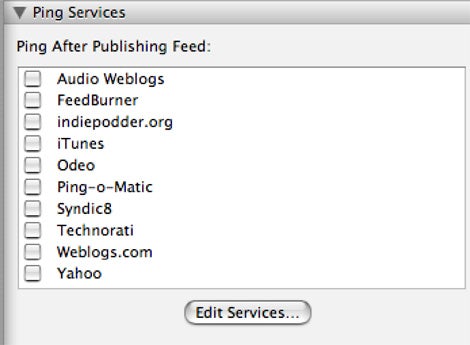 Leave all these Publishing feeds unchecked.
Step 3: Publish your podcast
When you hit the Publish button in Feeder, you should see this: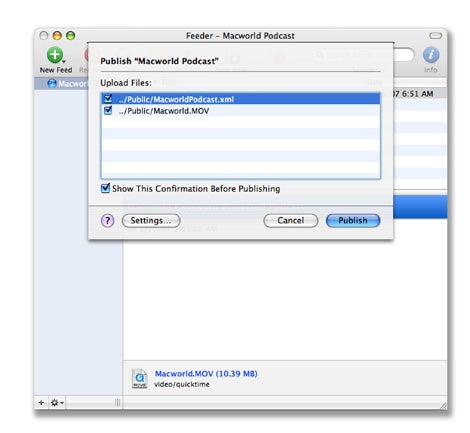 Your XML file and your media (mov, m4v, etc.) should all have the "../Public/" before the name. Again, the P in Public needs to be capitalized.
Step 4: Viewing the Password Protected Password
Your clients need only to subscribe to your podcast in iTunes. Under the Advanced menu in iTunes, have them choose Subscribe to Podcast. You can alternatively embed your iTunes podcasting link in a Web page; when clicked this link would automatically subscribe them in iTunes. Use the ITPC URL prefix instead of HTTP for linking to iTunes.
If you have them subscribe via iTunes manually, have them paste the URL for the podcast in to the Subscribe to Podcast window: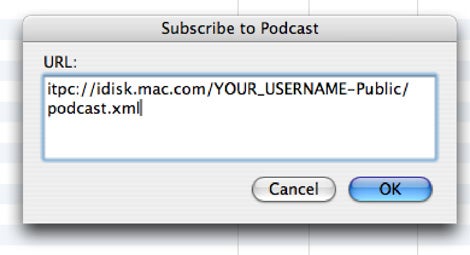 Replace
YOUR_USERNAME
with the proper .Mac account info and replace
podcast.xml
with the actual name of your podcast.
iTunes will then prompt for a password to see the footage. That's the goal of the whole exercise after all. Enter "public" for the username (this one is not case sensitive) and then the password you specified. Click remember password also, so that iTunes will automatically download future podcasts.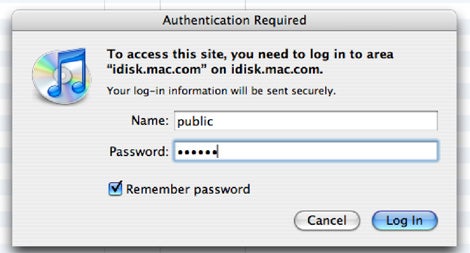 It's also helpful to set the Check for New Episodes in the iTunes Podcasts Preferences to every hour.
That way, your clients will have their updated cuts shortly after you post them on your .Mac site.