One common complaint about Final Cut Pro is that it is difficult to get notes and comments out of the program. There isn't a direct way to get timecode-accurate collaboration notes to your sound mixer, for example. By contrast, Adobe Premiere Pro ( returning to Mac this year ) has a robust notes system called Clip Notes, and Avid users have been able to add locators to their sequences with comments for years. Now, Digital Heaven, a UK software developer, has released Final Print, a standalone application that makes collaboration with Final Cut Pro much easier. The idea behind Final Print is not particularly earth-shattering— it lets users add timecode accurate markers with comments to their sequences and then print out the contents of those markers with thumbnail images of the video. (The program requires Final Cut Pro 4.1 or later.) What is amazing is that no one came up with a way to do this earlier. Still, having a way to mark up your sequence with notes and then give those notes to a collaborator so that they can continue working is very useful. On a feature film, for example, you might need to send notes like these to your sound editors, music composers, special effects coordinators, animators, directors, and producers.
To use Final Print, you first need to put your notes into your sequence. This is a simple thing to do. Just play your sequence in the timeline, find a place where you want to make a note and type the letter M twice. This inserts a marker into the sequence and brings up the Edit Marker window. Then you just need to name the marker and add comments. In the picture example below, I'm adding comments for the sound editor. You can add markers to the sequence timeline, video clips, or the audio tracks.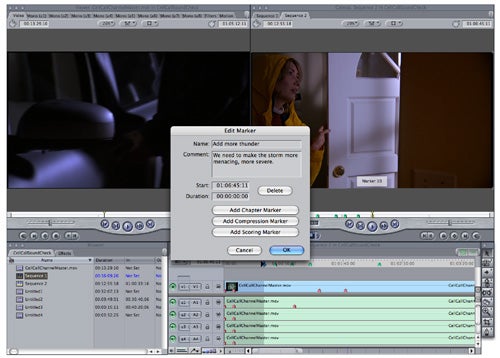 Once the markers have been created, you need to export an XML of your sequence. This XML is the file that delivers the marker information to Final Print.
When this XML is imported into the program, Final Print connects to the video media and creates thumbnail images that correspond to the timecode values of the markers. Once the thumbnails are created, Final Print displays the marker and comment information neatly in catalogue fashion.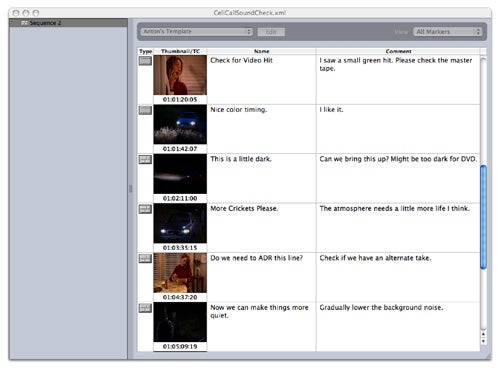 From this point, it is a simple thing to print the database out or create a PDF file to distribute to your coworkers.
The casual editor will probably balk at Final Print's $99 price tag. To be sure, it is not an impulse buy. However, for editors who need to do this type of collaborative work daily, it is well worth the price.