Twelve months after its auspicious debut as a public beta, Adobe is ready to take the training wheels off Photoshop Lightroom and let its new baby ride into the world. With Lightroom's ship date just two weeks away, Adobe isn't planning on putting out another public beta, but the company gave Macworld a copy of the latest beta to us to play with, so we could get a sense of what the final product will look like when it ships on February 19.
I'm working on a full review of Lightroom (priced at $199 until April 30, and $299 afterward), which we won't publish until we receive the shipping version. But I wanted to give you a deeper look at some of the key features that Adobe has added since the initial public beta. (For a general overview of Lightroom, you can also read Derrick Story's first look at the January 2006 beta of the program. While many features have been added and some interface elements have changed since Derrick first wrote about Lightroom, the basic essence of Lightroom remains the same: it is an application designed for professionals and serious amateurs to manage and edit large collections of digital photos.)
According to Adobe, many of the new features are a direct result of the public beta process. With more than half-a-million people downloading the software, the software maker got plenty of feedback on what people liked, what they weren't so crazy about, and what they thought was missing from the program. Most of the new and enhanced features will be found in the two primary Lightroom modules—Library, where you cull, sort, categorize, and pick the images that you want to work with, and Develop, the primary image editing module.
New image categorization and filtering tools

In addition to the existing 5-star ratings system, Adobe has added flag (Pick, Unflagged, Rejected) and color tags to Lightroom 1.0's image categorization capabilities; you can filter on any or all of those capabilities.
Preceding Lightroom public betas had options for rating images and applying keywords, but many photographers really want multiple ways to sort through and categorize a mountain of images to find their best photos. Lightroom 1.0 willhave the 5-star rating system found in the betas. But it will also allow you to apply a color label to an image. What's more, the program includes a simple "pick/reject" flag that you can apply when you're rapidly rifling through images from a shoot. Keywording has also been beefed up with a Keyword Stamp tool that lets you pick a keyword and quickly apply it to a bunch of images; there's also a new panel for loading often-used sets of keywords.
Lightroom's search and sorting capabilities were quite strong in the beta releases. In Version 1.0, Adobe has added a Metadata Browser, which lets you quickly find images based on the metadata information stored with your image. For example, it lets you filter images taken with a specific digital camera (down to the serial number—a boon for a producer cataloging images from a pool of photographers), or the lens that you used when you took a picture. I found this feature extremely helpful—I have used dozens of digital cameras over the years, and often remember shoots more based on the camera I used than the actual date.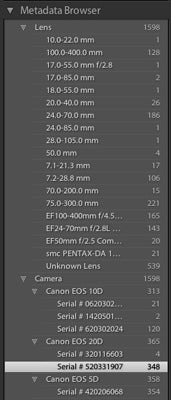 The Key Metadata Browser panel in Lightroom lets you select groups of images based on information stored with your images, including the camera you used, specific lenses, file type, and more.
Targeted adjustment levels
Many users new to digital imaging become acquainted with curves and histograms, but those capabilities can take a long time to truly understand and master. One of Adobe's innovations in Lightroom 1.0 is a feature it calls "targeted adjustment." What this feature does is let you directly manipulate the tones and colors in your image by clicking on the tones you want to edit inside the image itself, instead of dragging points on a tone curve or moving sliders in a panel. It's a very intuitive tool, and one that I've had fun playing with.
The Target tool can be used with five adjustment options: hue, saturation, luminance, grayscale, and the basic tone curve. Using one of these modes, you click inside your image where there are the tones or colors you wish to adjust, and you drag the cursor upward to increase the effect and downward to decrease it—the changes show up on-screen in real time. Working with the tone curve, you could click in the shadows of a photo, say, and drag upward to lighten all the values of similar tone throughout the image. Or, you could change the color blue in a sky, or decrease the saturation of the yellow tones in an image—all very simply, quickly, and in a way that makes sense.
Snapshots and virtual copies
Lightroom is a non-destructive image editor. In simple terms, what this means is that your original image is never really modified as you apply adjustments and operations to it. Any change you make—cropping, adjusting color or exposure, converting to black and white, removing dust spots, and so forth—gets copied as an action, almost like a command in an AppleScript or Automator action. These instructions are the stored in a file called a "sidecar" that gets associated with your photo. When you click on a previously edited image you tweaked, you're seeing the state it was in when you last worked on it.
The Lightroom public betas had a History view in the Develop module, but it really didn't do much more than show you exactly what operations you performed on an image. You could "rewind" your edits and view your image at a specific point in the editing process. But, if you did that and chose to apply new adjustments, you would lose all the subsequent adjustments you made after the point to which you rewound.
Adobe has improved this in Lightroom 1.0 with two additional features: Snapshots and Virtual Copies. At any point in the editing process, you can save the state of an image as a Snapshot. When you are working on an image in the Develop module, the Snapshot panel will display a list of all the snapshots associated with your image; when you choose one, it it displays your image as it was when you took the snapshot. It is a powerful tool: you can create a snapshot of an image, then go back to work on the original version, performing a completely different set of adjustments. At any time you can click on your snapshot and continue to work on that version of your image.
While you can have many snapshot states of an image, Lightroom still treats them as states of a single image in your library. The Virtual Copy feature lets create a duplicate of an image. It doesn't duplicate the actual file on your hard drive, but you do see the copy of your image in your library, with the overlay of a page curl on top of it (to indicate that it's a copy). This feature is really quite handy when you wish to show different versions to clients, whether the image be on screen, in print, or on the Web. I like the compact nature of snapshots, but in the short time I've been playing with virtual copies, I've found it a powerful addition as well.
Spot removal
The majority of adjustments photographers need to make on digital images are fairly simple ones—tonal and color correction, cropping, black and white conversion—and Lightroom has a full complement of tools in that regard. Missing from the public betas was a mechanism to fix dust spots and small imperfections in an image. Lightroom 1.0 will rectify that with a powerful Remove Spots tool that mimics the powerful Healing Brush in Adobe Photoshop CS2.

It's easy to use Lightroom's Remove Spots tool to get rid of spots, like the one from a piece of dust on my camera's sensor (left). Clicking on the dust spot with the tool in Heal mode causes Lightroom to automatically look for a similar area to sample (middle), resulting in a clean image (right).
The Remove Spots has two modes, Clone and Heal. In Clone mode, you click on a dust spot or other imperfection, and then find an area that closely matches the area you're trying to fix. The tool then just applies that sample to your original selection, covering up the imperfection. The Remove Spots' Heal mode accomplishes the task in a more automatic way: you select the area you want to fix, and the tool searches the surrounding area, attempting to find a sample that it can apply; instead of just copying the sampled area, it tries to match the sample with the texture, lighting, and shading of the area immediately around the spot you're trying to fix. Most users will probably turn to the heal tool, though there are times when cloning a section of an image is preferable—Lightroom will give you that choice.
Using the Remove Spots tool is simple, quick and effective. There are plenty of adjustments you can make to the tool's settings, so you're not hampered by the size of imperfections. And, you can copy the Remove Spots' adjustments you make to one image and apply them to other images, which is phenomenal when you shoot a series of pictures and find out that there was a piece of dust on your digital camera's sensor. Using this feature, I was able to fix a group of 30 problem images in about five minutes—without that capability it would probably have taken me an hour to open each image, fix the spot, and save my work.
Wrapping up
There are plenty of other, smaller, but no less important, enhancements Adobe has made to Lightroom 1.0 since the last public beta, but the ones listed above are the most important ones. After playing with them over the past week, it's clear that Adobe used the last few months to refine and improve upon an already impressive product. That bodes well for anyone seriously interested in digital photography, pro or amateur.
[ Rick LePage is Macworld 's editor-at-large and a contributor to the Creative Notes blog. ]