Given that today's computer screens are much less susceptible to "screen burn-in" than their predecessors, screen savers have become, for many people, a sort of forgotten feature in Mac OS X—most people just don't need something that exercises their display's pixels anymore. That's not to say there aren't screen savers out there that are so good you activate them just to watch; there are, and in a future column I'll talk about some of my favorites. It's just that, for most users, screen savers aren't really that useful .
Still, people have tried to find ways to get some kind of use—any kind—out of their screen savers. One way is to make them work while you're doing work: instead of taking over your screen during idle time, you can have your screen saver act as a "live" Desktop background. The techie way to accomplish this is to launch Mac OS X's Terminal utility and type:
	/System/Library/Frameworks/ScreenSaver.framework/Resources/	ScreenSaverEngine.app/Contents/MacOS/ScreenSaverEngine -background &	
(That's one line, with a space before -background and a space before & ; press Return at the end.) Whatever screen saver is currently selected in the Desktop & Screen Saver pane of System Preferences will magically appear, in all its full-motion glory, in place of your Desktop background; your icons and windows will float on top. (Terminal will display the process ID [PID] of the screen saver process, which will generally be a four-digit number; you can stop your "desktop screen saver" by typing
	kill	PID	
in Terminal.) There are also utilities out there, such as
Visage
and
xBack
, that let you do the same thing without having to delve into Terminal.
EarthDesk 4.0.1 ( ; $20) takes this concept one step farther. Instead of putting a screen saver on your Desktop, it puts a map of the world there—a live map that's updated as frequently as you like.
We covered EarthDesk 2.0 back in October 2003 for a "Reviews in Brief" article. At the time, Lisa Schmeiser wrote, "It's one thing to know in the abstract that people in other parts of the world are heading out to happy hour as you're waking up with the sun; it's quite another to see it happening." And that's exactly what EarthDesk does: instead of just plastering a map on your screen, EarthDesk shows you a realistic view of what the world looks like at that very moment : daylight, moonlight, or no light—even cloud cover. And that map is continually updated with the actual day/night/cloud conditions around the world.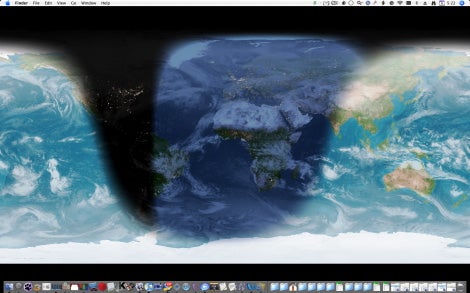 (Keep in mind that the above image is a 470-pixel-wide screenshot of EarthDesk's display; the maximum resolution supported by EarthDesk is nearly ten times that, 4320 by 2160 pixels—the images are truly beautiful and detailed. You can even see simulated city lights for larger population centers.)
A new EarthDesk pane in System Preferences provides a number of options for customizing EarthDesk's display. For example, you can choose how often the image is updated to show the current day/night shading; the zoom level for the map image (on my 20-inch display, 80 percent gives me a map that wraps perfectly); and the translucency of the cloud cover (EarthDesk periodically downloads cloud cover images via the Internet).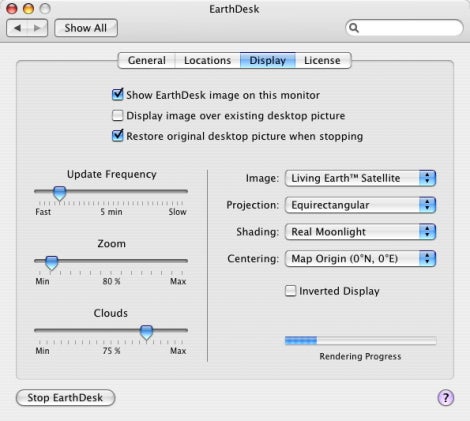 But you can also customize the map itself: satellite or political; projection type (11 different projections are included); shading (how you want "night" to be represented); and centering. You can center the onscreen map either on a physical location on the globe, which keeps the map stationary, or on solar- or lunar-related point, which causes the map to "rotate" throughout the day to keep that point centered. (You can add physical locations to this menu using the Locations tab of the preference pane; approximately 10,000 cities are included.)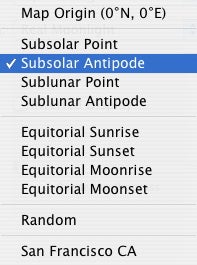 If you have multiple displays connected to your Mac, you get a separate set of controls for each display; you can choose different settings for each.
There's also an optional EarthDesk menu-bar menu that gives you quick access to the Image, Projection, Shading, and Centering options for each connected display; unfortunately, you can't turn EarthDesk on or off for a particular display from this menu; there's only a single Stop/Start EarthDesk command.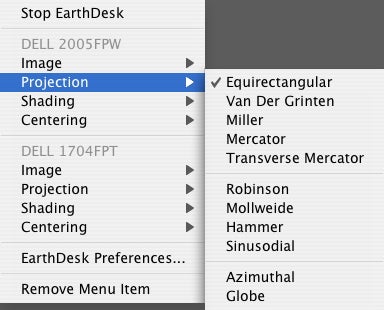 If you find that EarthDesk's rendering is taking processor time you need for something else—or if you don't want to waste your notebook's battery life on the go—you can have EarthDesk set its current image as a static Desktop when it quits; you'll see an EarthDesk-inspired Desktop, but EarthDesk won't actually be running—and, of course, won't be updating that Desktop image. (To use this option, make sure EarthDesk's "Restore original desktop picture when stopping" setting is disabled.)
Finally, if you actually use OS X's screen saver, you can use EarthDesk's images as the screen saver's images. To do so, you open the Desktop & Screen Saver pane of System Preferences, switch to the Screen Saver tab, and then click on Choose Folder from the list of screen savers (it's near the bottom). In the resulting dialog, navigate to ~/Library/Application Support/EarthDesk/Desktops and click the Choose button. (To use this option, you need to disable the same EarthDesk setting mentioned in the previous paragraph.)
One of Lisa's complaints from a few years back is still valid—it would be great to be able to view particular cities on the map; for example, the favorite cities you've added to the Centering menu. And productivity geeks will surely ask why they'd ever want to install EarthDesk—not only will it unabashedly not increase your productivity, it just may reduce the amount of work you get done as you spend precious time watching the world go 'round and 'round. But that's the fun of it.
EarthDesk 4.0.1 is a Universal binary and requires Mac OS X 10.4 (Tiger) or later; an older version, 3.5.5, is still available for Macs running OS X 10.3 (Panther).