At a Glance
Expert's Rating
Pros
Prescription eyeglass option available
Good image quality
On-the-go, "large-screen" viewing of iPod-hosted video
Visor lets you see above, below, and through
Battery pack for extra runtime
Cons
Doesn't accommodate iPod cases
No native widescreen mode
No iPod screen protection
Belt clip not secure
Our Verdict
MicroOptical's original Myvu Personal Media Viewer was introduced at the 2006 Macworld Expo, and since then, the company has incorporated a number of enhancements to make the latest version the best choice for fifth-generation (5G) iPod users looking for a goggle-style video display.
The sleek Myvu's goggles look like a cross between new wave sunglasses circa 1981 and the visor worn by Star Trek's Geordi LaForge. Made of shiny black plastic, the Myvu is thin enough that you can still see under and over; in addition, thanks to translucent windows inside the goggles, you can even see straight through, increasing your situational awareness dramatically compared to other iPod-compatible goggle offerings. (There's still a blind spot directly in front of you, though, thanks to the actual in-goggle "screens.") This design is great if you're a commuter on a train, bus, or airplane and you want to be able to see what's going around you while enjoying your video content. It's not so great if you're looking for the ultimate isolated video experience—bright lights and lots of motion can distract you from the video. (Some people find the lack of total immersion provided by the Myvu to be distracting, but I had no problem adjusting as long as the ambient light wasn't too bright.)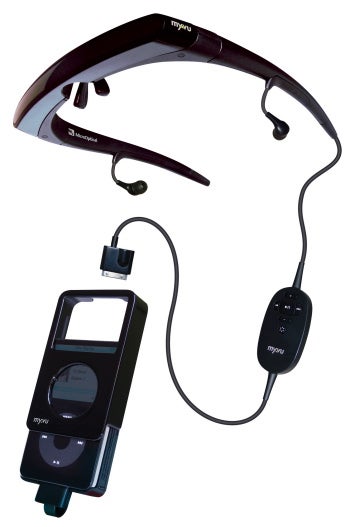 Your iPod slides into the Myvu's case-slash-battery-pack and then connects using a standard 30-pin dock connector cable. The goggles connect to the iPod/battery unit using a single cable that's long enough to snake to your belt or inside a jacket pocket; the cable itself is slightly thicker than Apple's iPod dock-connector cable. A removable belt clip, which snaps onto the back of the case/pack, is also included. However, on two occasions, the clip worked itself loose from the pack itself, sending my iPod clattering to the ground.
For eyes
Once connected, the Myvu lets you watch any video content on your iPod: movies, TV shows, music videos, what-have-you. (You can also listen to music if you want a break from video.) " Canalbud " earbuds hang down from the Myvu goggle's temples and offer surprisingly good quality. Because you're using the iPod's dock connector to connect to the Myvu—which means the iPod's own controls don't affect audio output—volume is adjusted using an inline controller that's about half way down the connecting cable; also on the controller are buttons for play/pause, forward, back, and brightness. (You set your iPod up for video playback using the iPod's own controls, choosing "TV On" as the TV option; unfortunately, you can't view your iPod's menus on the Myvu's display.)
Inside the Myvu visor are two 320- by 240-pixel displays, each the same resolution as the screen on the 5G iPod itself. According to MicroOptical, the relative size of the image you see is about the same as a 27-inch TV set about two yards away. I have a 27-inch set in my living room, so I can attest to the veracity of their claim. Putting it another way, the image is similar to holding a 5G iPod about a foot away from your face, which is about where I find it comfortable to hold the iPod when I'm watching videos directly on the iPod.
The quality of the Myvu's image is outstanding. TV shows and movies downloaded from the iTunes Store look every bit as good as they do on the iPod's own screen, and movies and shows I've ripped/converted from my own collection look pretty good, as well—though quality obviously varies dramatically depending on the image-conversion settings used. However, there's no native widescreen mode, so you're stuck watching widescreen movies and TV shows in "letterboxed" mode, with black bars on the top and bottom of the picture. Turning off the widescreen option on the iPod will fill the frame, of course.
(MicroOptical includes the Windows-only M2Convert utility for converting non-commercial DVDs and multimedia files to iPod-compatible versions. Although no Mac software is included, Mac users already have a number of quality freeware products, such as HandBrake and iSquint, for managing such conversions.)
The Myvu goggles themselves are very lightweight, and MicroOptical includes three different sizes of tips for the earbuds, as well as three different nosepads, so you can customize the fit. As a package, this is best "wearable display" design I've seen for long-term use; I watched movies on my iPod with the Myvu for several hours at a stretch (two full-length movies back to back) with no headache or eye strain to speak of. Unless you've got an unusually wide space betwen your eyes—you can't adjust the space between the Myvu's screens—you'll find the goggles to be comfortable. MicroOptical even has a corrective lens option for purchase if you need glasses to watch.
Power up
Battery life is another big win for the Myvu design. The back of the case is actually a battery that gives your iPod (and the goggles, of course) juice. A button on the back illuminates four green LEDs, which tell you how much reserve power is left. After connecting the pack to your iPod's dock-connector port, you plug the goggles into a second dock connector on top of the pack.
This battery adds some heft to your iPod, but the tradeoff is well worth it. MicroOptical claims that the pack adds six hours of runtime capacity to the iPod while watching video, and up to 20 hours if you listen to audio only. I didn't test how long it lasts with music only, but the battery lived up to MicroOptical's claim for video playback.
Two power adapters are included with the Myvu, one for juicing up from a household AC outlet, the other for charging via a DC power supply such as a car accessory ("cigarette lighter") jack; each of these adapters plugs in to a small hole in the Myvu's visor dock-connector plug). You can also charge the battery pack using Apple's USB dock-connector cable.
The battery pack/case fits 30GB, 60GB, and 80GB iPods equally well thanks to two grooves for the slide-on back panel, one that fits the thinner iPod, one for the thicker models. You use the pack in lieu of an iPod case, and it offers decent protection, along with openings for the iPod's screen and the Click Wheel. However, and this is one of the only criticisms I have of the Myvu setup, your iPod's screen is left unprotected. For such a thoughtfully designed piece of hardware, the lack of iPod screen protection is bizarre and rather careless; a plastic or glass screen cover, or even a film protector, would be welcome.
The Myvu package also includes a hardshell carrying case and a soft protective microfiber bag for the goggles themselves that doubles as a lens cleaning cloth. The case has enough extra room inside that you can even use it to pack your iPod if you arrange everything carefully.
The Lowdown
The Myvu is a well-designed personal media viewer for the iPod that hits a home run. All that's missing is protection for your iPod's screen. The style—namely, wearing the visor—may take a bit of getting used to, but the Myvu combines form and functionality in an easy-to-use package.
UPDATE 4/19/2007: When this review was originally published, we noted that one of the two Myvu samples we had received was non-functional. MicroOptical later sent us a replacement; that unit worked as expected.