Bodelin Technologies has just released See Eye 2 Eye (SE2E, for short), which is essentially a $99 teleprompter for webcams. Bodelin is best known for its professional teleprompter devices, and the SE2E is the most consumer-oriented of their product line. It can be useful for video podcasters, for example, but it is also good for anyone who regularly communicates via iChat or Skype using their iSight camera, and wants to be able to look their correspondent in the eye.
There are two See Eye 2 Eye models: one for laptops using mounted webcams like the iSight, and one for Macs with built-in iSights, like the MacBook and MacBook Pro. The device works like a periscope, taking a section of the display and beaming it onto a reflective, semi-transparent piece of glass that sits angled in front of the video camera. It's the same technology that TV stations use so their news anchors can read the headlines and still appear as if they're looking into a camera at the audience.
Using the SE2E with iChat or Skype is pretty simple. Just put the SE2E over the video camera and then set the iChat or Skype video window into the SE2E field of view (full screen video chat won't work). The image of the person you are talking to will be reflected onto the mirror in front of the video camera. So, you will be looking right at them, straight into camera. But sadly, without a SE2E on their computer, they won't be looking in your eyes—so if you're looking to use the SE2E with iChat or Skype, it's useful to buy them in pairs (there is a slight discount for buying two).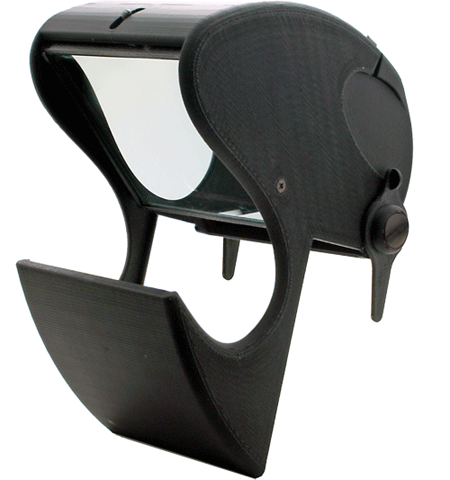 Beyond focusing your eyes and face on the camera, you can also use the SE2E as a teleprompter. For short scripts you can use Microsoft Word and even TextEdit to create the scrolling text, formatting it to fit within the SE2E's window. You can then control the scrolling manually with a trackball or a three-button mouse with a scroll wheel. For longer scripts, or if you foresee using the SE2E more frequently, you can also use teleprompting software, like Vara Software's $40 Videocue 2 or Bodelin's own ProPrompter, which sells for $125.
There are some caveats to talk about when using the SE2E. For one, your computer's video camera is capturing video through a semi-transparent mirror. As a result, the video often is considerably darker than it normally would be (finally, my high school physics was useful for something), so make sure the room you are in is well lit. Second, if you are using the SE2E with the external, FireWire-based iSight, the SE2E can interfere with the iSight's microphone, muffling the sound. You can get around this by taking the audio from the built-in microphone or other audio source.
While you can capture video via your built-in iSight camera via iMovie HD, you can also connect the SE2E to a DV camcorder, which is useful if you would like to record a speech or script at higher quality.
Anyone who's used iChat AV can attest that video chatting is great, but inevitably people get so enraptured looking at the computer screen, that you never get the sense you are actually looking at the person you are chatting with. Instead, it feels like video security footage. With the SE2E you can overcome that feeling, and, if you're interested in recording portions of video podcasts or training videos, the See Eye 2 Eye can be a wonderful, relatively inexpensive tool to raise the professional level of your video communication.