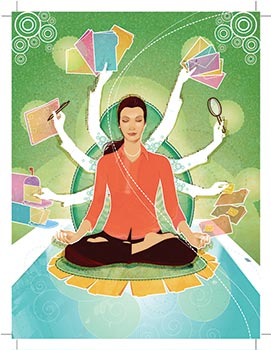 Illustrations by Huan Tran
The more you use your Mac, the more stuff you accumulate. E-mail messages, downloaded files, personal photos, work documents, to-do items—they all have to go somewhere. Unless you have a good system for managing this stuff, you can quickly find yourself buried in clutter.
Clutter not only slows you down by making it harder to find the files you need. If left unchecked, clutter can also bog down your Mac's performance. The good news is that it's never too late to get organized.
It's hard to recommend one clutter-management system that will work for everyone. Some people rely on elaborate filing systems to instill order, while others think that filing is a waste of time and instead focus energy on improving their search skills. With that in mind, I've broken the clutter-control tips into two categories: one for the organizer, and the other for the searcher. In fact, you may be best served by a combination of these approaches.
Use these tips to generate your own ideas for dealing with files, notes, e-mail messages, and other data as they arrive on your Mac—and before they turn into clutter. (You're also welcome to share your own organization strategies .)
Note: When you purchase something after clicking links in our articles, we may earn a small commission. Read our affiliate link policy for more details.